Haiti kids, families at the heart of Bonnegre mission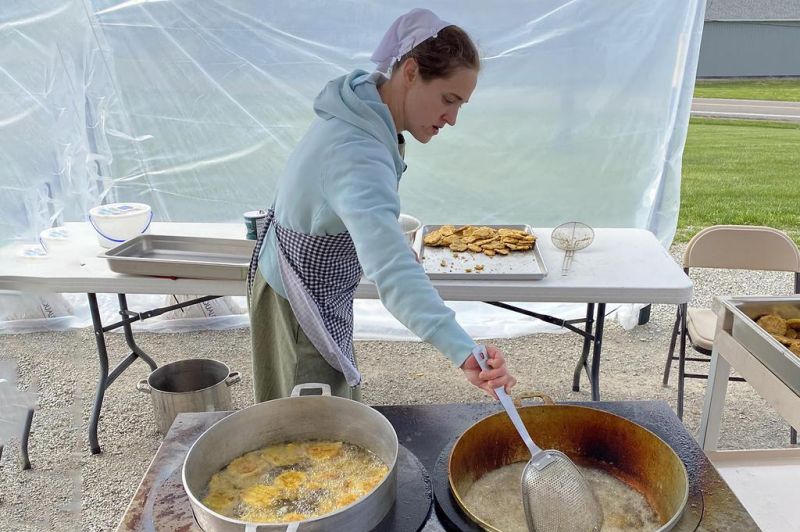 The needs in Haiti are great, but the concerted effort of missionaries, including many from the Holmes County area, continue to provide ample opportunities for families and children to gain ground in their effort to live successful lives.
A local dinner fundraiser to support mission work in Haiti took place Friday, April 23 at Maranatha Church in Sugarcreek in one such effort, and the turnout proved the missionaries weren't the only ones willing to step up and support the children of Haiti. The Haitian meal included rice and beans, chicken, and other authentic Haitian food, and a large crowd turned out to an event that continues to grow year after year.
The fundraiser was launched eight years ago by missionaries Lenord and Trish Bonnegre to raise funds for their Haiti school mission that is part of Restoring Lives Ministry, where they provide a safe haven and education for 134 students each day. The name of the school is The Bread of Life School, an appropriate name for the Christian-based school that provides children with both the physical bread of sustenance and the bread of the body of Christ.
The school's mission is to provide spiritual, moral and academic education to children, couples, families and pastors.
"We are so grateful to the many people who come out for this meal and support the ministry," Trish Bonnegre said. "It's become a big part of our fundraising efforts and is very important to what we hope to achieve in our school."
Bonnegre was raised in the larger Holmes County area, and met Lenord Bonnegre in Haiti more than 21 years ago. The two were married in 2010.
Bonnegre said her grandparents, Mose and Alma Troyer, were missionaries in Haiti when she and her siblings were young. They would take care of work groups that came to Haiti, and when they began growing older, they needed help, so they encouraged the grandchildren to go down to help clean, cook, do laundry and do other chores to help them out.
Bonnegre said she did that for five years, during which time she met Lenord. "We were friends for about 10 years, and it was an amazing journey," she said.
Together they launched Restoring Lives Ministry to serve the Haitian people through church activities, pastoral training, and education to youths and children. The ministry's goal is to bring freedom, deliverance and hope to the people of Haiti.
Lenord Bonnegre felt he was being called to ministry in his late teens. Although the call to the ministry was clear, he was unsure how he should go about following it. Eventually, he began exploring how he could serve people in the United States and use these efforts as an avenue to raise funds to help his own people in the village of Passe boi d'ormes (pronounced "paws-bwadom") in Haiti.
"The ministry continues to go very well," Trish Bonnegre said. "It is growing slowly but surely in the right direction. The people of Haiti have gone through so much, and they are very resilient. They are used to facing tragedy and jumping right back up and getting back on their feet, but there are so many challenges they face every day."
The funds raised may well be put toward the effort to rebuild the school. According to Trish Bonnegre, the school building is currently erected out of plywood, tin and tarps, so there is plenty of room to grow in the rebuilding process.
She also said that in addition to aiding the children in the area, they employ two-dozen people in the ministry, another way of providing. She said the funds raised from the benefit meal also will play an important role in paying wages for the staff.
Bonnegre also said that in addition to teaching the children, there is another main focal point of the school's mission. "We strive every day to work with the families," she said. "That is one real need."
She said the other big issue facing the families in their area in Haiti is hunger. Helping to solve that issue, providing food as well as education, has become the driving force for the mission.
The Bread of Life School currently provides education for students through 10th grade, and Bonnegre said they would like to eventually see that provision go through the 12th grade.
She said many of the youth who want to go on to finish their education are forced to go to other cities and areas to complete their educational training, and that opens the doors for them to find troubles and hurdles they would not otherwise need to experience should the school be able to provide education through the 12th grade.
"We would love to be able to provide that part of their education, keep them right here at home and prepare them fully as we send them out into adulthood," Bonnegre said.
For more information about the ministry or to donate financially to the effort, visit www.restoringlivesministry.com. There is a donation button on the home page. Or mail Restoring Lives Ministry, 5554 North Kokomo, IN 46901.