Hanna bids farewell to Millersburg Tire after 43 years of service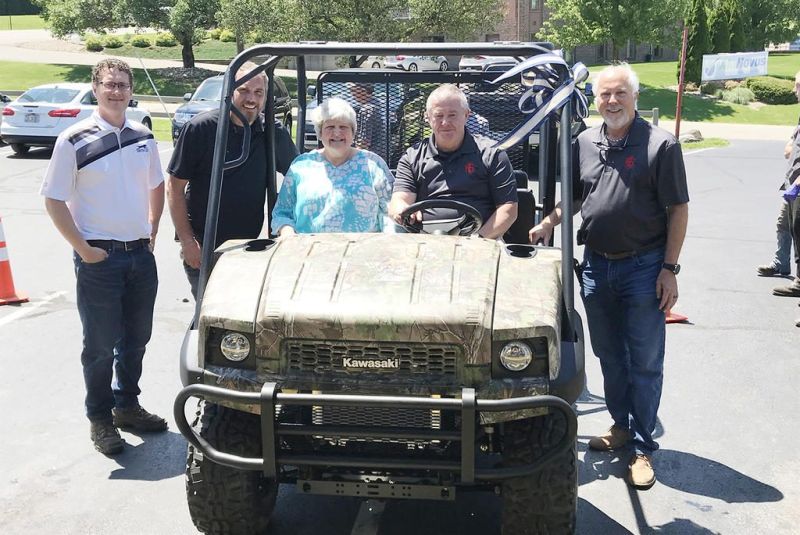 About 43 years and 43,000 jokes ago, Bob Hanna entered the work world with Millersburg Tire Service and began a successful career as one of the company's faces that people easily recognized when they walked in the front door of the facility.
This summer Hanna and his wife, Taryn, took a huge step into a new phase of their lives when Hanna retired from MTS, and the couple will move to their new home in Kentucky to enjoy retirement in a way that perfectly suits his lifestyle. The Hannas will live in a large cabin in the midst of plenty of nature, where they can enjoy retirement and Hanna can continue to hunt while continuing to write his outdoors column with The Bargain Hunter.
With more than four decades invested in Millersburg Tire, Hanna was honored by his friends and colleagues on Friday, June 12, where he and his wife were presented with a new Kawasaki Mule lightweight utility task vehicle from Exodus Cycles in Millersburg as a parting gift and thank you for the years of service he gave to the company.
"It's easy for me to get emotional about this because this has been such a big part of my life the past 43 years," Hanna said. "One of the biggest things I will take from my time here is the joy of working for a family business with people who are willing to sit down and talk to you. While we didn't always see things the same way, they were always so willing to sit down and talk things through so we could get back to work, and I will always cherish that. It is a very family-oriented, service-minded business that I am proud to say I was a part of for so long."
While Hanna was well known for his willingness to offer up a joke or anecdote to customers, he also was known for his old-school note-keeping. Hanna has loads of old notes he has written to himself over the years, boxes of notes referring to something a customer talked about perhaps wanting or needing, and reminders of the many relationships he has built over the decades.
Over those years the types and styles of tires have changed, and the technology has been altered dramatically as MTS changed with the times and grew.
The one thing Hanna said hasn't changed is the MTS family, his boss Brad Schmucker and the family's commitment to serve people to the best of their ability.
Schmucker was emotional as he spoke about Hanna's time there, noting he began in the old store on North Washington Street in Millersburg, changing car tires, tractor tires and doing a little bit of everything on his way to becoming a mainstay at the customer-service desk.
"For a long time now, Bob has been the first person people see when they come through our doors," Schmucker said. "He knew everybody, and everybody knew him. He has always tried to go above and beyond to make sure everyone was happy when they left. He has dedicated his whole life to our company, and he is the longest tenured person we have ever had here other than myself."
Schmucker said Hanna's brother, Red Hanna, worked at the company for 42 years before passing away, so the Hannas have certainly left their mark on the business.
"Bob is leaving here with a whole lot of knowledge, and I still tend to turn to him for answers because he knows everyone and everything there is to know about this business," Schmucker said. "You don't work for someone for 43 years and not build up a lot of relationships and knowledge. My hope is that we can transfer all that to others here before he leaves."
Schmucker's son Brandon has known Hanna his entire life, having grown up around the business as a child and now as a long-time family employee. He remembers Hanna from way back when and said he will forever be a part of the MTS family.
"You don't see many people stay somewhere for 43 years," Brandon Schmucker said. "Bob has done it all here, and he has been incredibly loyal and dedicated from day one."
Another of Hanna's passions is writing his outdoor column, "Someday," for The Bargain Hunter. He said he has enjoyed the experience and the opportunity to talk about outdoor life while encouraging others to pursue the things that make them happy.
"It's about chasing your dreams," Hanna said of his column. "I want people to dream big, and now that I am retired, I should have even more time to devote to my column."
While the front spot at the service desk will look vastly different without Hanna there, his commitment to service and his knowledge of the tire business is something that will now carry on through the rest of the MTS family.