Hargrave implores public to let God work to repair world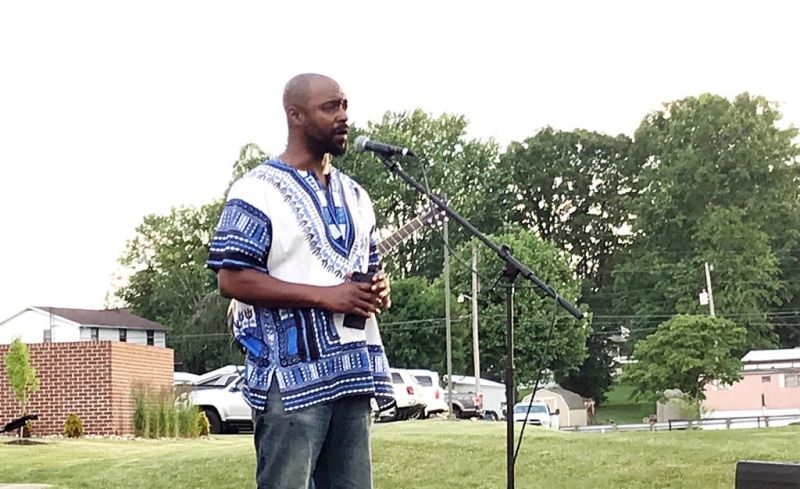 Herschell Hargrave has pastored many people in his work at Broken Ground Church in Millersburg. He has spent countless hours, days and years providing for children who needed a break in life. He has lived his life of faith according to how he believes God wants him to serve others.
But as the battle to subdue racism in America was waging, Hargrave was ready to listen but not act.
That all changed with a letter, and now the African-American pastor is ready to jump into the pot and stir things up to create a conversation and to inspire others to follow Christ's lead in accepting all.
Hargrave was a keynoter speaker at The Neighborhood vigil that took place on Friday, June 19 in Berlin, where 200 people gathered to pray, listen and learn.
Hargrave and his wife are originally from Miami, Florida. They found their way north to Wooster via Dallas, Texas. With backgrounds in mental health and social work, they are incredibly prepared to take on whatever inspirational mission God leads them to.
They have worked with troubled youth, foster care and adoption agencies, having fostered 129 children throughout the years.
In 2007 the couple moved from Dallas to Wooster, where Hargrave became the program director at Children's Home of Ohio. Eventually, the Hargraves came to Millersburg, where their diligent prayer led them to begin Broken Grounds Coffee Co. and Broken Grounds Church.
Their faith is a huge part of their everyday lives, but Hargrave said even though living life every day for Christ includes seeing every single person as God's child, that is not always the case when others tend to see skin color before they ever say one word.
He said he was hesitant to speak at The Neighborhood vigil until reading something his daughter wrote to him. It was a letter his daughter penned as she tried to come to grips with the emotions of what is taking place in America today with racism.
"She asked me what my parents did years ago during the initial Civil Rights movement," Hargrave said. "I told her they did little things, but they didn't really get involved because they felt they had too much to lose."
Hargrave said reading those words, it was a punch to the gut. He asked himself what would his grandchildren say when they asked their parents what grandpa did?
"I don't want my children to say he didn't do anything because he had too much to lose," Hargrave said. "There is a cost, but the cost of silence is greater than the cost of courage. We cannot allow the loudest voices at the table to be the angriest voices. This is not a political issue. This is not a black or a white issue. This is a kingdom issue. If you have placed your faith in Jesus Christ, if you are a person of goodwill, this should matter to you."
Hargrave turned to scripture and talked about the peacemakers being blessed. He said in today's world there are a lot of people asking for peace and quiet. He said there are many who simply want those rallying behind the Black Lives movement to simply be quiet and let them live their lives without stirring the pot.
"I'm stepping in the pot, and I am going to stir it," Hargrave said. "Because you need to understand that ships look really good in the harbor, but ships were not made to stay in the harbor. They were made for the stormy sea, to face the turbulence, and this old ship of Zion was made for this time and this season."
Hargrave said he has been talking about the practice of tikkun olam, the art of behaving and acting and living life constructively and beneficially for all.
Hargrave said simply translated, tikkun olam means "repairers of the world."
"Our nation has fallen, and it can't get up," Hargrave said. "People are broken, looking for answers, looking for hope, looking for something real. Sadly, when they come to our churches, we are silent. We turn our heads and say it doesn't affect me."
Hargrave said if people saw a child being abused, they would do something. They would take charge, intervene and do what was right.
Hargrave has spent his life helping others, leading others to lives of faith, giving and hope, whether in his professional life or in the church.
His hope now is that others will stand alongside him and the many others who are walking in faith to repair and heal a nation torn apart and divided by color and race.
"It's not enough to look at the pain and brokenness around us and say, 'Man, I'm glad I'm not a racist,'" Hargrave said. "It's time for the church to rise up and to speak on the things that matter, to care about the things that matter, to stand for the things that matter. The narrow way leads to life, not just life for people who look like me, act like me, dress like me, but Jesus said, 'I have come that you may find life to the fullest.' It's time for us to stand, to speak and to act. If not us, then who? If not here, then where? If not now, then when?"