Sharing race relations through the eyes of young artists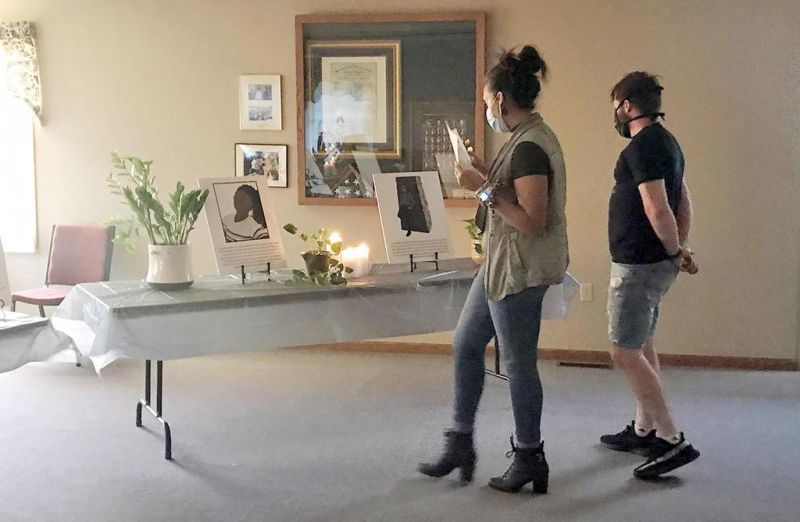 Hurtful words are just, well, hurtful.
But when they come at the expense of a person's skin color, racist remarks are especially degrading and heartless.
The hope of The Neighborhood is to help people in this community realize everyone can play a role in bringing people together instead of dividing them.
The initial push by The Neighborhood to promote unity among races and to bring faith into the discussion of listening to people of all colors took place several weeks ago. It was one in which several African American members of the community shared their stories of experiencing racism.
The art of storytelling is one that is big for the members of The Neighborhood, and those stories were very impactful as speakers shared experiences that were both horrifying yet filled with hope.
On Friday and Saturday, July 17-18 in the former library in Berlin, stories were shared in a very different way.
The "Who Is My Neighbor" art exhibit gave voice to people of color through artwork, where a number of young artists shared their collective vision and talent through The Neighborhood event.
"We are telling stories in a very unique way, and that is exciting," event organizer Ashadee Miller said. "We were so thrilled to be able to give a voice to these young artists, and it is equally exciting to see people in our community coming out to hear the stories from black and brown people in our own communities. This is youth, which is even dearer to my heart."
Miller said they not only had African American artwork, but also representation from young artists of other races, making it a very diverse collection of art.
"You can see all of the different colors and stories coming out in the artwork," Miller said. "There is pain here, and there is healing here if we choose to listen."
While some might envision this event to be a political one, that is not the case, according to Miller, who said the purpose of The Neighborhood events is to create conversation among good-willed people who want to live a more Christ-like life of love and acceptance.
The members of The Neighborhood recognize not everyone is in the same place in the journey to create awareness, healing and empowerment in accepting everyone as equals, and they respect those differences as they help to inform and educate so that the voices might be heard and respected from people of color.
"This is very different than our first event, and we felt that it was important to find new and creative ways to share our vision and our hope to give a voice to people of color," Miller said.
"Who Is My Neighbor" actually stemmed from the voice of a local 14-year-old girl, Ashley Mullet, who approached Miller and asked what she could do to help The Neighborhood's mission.
"Seeing her reach out like that really touched me, and I actually started to tear up," Miller said. "I thought about it for about two seconds and realized I knew immediately what we could do with her talents."
The idea was simple yet mesmerizing. Miller knew Mullet was a young artist who worked with faceless figures, and her idea for Mullet was to take submitted photos of people of color, transform them into faceless art and include some of the ways they have faced racism in their lives.
A number of individuals sent in their photos and information, and Mullet created close to a dozen portraits that painted inspiring, touching and emotional pieces of artwork that were on exhibit in the main showroom, where the lights were turned off and only the glow of candles and sunlight swathed the room. In addition, visitors were asked to remain silent in that room to show respect and to meditate on the meaning and importance of each of the shared messages.
Mullet was actually unavailable for the event due to a prior commitment; however, her mother, Cindy Mullet, said her daughter put a great deal of thought into creating each piece of art.
"Ashley was so excited about this opportunity, and her hope was that this would be heartbreaking, powerful and uplifting," Cindy Mullet said. "It can help people read through these and recognize times when they may have said something harmful to someone without even realizing it. We can all learn to be better and more accepting. Ashley has such a big heart and cares deeply about people. When she knows someone is hurting, it affects her, so being able to be a part of something like this is important to her."
The photos were made to be anonymous because while the accompanying statements were made to the individuals, they could apply to any person of color.
In addition, Miller contacted a number of young artists of color to share their work in the second room, where plenty of conversation was taking place in comparison to the silent first showroom.
"We were excited to give some young artists of color an avenue to share their creativity and vision," Miller said.
Artist Joziah Pollard from Columbus presented his artwork, much of which is faith-based in the African American community. He said coming up for this event was an opportunity he felt was worth pursuing.
A sophomore at the Columbus College of Art Design, Pollard said, "This has been a really good experience, and it's been neat to hear people talk about how the art speaks to them and discussing their outlook on life. The comments inside in the display are really impactful. I can relate to many of them, and it is a powerful display."
Lexi Lingler of Sugarcreek had artwork that included oil-based paint and even woodburning. She said the chance to showcase her talent and to hear the stories shared were inspiring.
"I think it is important for people in our community to hear different perspectives on what others have experienced," Lingler said. "People need to hear these stories so we can better understand each other, and even small moments of understanding can lead to some great things."