Berlin Harvest Fest a 'perfect storm' of community support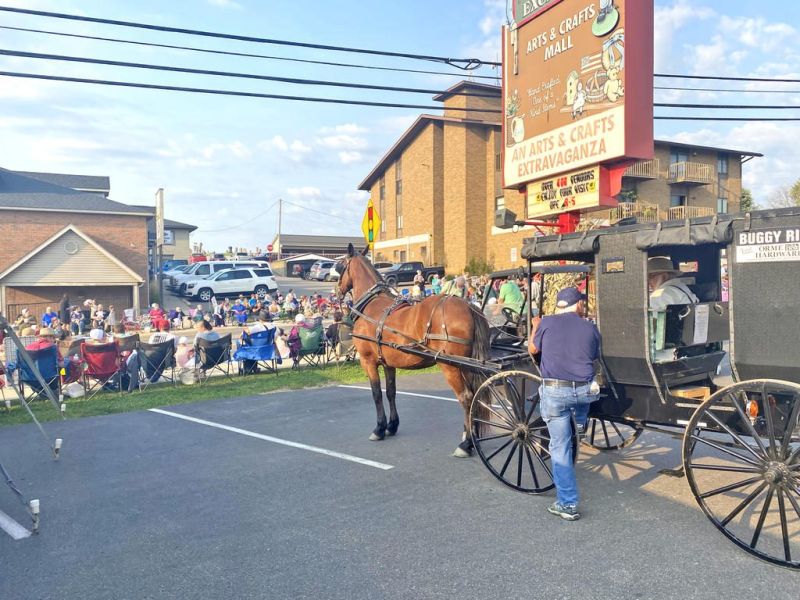 Maybe it was the fact that everyone missed Berlin Harvest Fest last year and wanted to make up for lost time. Maybe it was because the aroma of tangy barbecue ribs beckoned. Maybe it was a sense of joy of community, but for whatever reason people had for visiting Berlin Sept. 10-11 for Berlin Harvest Fest, they came out in droves.
Berlin was a sea of people on both days as the Berlin Main Street Merchants and Holmes County Chamber of Commerce and Tourism teamed up to present a two-day spectacle.
Friday night featured plenty of ribs, live music and a firework show that was sponsored by Shiyah Market, and Saturday ushered in more great ribs and plenty of other food, as well as the grand parade.
Most of the weekend's festivities were driven by the Berlin Main Street Merchants, who made sure there was plenty to do and more than enough to eat for the masses.
Berlin Main Street Merchants President Doug Burgess of Berlin Grande Hotel said the weekend went extremely well, and it was a team effort from start to finish.
"A lot of people worked together to accomplish this weekend, and we had a fantastic weekend," Burgess said. "This is a huge event for all of Holmes County because we celebrate the harvest, which is a big part of our community. It creates a fair-like atmosphere, and it brings people to all of Holmes County, not just Berlin."
One addition this year was the firework display that lit the night sky on Friday evening.
According to Burgess, the merchants are grateful to Shiyah Market for sponsoring the fireworks, and the light show at night made a terrific addition to an already packed weekend of festivities.
"That's something that we hope to continue as part of our weekend," Burgess said. "I think Steve and Rita (Schlabach) are the ultimate ambassadors to our community, and their gift was a wonderful addition to an already packed weekend. That firework display kicked off the whole weekend, and it never slowed down."
Burgess said the fireworks, perfect weather and rush of people to not just come for the Harvest Fest, but also visit the Ohio Amish Country Quilt Show or participate in the Amish Country Half Marathon or several other area events created a perfect storm, and he said Berlin was electric throughout.
He said if it weren't for the commitment of not only the Berlin Merchants, but also other organizations like area Boy Scout members who helped keep the town clean throughout both days, it could have been a struggle, especially in adding the fireworks to the event.
"Organizing that is a whole lot more difficult than just shooting off a bunch of fireworks. There are a lot of moving pieces that have to be taken care of in order to put on a show like that," Burgess said. "It took a mighty effort by a lot of people."
He said after the show, nearly every rib vendor approached him, thanking him for everyone's effort and acknowledging they had a spectacular weekend.
The chamber hosted the grand parade, and with more than 100 entrants and people packed in like sardines to watch the festivities, it truly was a grand sight.
"What a weekend," said Kent Miller, chamber board member. "We had primo weather and great participation from both our entries and from everyone who showed up to watch the parade. It seemed like everyone was ready to celebrate because we missed last year's event."
With a parade lined with many area businesses and organizations, the parade didn't feature a lot of marching bands and decorated floats, but Miller said the trend toward celebrating community shined in the parade.
"Something like this is always going to be a community celebrating together more than anything," Miller said. "It kind of epitomizes and captures that small-town feel, and it felt like there was really a lot of local people in the crowd."
Putting on an enormous festival is never easy, and Miller said finding enough volunteers is always a challenge. However, he too noted many people stepped in to help, and they got a huge helping hand from the local Boy Scouts, who helped clean up following the event.
"This weekend is about our entire community working together to create something special," Miller said. "We saw that happen, and that makes it fun."