Harvest Thrift Store to celebrate 15th anniversary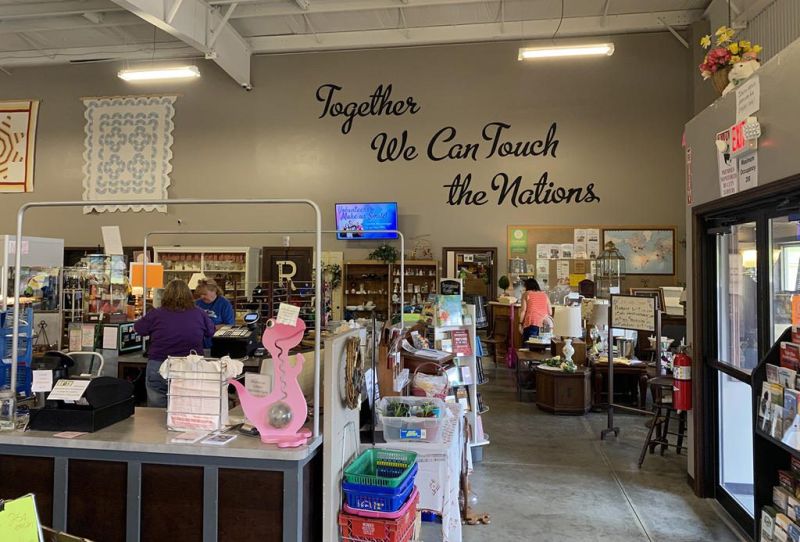 Changing the world one donation at a time sounds like a monumental undertaking, but for the board members of Harvest Thrift Store in Sugarcreek and Wilmot, that is exactly what has taken place over the past 15 years.
What began as an outreach ministry at Berlin Christian Fellowship has blossomed into something special, and in turn each sale at its three stores has given people all over the world hope.
On Aug. 6-7, Harvest Thrift Store will celebrate its 15th anniversary with free hot dogs, ice cream, popcorn, lemonade and 15% off on all merchandise, but more importantly, it will celebrate 15 years of giving back to both the community and to people abroad.
"This has grown into something that has gone beyond any of our wildest dreams," board member Andrea Hochstetler said. "We have been blessed to be a part of a ministry that has touched the lives of so many people, and we wanted to celebrate our 15th year and share that joy with others."
Harvest Thrift Store began at BCF and then took flight to Shanesville where it outgrew its space, and the organization built a new facility between Walnut Creek and Sugarcreek on state Route 39. When the opportunity arose to build another store in Wilmot with items like clothing, books, jewelry and home decor, they took that chance and grew and then added the annex in Wilmot that has antiques and furniture.
Harvest Thrift Store now has barns for donations located all over the area, and each item finds a home at one of their locations. Hochstetler said eventually they find a home for every single item, giving to homeless shelters, sending clothing overseas and making sure nothing goes to waste.
The mission of Harvest Thrift is to change lives, and they do so locally by financially supporting Rahab's Hope, an organization in Mansfield that deals with human trafficking; Pilgrim Hills Mentoring in Brinkhaven, which provides family counseling; 5812, which provide safe housing for abused women; Toward the Goal Ministries, which focuses on creating leadership in young people; AntiVirus Youth Education and other school ministries; the school program Nehemiah, where they help provide funding for bussing; and Homeless Outreach Team in Canton.
Globally, they give to Glory to God Industries, which provides a home for Nigerian children who have been orphaned; The Reckoning in Uganda, where the organization works to help people there create small businesses; and many missionary efforts around the world.
To date, Harvest Thrift has donated more than $450,000 to various organizations — not bad for an organization that grew out of a local church 15 years ago.
"Realizing what we've been blessed to be a part of really makes your heart soar," Hochstetler said.
Whether it is overcoming a flood, which happened in the old Shanesville store years ago, or gutting through the recent pandemic, which saw sales drop but then return with a flourish in May and June when they experienced their best months to date, Harvest Thrift Store has been a light in a dark world for many people and organizations.
Hochstetler said Harvest Thrift is currently seeing a couple of new board members who share the same visions and goals of reaching out across the world and right here at home to touch lives in meaningful ways. They currently have 11 members but would like to grow that number to 13.
"Many of our board members have been here for a long time, and we feel it would be good to bring in some new blood with new ideas that can help us grow even further," Hochstetler said. "We would relish the chance to help someone fulfill their calling in life."
Anyone interested in becoming a board member may call Hochstetler at Harvest Thrift Store at 330-852-7467.
Hochstetler said they look forward to connecting with people and sharing their story with those who visit for the 15th anniversary celebrations that will take place at all three store locations Aug. 6-7.
To learn more about Harvest Thrift Store and its missions, visit them online at www.harvestthriftstore.com. The Sugarcreek store is located at 1915 state Route 39 west of Sugarcreek while the Wilmot locations are at 102 E. Main St. in Wilmot. Hours for the celebration are from 9 a.m. to 5 p.m.