Ben Haven's been the ultimate helper for Wooster High athletics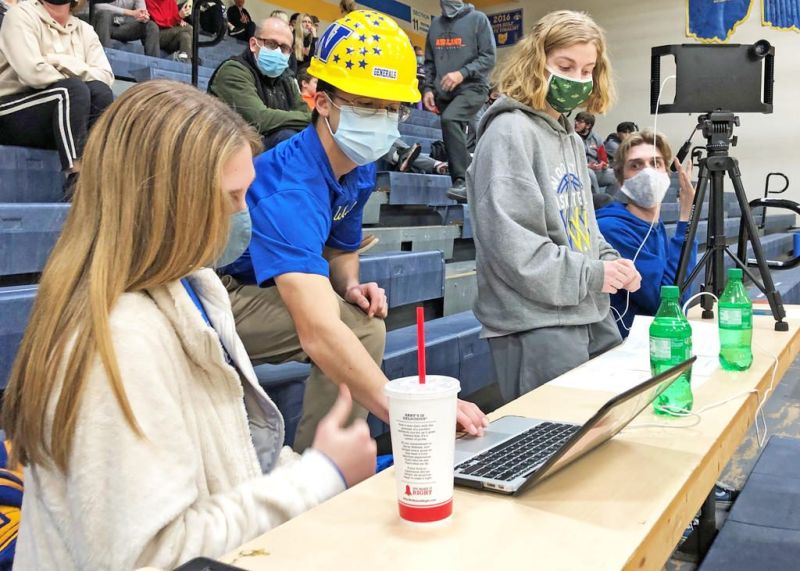 At first glance Wooster High senior Ben Haven appeared to be a typical fan of his school's boys basketball team during a recent game against Ashland.
Haven jumped out of his seat near press row, raised his arms and cheered loudly after a made 3-pointer by the Generals. He stood up and razzed the Arrows a little bit after one of their players shot an air ball.
Wearing a replica yellow construction hard hat adorned with a blue "W" and stars, Haven's attire added a little zaniness expected from high-schoolers.
However, Haven is anything but a typical high school student.
At other points during the game, Haven advised fellow students on how to operate a laptop and camera. Haven also worked with a student announcer and helped set up and take down the equipment. They provided a free livestream for fans unable to attend at www.woostergenerals.tv.
Those are just some of the many roles Haven has played as a volunteer for the athletic department over the last two years.
Haven also plays on the varsity golf and tennis teams. He's tied for first in his class with a 4.0 GPA, is three-quarters through the application process to attend West Point and wants to study aerospace engineering. He dreams of being a part of the space program.
The next time someone degrades the work ethic or values of today's youth, tell them about Haven.
"In all my years of working with kids, I've never seen someone do all the things Ben does," Wooster athletic director Joe Rubino said. "He does a ton himself to help our athletic department, but maybe more amazing is how without even being asked, he's found a way to get lots of other kids into the mix. Ben has delegated responsibilities to dozens of other kids, boys and girls from different backgrounds and sports."
Haven has lined up and directed the announcers, camera and scoreboard operators, and computer teams to livestream all Wooster sports teams since the COVID-19 pandemic hit last March.
"It's just incredible stuff," Rubino said. "He knows the ins and outs of our athletic department, and it isn't just for one or two sports. He is an equal-opportunity hard worker. It's all events: gymnastics, swimming and all our other sports. We even put him on the team bus sometimes to go to away games. His IQ is high. His work ethic is ridiculously intense. We're gonna really miss him after he graduates."
Haven has made such a strong imprint on the Generals' athletic programs that his legacy will continue, thanks to the large number of other students he's gotten involved.
"I noticed there were a lot of kids that wanted to be a part of more things here, but they would just go home and not really do much," Haven said. "I've tried to encourage as many kids as I can to volunteer, especially the younger ones, so they can carry on the school spirit the right way."
During Haven's junior year, Rubino marveled at how many events the youngster attended, so he asked if he'd like to volunteer for the athletic department.
"Mr. Rubino said, 'I appreciate your school spirit. Why don't you come help out?' I started coming to the girls basketball games and helping," Haven said. "After the pandemic started, I thought to myself, 'I need to find a way I can support everybody.' Even with everything going on, I volunteered for everything."
Since last winter Haven has been approaching practically everyone he can to also help out. "I've always enjoyed high school, and I appreciate all the people that have allowed me to support the school, like Mr. Rubino and the rest of the administration here," he said.
While Haven is quick to thank Wooster administrators and coaches for the opportunities to volunteer, they'd all almost certainly respond, "No, thank you."
Wooster boys basketball coach Michael Snowbarger will never forget him.
"He's what high school sports is all about," Snowbarger said. "He's a high school kid who loves the competition and will do just about anything for the team. As a coach you've gotta love having kids like that around. Whether or not he goes to West Point, just what he's trying is highly impressive. Kudos to him, and hopefully it works out."
Armed with smarts, work ethic and a selfless attitude, whatever team Haven joins after graduation will be glad they have him.
Aaron Dorksen can be emailed at aarondorksen24@gmail.com. Follow him on Twitter at @AaronDorksen.