HCA celebrates a new era with groundbreaking ceremony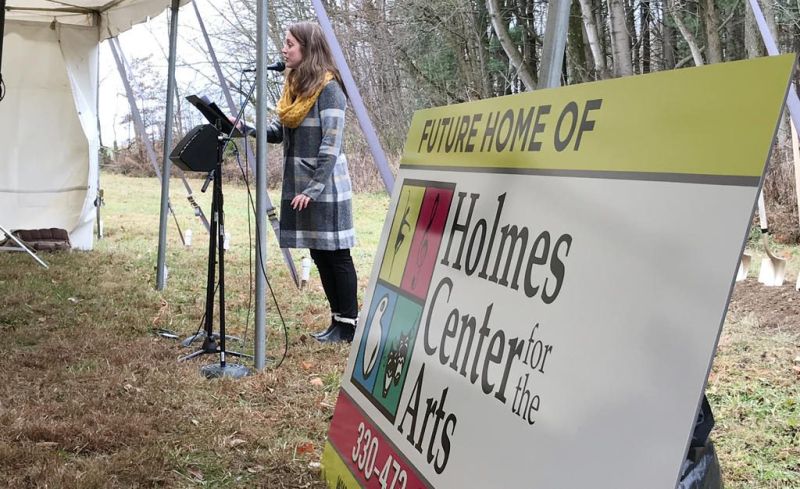 For five years the Holmes Center for the Arts has been a place that has provided entertainment through dance, music, art and more. It also has been a facility that has chosen to give back to the community that has supported it.
A large contingent of supporters gathered on Friday, Nov. 22 under a tent located at the future site of the Holmes Center for the Arts facility behind Burger King in Berlin to celebrate a groundbreaking ceremony for a new two-story facility that will open up new doors for growth for the HCA.
HCA board president Cheryl Shaver welcomed those in attendance and summed up what this day meant to those who support the arts and want to see the many programs the HCA has already invested in blossom. She said five years ago a group of local people got together and dreamed of creating an arts center in Holmes County that would focus not just on adults, but also on youth. She said the goal of that meeting was to create more educational opportunities to enhance the arts.
"We knew we had gifted artists and teachers," Shaver said. "We knew the benefits of the arts in our own lives. What we didn't know was how hungry our community was for programs that we would create."
Flash forward five years and a whirlwind of performances, rehearsals, classes and meetings have seen the organization outgrow the facility in the church building at 164 N. Washington St. in Millersburg.
More importantly the center has reached out to teach the arts to at-risk children, special-needs children and senior citizens.
"We are grateful for that building, but we are busting at the seams," Shaver said. "This new building can't come at a better time. Even though we believe Holmes Center for the Arts has already made a positive impact, this new building is going to allow for even greater growth so we can further our outreach."
Holley Johnson, HCA director who has spearheaded the project with her passion and drive, said they have known for some time the current facility was one that was only temporary.
When an anonymous community donor approached her and offered the 6 acres of land on which the new facility will be built, it cranked the desire to raise funds, find grants and create a new facility to the next level.
"I don't think I realized the impact that we could have and the impact a space like this could have until we got started," Johnson said. "We have an exceptional community, a very caring and giving community, and when you talk about a village raising children, I see that from this community, wanting to do what is right and to use their gifts for good."
Johnson said she doesn't think the community even realizes how great of an impact this facility can have, especially on the youth.
Johnson said when they initially began to delve into funding for the new center, they were blessed to have knowledgeable people like the county commissioners, the Holmes County Chamber of Commerce and former Ohio State Rep. Dave Hall to glean from in terms of ways to secure grants. She said State Sen. Jay Hottinger, Sen. Larry Obhof, former State Rep. Al Landis and State Rep. Darrell Kick paved the way for the allocation of a grant of $600,000.
Landis, current Tuscarawas County commissioner, filled in for Hottinger and said these types of projects must be sold to the senate and house for funding.
"You have to market it with leadership, and I was lobbying right up until the very end," Landis said. "I can remember the night in my family room when I received the call of the funding we had gotten. I was floored and felt so blessed that in my last term we were able to deliver."
Johnson said as they worked on grants, local individuals and organizations began showing their support though financial and in-kind donations.
"Without this incredible community support, we could not build this community arts center," Johnson said.
Johnson said they realized that with the support they were getting, they had a big responsibility to give back to the community. They worked with children and teens referred by various local mental-health agencies.
"We were seeing the social, mental and emotional benefits that our classes were having on these kids, and we realized how this building was going to allow us to increase our efforts to make a difference in the lives of at-risk in-risk youth," Johnson said.
That was when a $500,000 grant was presented to the HCA from the Ohio Department of Mental Health and Addiction Services to provide funding for capital projects for youth.
ODMHAS worked closely with Mental Health & Recovery Board of Wayne-Holmes, and executive director Judy Wortham Wood spoke about her organization's desire to promote the center and see it grow.
"Meeting Holley was a dream, and this project is a dream," Wortham Wood said. "We are very excited to able to be that local board that brought that grant forward. We congratulate the Holmes Center for the Arts to be able to provide the healing power of the arts as a complement to our traditional treatment modalities that embrace whole-child wellness. It is rare that you have an arts center that wants to provide youth services. [The HCA] will be a focus on youth resiliency and what we think will be one of the most unique in Ohio that will serve as a model for other communities."
As both Johnson and Wortham Wood said, it takes a village and many giving hearts to bring a project like this to reality.
Because it has such a far-reaching impact on the community, both women said the possibilities of what the center can offer to the community are exciting.
Johnson said actual work on the project will begin when the weather improves in 2020, but before that begins, they must raise an additional $650,000 in both financial and in-kind donations.
Anyone wanting to become a donor may do so by calling Johnson at the HCA at 330-473-2879, emailing holmescenterforthearts@gmail.com or visiting the website at www.holmescenterforthearts.org.