HCA delivers summer learning opportunities for youth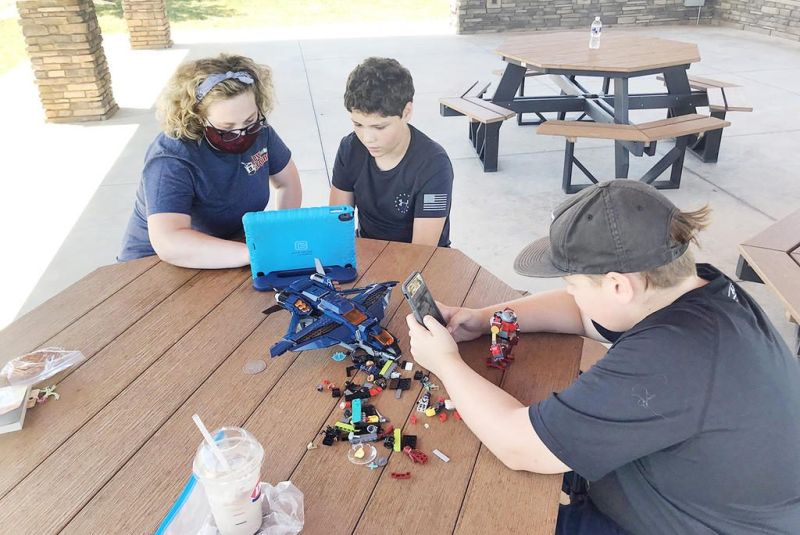 Art doesn't always come on a canvas or a stage. It also can come from a tiny screen, and it develops from imagination and creativity. The hope of members of Holmes Center for the Arts in a recent endeavor was to help young people develop those artistic and creative avenues in unique ways.
The newest entry into the Holmes Center for the Arts platform was Learn Filmmaking and Photography: Art for Today's World. It gave youth a chance to learn some new skills or hone talents they were already using by utilizing electronic gadgets most teens have at their fingertips almost daily.
"Chances are a lot of today's youth have been using their phone, camera or other devices more than ever to take pictures and shoot videos," said Holley Johnson, HCA director.
HCA offered two classes in a socially distanced environment to help youth develop photography or film-making skills.
"We tried to create a number of different avenues for kids to explore, and these two topics worked well together," Johnson said. "Because of the virus, we have had to work to keep our numbers down to below 10 kids for any given event, so our numbers aren't that high, but there is nothing we can do about that. We will just continue to promote the arts and get kids involved as much as possible by offering a variety of options. So far what we have done has been really great for the kids who have participated."
Johnson said while they have offered photography, dance, tumbling, film making and some private lessons, they are looking to create more unique opportunities.
"We'll keep exploring our options and continue to listen to what people want to see us explore," Johnson said. "We certainly have just hit the tip of the iceberg so far, and there are plenty of other options to present."
Connecting with teachers to lead these classes is instrumental in providing every opportunity for youth to explore the arts in multiple ways.
Lessons with Leah was a photography workshop that took place July 21 for those age 10 and older.
The class took place both at Holmes Center for the Arts and in downtown Millersburg, where students explored the streets and found plenty of photo opportunities.
The class allowed students to learn the basics of photography under the tutelage of artist Leah Schonauer of Faith Through Fotos. Schonauer has been creating art her entire life in many forms. With a deep connection to photography, she attended and graduated from The Art Institute of Pittsburgh with her bachelor's in photography in 2015.
"Leah has a heart for both learning and serving. She leads workshops for all ages of those with the desire to connect with others through the art of photography," Johnson said.
The workshop started at the Holmes Center for the Arts, where students learned basics of the camera, how to create and strengthen photos, and how photography is art. They then went on a walk together to capture photos around Millersburg.
Working with equipment that ranged from digital cameras, iPhones, iPads, iPods, point and shoot digital camera or DSLR, the object was to be creative.
The film-making workshop series took place July 21, 22, 28 and 29 in the pavilion outside of Berlin Mennonite Church and was for youth age 11-18.
The instructor was Lauren Schrock, a Malone University graduate with a bachelor's in communication arts with a concentration in film, media and theater.
Schrock said this growing media avenue is developing quickly among young people who are seeking to share their voice and create fun and exciting new media content.
"I wanted to come up with a film idea that would really excite the kids and allow them to learn some basic film-making skills that are inexpensive," Schrock said. "The goal is to get them excited about the opportunities out there so they can grow into it. It's an exciting field for young people today, but they can make some really neat pieces without spending a lot of money. I have been really impressed with the quality and the creativity I've seen."
Rylin Miller was one of the youth to participate in the film-making class. She said she and her sister have a YouTube channel, which is why she wanted to explore some new ways to create material.
"I love the fact that I got to learn a lot of new ideas on film with someone who can teach," Miller said. "This was a perfect class for me, and I was excited to be a part of it."
Students were encouraged to use their imagination to create a short film using free apps on their own cell phones or iPads. Schrock led them through the process of coming up with and developing an idea. Learning how to storyboard what they were going to film helped them understand different techniques on filming and how to edit the video into a completed piece. This was done through writing exercises, brainstorming sessions and filming outside of the class.
For more information on upcoming events and updates of the new facility, visit www.holmescenterforthearts.org.