Health department celebrates 100 years of caring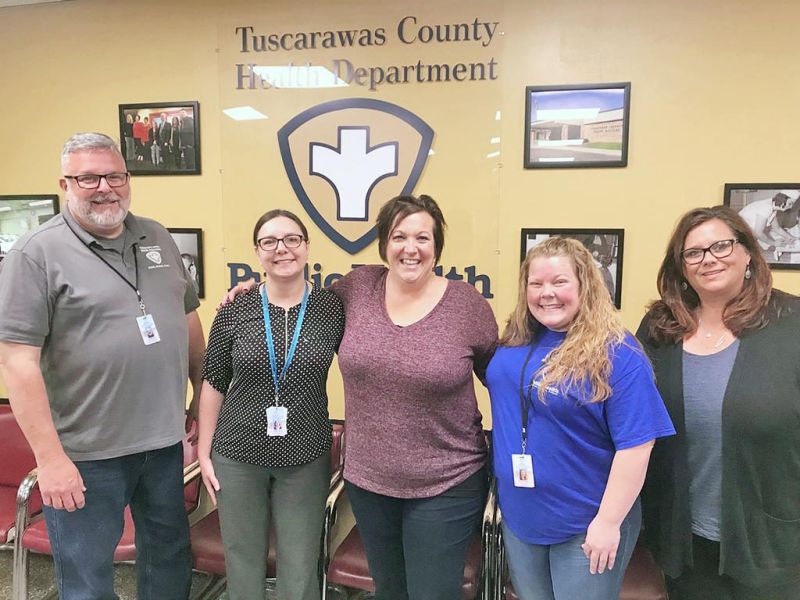 One-hundred years of caring for the health of local residents is something to celebrate, and the Tuscarawas County Health Department will welcome the community to an open house to mark its 100th anniversary year on Wednesday, May 22 from 4-6 p.m. Numerous special events and free screenings will be available, and the open house will welcome all visitors.
Blood pressure and Body Mass Index screenings are planned, and immunizations will be available with a preregistration.
Department health educator Nicole Dorsey said guests can get a feel for the department's Project Dawn training, which prepares trainees for emergency assistance in the event of a friend or relative suffering a drug overdose.
"Parents can also get a free cleaning kit and learn how to protect family members from lead poisoning," Dorsey said. "If you are remodeling an older home, this can be very important."
The kit includes a bucket, Libman twist mop, cleaning solution, cleaning wipes and reusable cleaning cloths.
Child car seat inspections also will be available. "If you have any questions about the safety or reliability of a car seat, we can check that out, and we can also demonstrate how to install it properly," Dorsey said.
There will be snacks available and several prize giveaways and raffle drawings. Five Vera Bradley bags filled with gardening supplies will be given away, along with the grand prize of a bicycle with helmet.
A Safety Town demonstration will help kids learn to ride bikes safely, and free helmets will be given away while supplies last.
Dorsey said children also can plant a seed and take the plant home to watch it grow.
Those in need of a birth or death certificate copy can have one prepared during the open house (fees apply).
The Tuscarawas County Health Department grew out of a mandate in the aftermath of the Spanish flu epidemic of 1918, which claimed millions of lives worldwide and was spread rapidly by infected soldiers in World War I.
Sanitarian in training Angela Frantz said in the beginning most communities had their own smaller health departments. "After the epidemic we were required to have a county health department," she said. "We've grown tremendously since that time. At first there was a part-time nurse, a part-time sanitarian and a part-time commissioner. Now we have several departments and a clinic with a staff of full-time employees."
"The clinic is a rare thing," said Paul Westlake, emergency-preparedness coordinator. "We're one of very few health departments in Ohio with a clinic, and it's open to anybody."
"Over time those small community health departments joined the county department and dropped their own," Frantz said. "Uhrichsville and New Philadelphia were the last two in the county to join in the 1950s."
The county health department is partially funded by a local levy, but funding differs by department. Environmental health is funded by permit receipts and inspections while the clinic via insurance and receipts for health care. The department also relies on assistance from several grants.
"The health department is constantly changing to meet the needs of the community," Dorsey said. "We are very community-focused in all we do. People may not understand that we see everyone here, not just uninsured or underinsured patients. The Tuscarawas County Health Department offers a really wide range of services that many may be unaware of. We hope people will come out for our open house to learn about all that their county health department has to offer."
Preregistration for immunizations may be made by calling 330-343-5555. The Tuscarawas County Health Department is at 897 E. Iron Ave. in Dover.