Healthcare Town Hall gives residents a platform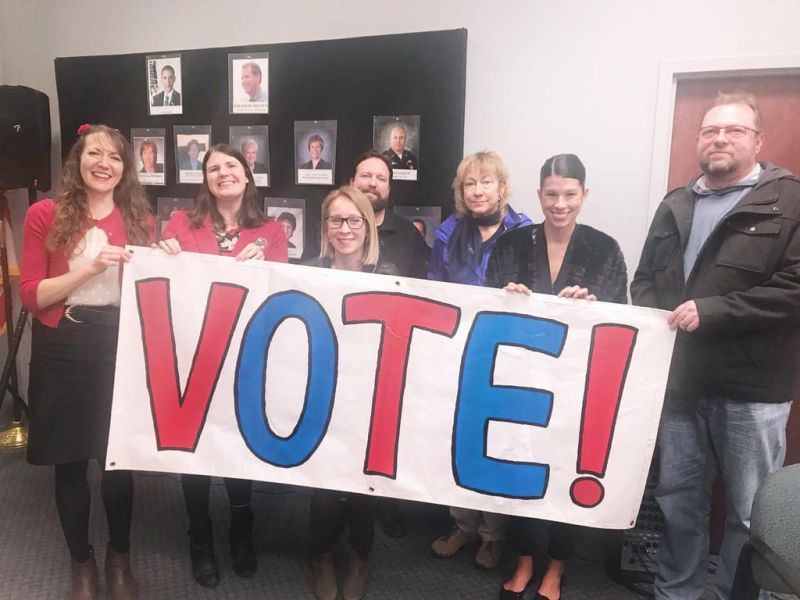 The Tuscarawas County Young Democrats may not have been an active group for very long, but they are already making an effort to reach out to the community, providing space and events for discussing issues of concern to local residents.
The group hosted a "Share Your Story: Healthcare Town Hall" meeting on Tuesday, March 10 at Democratic Party Headquarters in New Philadelphia. The evening gathered area health-care providers, candidates and those with stories to share about their experiences with navigating the current health-care delivery system. About 30 people attended the two-hour event, which was hosted by Hannah Hubbard of Dover.
Gina Space opened with an introduction to the county Young Democrats organization. "We may have only been around for a few months, but we are already very active," Space said.
The group is seeking to bring together young Democrats in the area around political discussion, volunteering and social activities for area residents age 16-40.
Hubbard began by asking the audience, "How many of you here this evening have had to forego treatment or didn't fill a prescription because of the cost?"
Most hands in the room rose in response.
Samantha Wottle of New Philadelphia was first to share her story. Wottle is the mother of three children, and each pregnancy and birth was very different in terms of experience and cost.
The first was an unexpected surprise for her and husband Enoch Wright. "We planned to finish college before having children," she said, "but here we were and had no health insurance."
The bill came in at about $11,000.
Their most recent child, a planned expense with insurance, was a different story. "We were both working multiple jobs and had insurance and a health-care savings account. The pregnancy cost $30,000 with $6,000 out of pocket. We had done a lot of research ahead of time and were expecting half that," Wottle said.
Wottle said even small changes in the health-care system might make a major difference, like eliminating the practice of starting over with deductibles annually. "A pregnancy is likely to cover more than one calendar year, but you have to start over meeting deductibles with the new year," she said.
Rachel Rothacher, also of New Philadelphia, shared her struggle in finding any kind of health-care coverage as a young person, even though she was working at more than one job. She said she found herself in a losing proposition of either making too much money to get reduced-fee coverage or making too little to hang on to state credits to reduce overall cost.
"And along the way I had to decline needed care because of affordability," Rothacher said.
Rothacher supported a Medicare for All plan. "People should be able to choose whether to have a child or not as a personal decision and not one based on affordability," she said.
Alison Laughlin talked about the services available through her office at the Tuscarawas Clinic for the Working Uninsured. "There are many people living paycheck to paycheck just covering bills who can't afford insurance premiums or out-of-pocket expenses for health care," she said.
The next speaker, Kelly Kyle of Dover, has been a type-one diabetic for most of her life, a life that would be at immediate risk without regular medical care and insulin. She spoke of the expense of obtaining the medication that keeps her alive, even with insurance.
"For years the supply for a month was $485 with insurance. I have always been diligent about working within the system, but it was quite by accident that I learned of available discounts of about $200," Kyle said. "It's still very expensive, but I would have gone on paying the higher amount if I hadn't learned of alternatives."
Kyle described further costs of her condition. "What is going on with life-saving medication in this country?" she said. "There's the medication, but also testing all day, every day, and keeping close tabs on dosages and blood-sugar levels. What happens if you cannot pay the more than $485 each month? If I didn't have this medication, I would literally be dead in about a week. This kind of expense is tapping out everyday Americans who can't afford it."
Community Mental Healthcare director of marketing and fundraising Miles Riley spoke next, outlining the services available to those in need through that agency including mental-health screening and care, basic health services, and dental care.
Riley said Ohio's expanded Medicare services offer help to many, but few seem to be aware of its availability. "It's estimated that about 20 percent of people in Tuscarawas County qualify for Medicare while 8 percent are enrolled," he said.
Riley also spoke of the difficulty for people in Newcomerstown, Dennison or Uhrichsville to find transportation to services in Dover and New Philadelphia. "It's about affordability and availability," he said.
Last to speak was Paul van Pelt, currently living in New Philadelphia but a native of Holland. Van Pelt said his biggest shock in encountering American health care was the cost, especially of co-payments, unheard of in Holland.
"My wife's pregnancy here cost us over $11,000 out of pocket with insurance," he said. "In Holland that number would be zero."
Van Pelt described Dutch care as excellent with no long waits for services and a high quality of care. "In the end a single-payer system saves everyone money," he said.
In addition to other speakers, those gathering heard comments from Quentin Potter, write-in candidate for Ohio's 7th Congressional District, and Todd Beegle, seeking a seat in the Ohio House from the 98th district.
Hubbard ended the evening by contrasting the key points of the two remaining Democratic candidates for president, explaining Bernie Sanders' plan for Medicare for All with no premiums, co-pays or deductibles versus Joe Biden's plan to stick with a slightly modified version of the current system.
Space said more information about the Tuscarawas County Young Democrats is available on Facebook or email her at gspace1989@gmail.com.