Hiland grads will cherish the moments they did have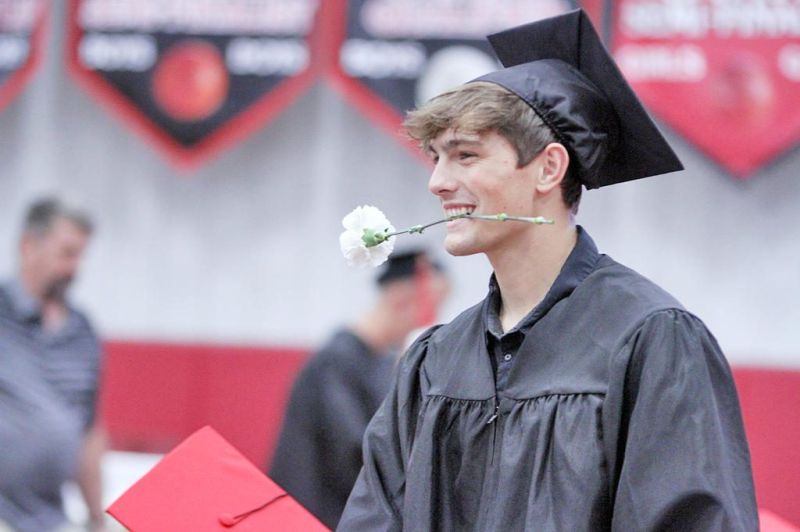 How do you sum up a time that you never truly got to experience? That was the dilemma of the Hiland High School graduating Class of 2020 that experienced graduation on Sunday, June 28 at Hiland High School. While they missed their last three months of school together due to COVID-19, they shared many months and years of being together, and those memories are something the coronavirus can't wipe away.
Hiland Class of 2020 valedictorian Anne Straits said during her graduation ceremony speech that she and her classmates were going through unprecedented times and singled out a particular group that played a key role in not just the past several months of their lives, but also throughout their 12 years together as classmates.
"I would like to thank the teachers, who have touched the lives of us all in countless ways," Straits said. "On behalf of my classmates, I say thank you for making these past four years of high school so memorable and enjoyable. Thank you for your efforts in such crazy times and for your undying support. Thank you for being friends, and mentors and for treating us with respect. Thank you for the countless academic and life lessons and for the candid conversations you were willing to share with us, for shaping us into who we are today and for pushing us to be our best. Your efforts are truly appreciated."
Straits said the past couple months have not gone according to plan for any of them, and throughout high school they anticipated this rite of passage, only to see their high school careers end in unimaginable ways. She said in lifetimes measured in decades, three months is only about four-one-thousandths of a lifetime; however, she said not all segments of life are created equal and valued the same.
"Our senior year together was supposed to be one for the books," Straits said as she named off all of the things they missed. "The Class of 2020 will forever be defined by the COVID-19 pandemic that ended our school year so abruptly. I doubt that any of us thought that when we walked out of school Friday, March 13, it would be the last day we all roamed the halls of Hiland High School together."
Straits said COVID-19 has given them time to reflect. "But COVID-19 has not put out our fire. It has given us the extra time we needed to re-evaluate our goals and focus on what is truly important to us. There are many things the Class of 2020 has to be proud of. While we have all had different high school experiences, our shared experiences and memories will continue to connect us together, even as we embark on our own separate journeys."
Straits' classmates shared some thoughts on what their final few months have been like, and all agreed that while they missed the final time together at school, they will forever cherish the memories they did create.
"It's been really different," said Sam Habager, who was looking forward to what he hoped would be another great Hawks baseball season until that came to a quick halt. "I'm just trying to enjoy these last few moments with everybody. I miss being around everybody every day and having those conversations."
Sarah Custer, a member of the softball team, said missing out on the final moments together in high school was difficult. "We go to school for 12 years and then the best three months of our lives are taken away, but you really learn to cherish moments with people and being able to get together with friends outside of school. You definitely cherish those times more and don't take anything for granted," she said.
Custer said she was very grateful to the school board and community that allowed them to celebrate one last time together at graduation.
Chloe Ayers said to call the year a weird one was an understatement, but she said being able to graduate with her classmates in a real graduation experience was exciting.
"It's that high school dream of being in front of everyone and being able to walk across the stage, and the chance to be together as a class one more time," Ayers said. "I have learned to cherish times and to live in the moment."
Fellow graduate Chloe Beachy said missing all of the "lasts" that usually accompany any senior's final weeks of their high school career is something each of the graduates wish they could have experienced.
For her, it was music and theater that she missed, although she and her fellow members of Varsity Singers did get to explore one final performance: their collaborative effort to sing the Hiland High School Alma Mater on video with each recording their own part on their own.
"Looking back, I wish I would have lived in the moment a little more," Beachy said of missing the final three months with her classmates. "I would have soaked all that was going on more if I could. Getting this final day to graduate, I feel like we are very lucky and grateful to have this experience and not just a virtual graduation, even though I know those schools did put a lot of time and effort into their graduations. It's special to be able to go through this to end our careers."
The HHS Class of 2020 achieved much, enjoyed each other's company and fellowship, and created a huge number of memories, each individual their own, while at the same time sharing some of those memories with countless others.
"Currently, it is hard to feel like truly an accomplishment," Chloe Padilla said. "But even darkness must pass. A new day will come, and when the sun shines, it will shine on us even brighter."