Ho, ho, ho your way to Dalton Holidays Festival Dec. 3-4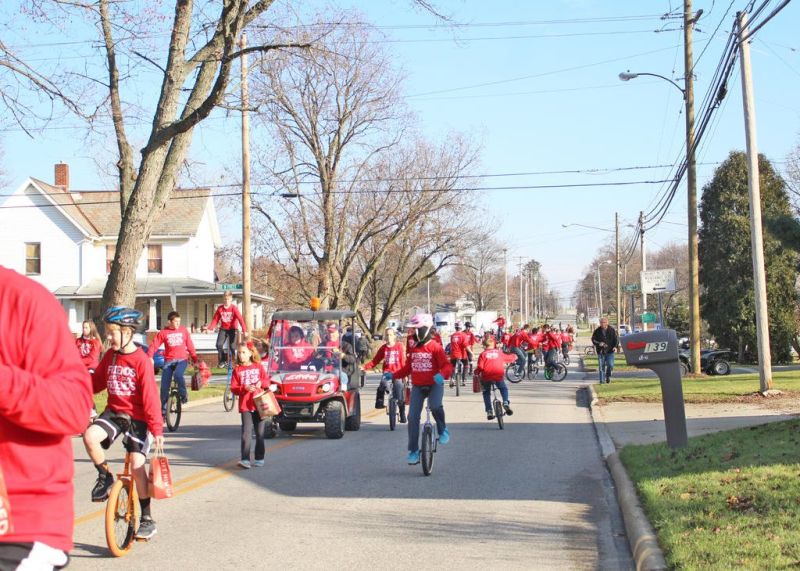 Wayne County's holiday season will be in full swing on Friday, Dec. 3 and Saturday, Dec. 4 when the 45th annual Dalton Holidays Festival returns to the community with a schedule for people of all ages.
From Santa and Mrs. Claus making a visit to food trucks galore, a parade featuring marching bands and royalty from across the state and more, the festival is sure to feature something for everyone as visitors prepare for the upcoming holiday season.
"We are a family-friendly festival set in a small town with a parade and outside activities," said Walter Weldon, president of the festival, who first became involved with the event more than 20 years ago by supplying antique tractors from his own personal collection as the pull vehicles for numerous floats and trailers in the parade. "Santa and Mrs. Claus will be there, along with a pantry selling baked goods, turkey bowling, a skillet toss and touch-a-truck, just to mention a few."
Weldon said the Dalton Holidays Festival has been modified during the past two years during the COVID-19 pandemic, with last year's event being just a small parade going around the community and ending in the village's parking lot as a drive-thru so people could see Santa.
"This year we have grown back to our downtown open house on Friday night and parade on Saturday afternoon, ending at the high school parking lot for fun outside events," Weldon said.
The parade travels through Dalton's downtown area and then ends at the high school for the festival's actual events to take place there, Weldon explained.
This year's Dalton Holidays Festival theme is "Heritage Holiday," and many of the weekend's events coincide with that, like the holiday decorating and lighting contest, where local businesses bedazzle their windows with their holiday spirit and then festival committee members judge each one and declare a winner. It also is the subject of the massive parade, fit for all walks of life.
The parade will step off at 2 p.m. on Dec. 4. "It will begin at the Dalton Historical Society heading west on Main Street. It will turn north on Church Street, continuing to the Dalton High School parking lot, where it will disband. Many units are expected including festival queens, clowns, high school bands, baton corps, antique and classic cars and much more. And as always, we anticipate the arrival of Santa Claus," Weldon said.
Because of the pandemic, the festival committee revamped a bit how the event pans out this year, and Weldon believes the layout plan will make everything go off safe and sound for all those planning to attend.
"This year the festival will be a little different than in the past," Weldon said. "We will have Mrs. Claus's pantry inside the high school main hallway, along with Samurai Balloon Guy and Santa Claus. Outside in the parking lot, we will have touch-a-truck, a skillet toss, turkey bowling and many other activities."
There will be a 50/50 raffle held throughout the weekend as well. Tickets began being sold earlier in the month and will still be available throughout the festival, with the winner being drawn on Dec. 4 at 5 p.m. Raffle tickets can be purchased from any festival committee member and also will be available at the information booth throughout the weekend. The cost per ticket is $1 or six for $5. The winner does not need to be present to claim the prize.
A more detailed festival schedule of events is as follows:
—Tuesday, Nov. 30: window holiday decorating and lighting contest judging at 6 p.m.
—Friday, Dec. 3: downtown business open house, Mrs. Claus's Pantry, food trucks, crowning of snow princess, Little Miss Snow Flake and Jack Frost, announcement of Citizen of the Year and Grand Marshall from 6-8 p.m. and crowning of queen at 7:30 p.m.
—Saturday, Dec. 4: Rotary Breakfast at Dalton Presbyterian Church from 7-10 a.m., Queens' Luncheon at Camp CHOF Retreat Center at 11 a.m., parade at 2 p.m., and Mrs. Claus's Pantry, 50/50 raffle, touch-a-truck, turkey bowling, skillet toss, food trucks, Samurai Balloon Guy, caricature artist and more from 2:30-5 p.m.
Although the festival is all about the holidays and is celebrated in December, the committee spends every season getting ready for the following year's celebration.
"Our committee works 10 months on the planning of our festival," Weldon said. "Our royalty travels all over the state of Ohio throughout the year promoting our festival."
And while a large part of the weekend is put on through donations, some funds are raised during the festival. Those proceeds are then turned around and donated to a different nonprofit organization each year, Weldon said.
"The proceeds of our event have been given to many different organizations, which change every year," he said. "One that we do donate to every year is Wreaths Across America. Members of our committee, along with our queen and princess, also attend the wreath laying at the Ohio Western Reserve National Cemetery. Our festival is a wonderful way to kick off the holiday season."