Holiday programs lined up by Main Street Wooster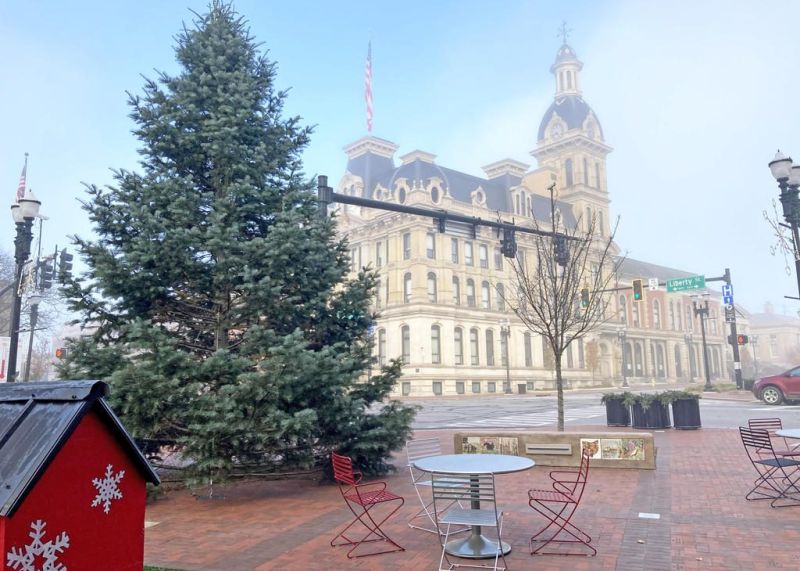 Main Street Wooster has a series of programs lined up for the holidays to attract people to downtown Wooster. The goal is to incentivize more spending to support locally owned businesses. While small businesses have been agile and adaptive since the start of the pandemic, they still struggle with lower-than-normal foot traffic.
Community support for local businesses is more important than ever this year. Chris Struzik, owner of Graham and Burns in Wooster with his wife Lisa, highlighted the great work Main Street Wooster is doing to expand event offerings this year.
"Shannon (Waller) and John (Benko-Scruggs) have done everything they can to spread things out so shoppers can take advantage of downtown shopping so it's less crowded. They've done an excellent job being creative about getting people downtown," Struzik said.
Graham and Burns opened in April 2019 with a tagline of mindful home specialties, focusing on kitchen, garden and home décor.
"Our biggest challenge is getting traffic downtown and into the store. I think there's a consumer perception that it's still not safe to go to stores," Struzik said about the challenge of selling holiday gifts during a pandemic.
Julie McNabb, co-owner (with sister Katie Heinz) of JK Gifts in downtown Wooster, concurred. "The most difficult thing is to try to recreate the walk-in traffic that we are accustomed to. I think everyone feels a little less comfortable being out in public in periods when the virus spikes," McNabb said.
Both Graham and Burns and JK Gifts have been nimble and responsive, developing online platforms to sell their products and finding new ways to engage their customers. They exemplify the entrepreneurial spirit of Mom and Pop shops across small towns in the United States.
McNabb announced that last week they launched a new website to sell their gifts. With a tagline of "best gift ever," they offer everything from birthday gifts, barware, tabletop settings, wedding shower items, fashion and apparel. They developed a new, customizable corporate line this year, which they are promoting through the Wooster Area Chamber of Commerce and Main Street Wooster.
"The other thing we've tried to do during all of this, we started online Facebook Live sales during shutdown. It's been a positive out of a negative. We feel like we know our clients and even their extended family members better now," McNabb said.
Graham and Burns also was able to pivot its business model and expand its online sales. "When we had to close in March, we were able to convert about 90% of our inventory online. We offered shipping and free local delivery to the Wooster area," Struzik said.
While online sales are one way to support locally owned shops during the holidays, getting to the stores in person can be an important piece of the holiday experience. Two programs spearheaded by Main Street Wooster are a giveback program for Shop Small Saturday and an Elf Scavenger Hunt.
For the giveback program for Shop Small Saturday on Nov. 28, customers are invited to take a selfie in front of a downtown Wooster shop or restaurant. For every selfie taken that day where both Main Street Wooster and the business are tagged, the business receives $5.
"It's a direct infusion of cash to get the stores publicity and get more people into the downtown stores," said Waller, executive director of Main Street Wooster, of the grant-funded program.
Additionally, the most creative three selfies get a $300 prize for first place, $150 for second place and $50 for third place. That prize goes to the customer, unlike the $5 stipends that go directly to the business. If someone doesn't have social media, they can email selfies to info@mainstreetwooster.org.
The Elf Scavenger Hunt started Nov. 20 and will run through Christmas.
"We have 40 businesses participating, so we'll have 40 elves throughout the town and have a passport. Families go to each business location and take a photo with the elves. Many will be in store windows. We'll randomly select five participants who do all 40, and a $50 gift card goes to each participant, purchased from a local business of choice," said Benko-Scruggs, project coordinator with Main Street Wooster.
For more information on the programs, events and promotions, refer to Main Street Wooster's Facebook page.
These efforts are not only about supporting local during the holidays, but also about enjoying the holiday season this year.
"There is still a desire for people to celebrate during the holidays, and there are ways to do it safely if it is well-organized. People absolutely need the fun and celebration," Struzik said.