'Holiday Happy Hour' at Walnut Hills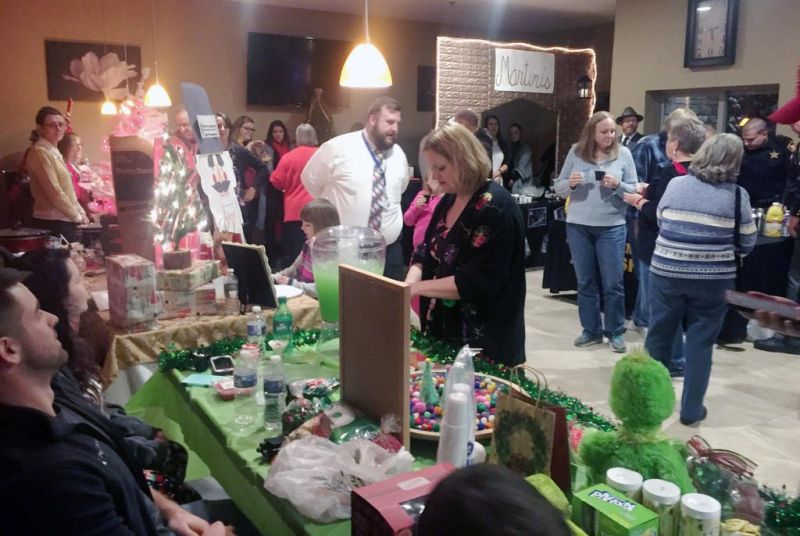 John Candy and Steve Martin once found out how difficult it was to make it home for the holidays in the movie, "Planes, Trains and Automobiles."
Transportation will be the theme for this year's alcohol-free Holiday Happy Hour, sponsored by Commercial & Savings Bank and Anazao Community Partners. The annual event will take place at Walnut Hills Retirement Community on Dec. 3 from 5:30-7:30 p.m.
The 18th annual Holiday Happy Hour will feature area businesses doing their best to come up with some fun and unique themes to match their nonalcoholic mocktails — holiday drinks without the alcohol content — as they pursue the theme, "Planes, Trains and Automobiles: How Will You Get Home for the Holidays?"
Over the years this event has featured some creative drinks, plenty of fellowship and laughter, prizes, and enough joy to more than fill Santa's sleigh.
The one thing that will be absent from this gala party will be alcohol, the central focus of the evening being placed on having a lot of fun without presenting the dangers of alcohol into the party atmosphere.
"It's about sharing the message that we need to be safe and smart during the holidays when it comes to drinking and driving," said Beth McCready, Wayne and Holmes Safe Communities prevention and recovery program coordinator who took over directing the event this year. "That is a message that we can never repeat enough times. People can stay at home or get a designated driver, and that is good, but there are plenty of ways that people can enjoy a holiday gathering that don't need to include alcohol."
The public is invited to come and enjoy this free family-friendly event where local teams compete in a mocktail drink contest. While it's officially a contest, unofficially it is a get-together for a holiday gathering with a special message.
The purpose of the night is to create a fun competition while educating people on the dangers of drunk driving. The holidays are always a time of celebration, but because alcohol is often involved, the dangers of someone getting behind the wheel of an automobile and trying to navigate their way home creates dangerous situations.
"It's always fun to see what kinds of things people come up with to match the theme each year," McCready said. "We have seen some pretty impressive displays over the years, and it will be interesting to see exactly what teams come up with this year as we focus on how people are getting home for the holidays."
Walnut Hills participated as a team last year and expressed an interest in hosting the event, should the opportunity arise. McCready said the committee felt it was an ideal place to host the event because it provides ample space for the local teams to set up their tables and displays.
"Walnut Hills is a large and beautiful venue with lots of room for people, and we hope to have everyone join us for a fun evening," McCready said. "By having it there, it also opens the door for many of the seniors to stop by and enjoy the evening, which is something that most of them wouldn't be able to do otherwise."
In an evening complete with plenty of raffle prizes, live music, drinks and snacks, it is an ideal evening for couples, families, kids and teens who can enjoy the Christmas experience in safe surroundings.
The West Holmes High School Chamber Choir and Hiland High School Jazz Band will both provide live music.
The event will feature both Judge's Choice and People's Choice winners with those in attendance able to cast their vote for their favorite drinks and themed tables.
Over the years area businesses, churches and organizations have come up with drinks both hot and cold, sweet and sour, and colorful and inventive.
Each year this fundraiser goes to help a local family facing financial burdens. This year's proceeds will go to the family of Preston Phillips, who was tragically killed this summer in a traffic accident.
For the fourth year, Commercial & Savings Bank will continue to be the corporate sponsor for Holiday Happy Hour while Anazao Community Partners also is a major sponsor.
"CSB stepped in and really kept this event going a few years ago," McCready said. "We can't even begin to express our gratitude for their willingness to share as a sponsor. They definitely recognized the value in the message we are trying to portray about the dangers of drinking and driving. They are more than just a sponsor; they are a great partner who has a team here every year."
McCready said they will accept raffle prizes right up until the night of the event, and anyone who would like to donate a raffle prize may do so by calling her at 330-674-4608.
Walnut Hills Retirement Community is located at 4748 Olde Pump St. in Walnut Creek.