Holiday Hunt for History scavenger hunt set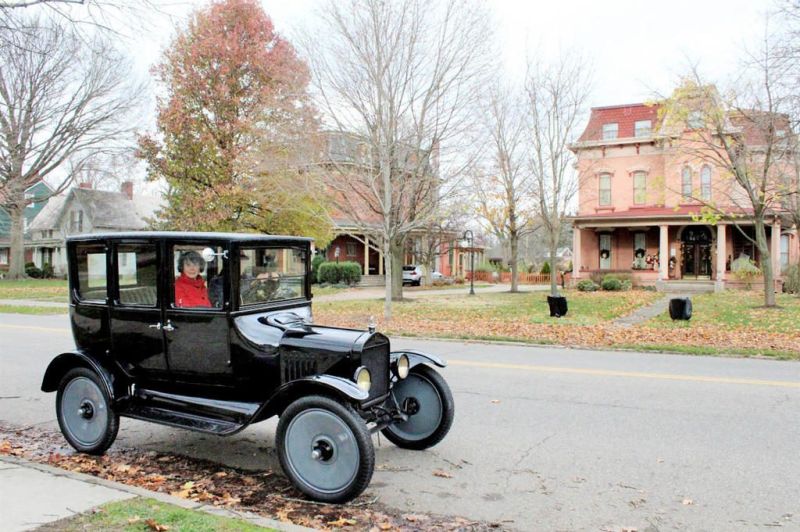 The Tuscarawas County Heritage Home Association invites everyone to get out of the house for a driving tour and scavenger hunt Dec. 12-13 from noon to 5 p.m. each day.
"We couldn't put on the Christmas Tour of Homes this year, and everyone was really disappointed," said Patti Strickling, one of the organizers of the event. "We still wanted to do something fun for the county and make it educational. People are just tired of sitting at home."
The group came up with the idea for a driving tour of plaqued Heritage Homes in New Philadelphia and Dover. To earn a plaque, a heritage home needs to meet certain qualifications. "They have to be over 100 years old with most of their original architectural features inside and out," said Tom Strickling, who also helped organize the event.
The group wanted to add more fun to the event.
"To make it a little more exciting, we added a scavenger hunt," Patti Strickling said.
To answer the questions, participants will look for unusually shaped windows, towers, gables with fish-scale slate, stone crosses and, for extra credit, a giant pickle ornament at one of the homes. All homes on the tour will have a decorative bow on a small wire frame placed near the sidewalk to help identify it.
The tour also will go through Story Book Lane at Tuscora Park and end at the Reeves Museum in Dover, where participants can drop off their answer sheets at the Reeves Carriage House. If they show their tour sheets, Holiday Hunt for History participants can tour the museum for the reduced rate of $7 for adults and $5 for children.
The answer sheets will be scored, and prizes will be drawn from sheets with the most correct answers. A number of gift cards and gift baskets will be awarded.
There are 25 sites on the tour, and it will take approximately two hours to complete. Most homes are located near areas were parking along the street is available. Participants will find detailed directions on the tour sheets, which will be available to print starting Dec. 1 at the Heritage Home website at www.tuschha.org by clicking on the Christmas wreath.
A limited number of tour instructions also will be available (one per car) beginning Dec. 1 at the Tuscarawas County Welcome Center Kiosk at 126 E. High Ave. in New Philadelphia. The kiosk is open from 8 a.m. to 8 p.m. daily.
The tour is free to participate in, but with the loss of their biggest fundraiser this year, the Holiday Tour of Homes, donations are accepted. For convenience, there is a donate button on the website of the TCHHA.
The Holiday Tour of Homes was started by the Dennison Depot 27 years ago and has been operated by the Tuscarawas County Heritage Home Association since 2009. The tour usually attracts 400-500 people.
The Holiday Hunt for History will educate participants on the different styles of historic homes. "They're going to learn about architecture, architectural details, and a little bit about the history of each home and the previous owners," Tom Strickling said.
The participants can stay safely in their vehicles to complete the scavenger hunt; there will be no in-home tours.
The TCHHA is a 501(c)(3) nonprofit organization dedicated to the preservation and documentation of the architecturally and historically significant homes and buildings in Tuscarawas County. The group was organized in 1976 by founder Ernestine Miller Kehl. The group currently has about 75 members, and prior to the pandemic, it enjoyed a number of activities that included monthly meetings at members' homes, traveling to historic sites and eating in historic restaurants, and touring other historic homes.
The group also presents a Heroes of Preservation award each May during preservation month and the Heroes of History award.
"The Heroes of Preservation award is just on the outside of the house," Tom Strickling said. "There's no scoring or anything. It's just we notice that somebody redid the exterior of a historic home and they did it right. They improved their neighborhood and set a good example. They took the time to restore it instead of remodeling it."
The group also holds an Olde House Parts architectural salvage sale two or three times a year. "The last couple times we've tried to coordinate it with Art on the Alley since there were already people downtown, and we passed out flyers to push people toward our sale," Tom Strickling said. "We set up a little booth with pieces of salvage that we had with so many makers and artists there, and I think most of the things we sell are repurposed."
Other times buyers are restoring their homes and looking for pieces to match. Tom Strickling recalled one time when he was able to help an area woman find a door that was the exact size, style and color she needed to restore an area of her home.
He would be most happy to find someone who needs a cast iron bathtub.
"I'm getting tired of setting that thing up and bringing it back," Tom Strickling said. "It's kind of heavy. It's on wheels, but still, it takes up room and it weighs a ton."
Anyone looking for something specific can contact the group at any time via their website.
Other committee members who helped organize the Holiday Hunt for History include Robin Mackey, Marlena Allen, Laurie Brown, Linda Clawson, Sharon Feemster, Julie Greenwood, Betsy Humphrey, Rod Kirkendall and Linda Shetler.
The Heritage Home Association would like to thank those who donated to the event including Around the Corner Frames, A.W. Tipka Oil & Gas Inc., Miller Studio, Stars of Zoar Creative Co-op of Zoar, Laurie Brown Designs, John's Sweeper Service, Renaissance the Salon, Magnolia Manor Bed & Breakfast and Tea Room, Museum Acrylics Co., Shirley Schumacher, Geib Funeral Homes and Crematory, Belloni Foods, WE LUV PETS, and David Hipp.