Holmes Board of DD creates safe learning opportunity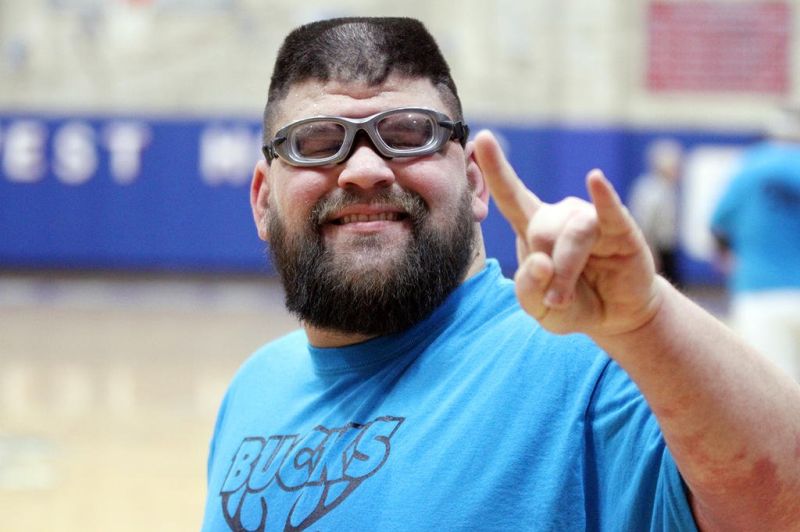 Area public schools are facing plenty of obstacles in creating a safe learning haven for students, but for the Holmes County Board of Developmental Disabilities, these challenges become even greater with a group of students and clients who are at high risk.
That hasn't stopped the Board of DD from working together to provide the opportunity for students and clients to attend the facility and continue their ongoing relationship with the organization, whether it is at school or through the many adult programs offered by Lynn Hope Industries.
"Even in the world of COVID-19, school is a safe and happy place to learn and grow," said Rhoda Mast, principal. "Things are running quite smoothly the first few weeks, thanks to everyone cooperating, taking the necessary safety precautions we identified early on. Students, staff and families have adapted to the changes required, and for that we are grateful. Thank you. We really are in this together."
According to Mast, they have worked hard to create a calm, safe atmosphere in the classrooms, without making things look or feel a lot different from the past. She said students immediately adapted to staff wearing masks at all times, but one thing that has not changed is the love and care extended to each student.
"They are enjoying the engaging lessons and activities created for their interest and learning styles," Mast said. "New technology discoveries are enhancing the learning goals and communication between classes. It's fun to see students in one class waving and singing along with their friends in another classroom via the large smart boards. Additionally, students at home can participate in classroom experiences through virtual connections."
According to Board of DD superintendent Marianne Mader, preparing for the return of adult participants and students has been a challenge for the staff. She said much of what they took for granted has changed.
"Our staff members are learning new ways to interact with each other, students and adult participants," Mader said. "At times it's hard not to be able to do what we used to, but we have put our focus on what we can do and supporting people with developmental disabilities in living meaningful lives."
Mader said while some people are very concerned about their welfare and the welfare of others, others feel the COVID-19 situation should not cause alarm. As a publicly funded organization caring for Holmes County's most vulnerable citizens, Holmes DD is required to follow rules and guidance set forth by the state.
"I would say our adult program has been impacted the greatest, and this has been disappointing to some," Mader said. "Because adult service centers for people with developmental disabilities remain closed in Ohio, we cannot operate as we have in the past. Adult service centers can reopen only if they abide by strict guidelines which limit participation. Thus, we have not been able to bring all adults back to Lynn Hope Industry and the Hab program."
However, for those adults not yet returned, Holmes DD/Training Center staff is providing limited services in family homes and community locations. Mader said they are aware and supportive of any Amish families who have opted to send their adult family members to Amish day programs that are not required to follow Holmes DD's rules and guidelines.
"If anyone happens to hear a rumor going through the community that Holmes DD/Training Center adult services is not open or will not reopen, please let people know the rumor is not true," Mader said. "Like most every other organization, Holmes DD/Training Center is doing the best it can, given these unusual circumstances."
On Aug. 8, according to adult program director Sherry Mackey, 21 adult participants returned to Lynn Hope Industries, and they have been busy working on assembling bottles and jars for Centor and packaging hardware, hinges and assembling brackets for Denco Marketing. Both companies require gloves, and a facial covering/shield is worn by those working on their products.
"It took some getting used to, but the adult participants and staff have adapted well to wearing masks/shields," Mackey said.
Mackey said staff members provide encouragement and explanations, so everyone understands the new guidelines and their importance.
"All are happy to be back, although we find things are different than before," Mackey said. "Social distancing and wearing a facial covering can make it hard to have a conversation. Limiting the number of people in a group means you can't have lunch or visit with someone outside your group. The good news is our precautions appear to be working."
Cindy Boals, adult service worker, is visiting 14 adults every week who have not yet returned to LHI and another six members every other week. She said individuals and families are responding positively to the visits as she leads them in activities like arts and crafts, reading, playing basketball, and walking. Hab staff members also have visited all of the individuals who had previously attended. With initial visits out of the way, staff members continue to visit 16 individuals, doing activities including arts and crafts, playing games, reading, listening to music, and exercising.
In late March Boals created a private Facebook page called LHI Buddies. There are now 68 members including people who attend LHI or Hab, their families and staff members. Only these people can see what is posted.
"Through LHI Buddies, we have been able to keep up with Toni, Holly and Krystal and their walks, exercising and cooking," Boals said. "We saw the excitement as Frieda got her new wheelchair. Cathy showed off her new puppies, and Lorene let us see her butterflies after they came out of their cocoons. We saw Blake play basketball, make pizza and organize his wrestling DVDs. Joe and Hope have been busy riding bikes. Ronnie demonstrated his duck impressions, strawberry smushing and frisbee golf skills. Marlin, Kevin and Leroy have pictures of visits to see their friends working at LHI. Chad shared photos from his trip to the ocean. Shawn was caught looking cool in his pool. This Facebook private group has been a great way for us to safely keep in touch when we can't be with each other like before."