Holmes County pastors gather in prayer for The Blessing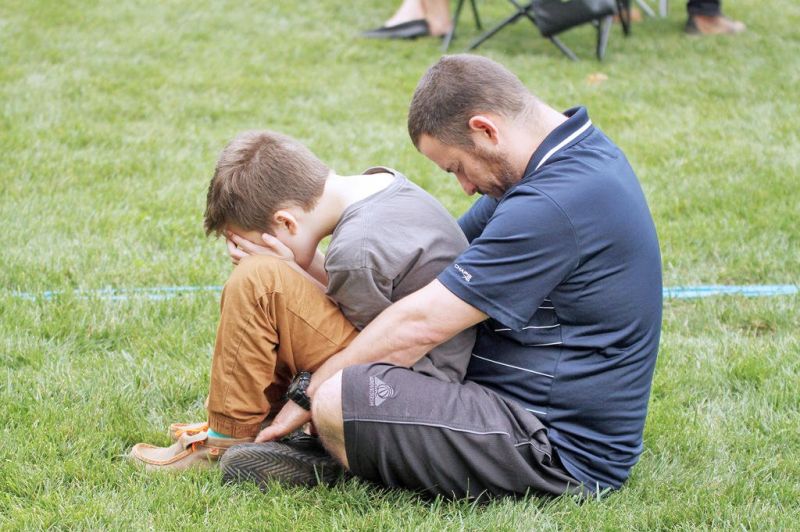 A number of Holmes County pastors came together for a time of prayer and worship in Millersburg Saturday, Oct. 10, where The Blessing prayer meeting was created as a time of prayer for the community and nation and its people.
The event was nondenominational and was not political in any way, but was designed to be a time people could gather in prayer in petitioning God to lead in peace and righteousness.
"We caught a vision of this from one of our young ladies at church," said Larry Hasemeyer of Gateway Church, who emceed the event. "She had a vision of people raising their hands and worshipping God together, praying for our country, praying for our community, and that is why we are here."
Hasemeyer told those assembled, "We are here in the presence of the almighty God. That is the greatest blessing we can have, and we thank the Lord for all of you who are here to join us. We know there is a lot of calamity and chaos going on in our world. God is creating a new normal for us, and the new normal is a deeper intensity of his presence. A new normal for us is a deeper is. A deeper heart for his love and compassion. A new normal for us is greater peace in our hearts as we go through all of the things we are going through."
Hasemeyer said that everyone is now in the same boat with the virus and people are all trying to navigate through the roiling waters, which opens the door for greater love and understanding through faith.
"We are gathered here in the name of Jesus," Hasemeyer said. "We are gathered here as his church, his body, he is the Lord of all, in one faith, one love, one baptism into this marvelous experience called the church and he is bringing the body of Christ together."
In celebration of The Blessing prayer meeting, 10 local pastors gathered together to provide insight and prayer on the courthouse lawn in Millersburg, along with more than 100 people who came to pray, to worship and to unite their petition that God bring peace and unity to a struggling world.
Each of the pastors was given a specific topic and scripture in which they were to focus their prayer.
Herschell Hargrave of Broken Grounds Church in Millersburg, focused on prayer for people humbling themselves before God; Lamar Troyer of The Well in Winesburg, shared on praying for righteous leaders for the nation; John Risner of Mennonite Christian Assembly in Fredericksburg prayed for the act of justice and to love mercy; Wes McElravy of Millersburg Christian Church prayed for peace and harmony; husband and wife duo Jay Conn of Martins Creek Mennonite Church and Vicki Conn, director of Love INC, prayed for the unity of the body of Christ; Pat Weaver of Cornerstone Community Church of Millersburg prayed. That as individuals, people would be fearless in their prayer and commitment to serve God; Conrad Hershberger of Mercy Hill Church in Walnut Creek focused on Isaiah 44:3, sharing that God would pour out his blessings on the world and people's hearts; Larry Kaufman of Grace Church in Berlin prayed for a spiritual awakening in the nation and in the community; and Philip Stutzman of Light in the Valley Church near Walnut Creek prayed for a great harvest of souls into Christ's kingdom.
The prayers and messages as well as the worship music provided by Gateway Church's worship team created a peaceful moment amidst the chaos and business of everyday life. Even as traffic poured through downtown Millersburg, the noise was drowned out by the prayer and worship being lifted up to the heavens.
"It is comforting when things become challenging, to get back to basics," Hargrave said. "This thing we are doing right now is not something that is new. Throughout history, when times were difficult and things were challenging, God's people would gather to pray. We are here because we understand that the answers are seeking, the things we need, are not found in Washington or Columbus."
Each pastor brought their own unique message of hope and comfort, their prayers focused on a specific topic that created a blanket of prayer for the nation and the community.
Since COVID-19 broke out in March, the area pastors have been meeting faithfully via Zoom to share, pray together and encourage one another. That alone has been an inspirational moment that has arisen from the COVID-19 disaster.
"One of the things we are excited about, with COVID and the craziness of this year, was how God has brought area pastors together," Kaufman said. "We work better together, we have always believed that, but seeing how COVID has brought us closer together and we are laying down denominational differences and asking how we can help each other and develop the Kingdom of God has been awesome to see."
Kaufman said it isn't unique to see pastors struggling with where they fit into communities. He said this commitment to teaming up has allowed pastors to fit together and to utilize one another's strengths for one purpose.
"So much value has come out of this," Kaufman said. "There are nuances that make us different and unique, but in the end, we all gather around one gospel. In the end, God uses all kinds of churches to reach all kinds of people."
Following the event, Hasemeyer said that this prayer time was not the end but the opening chapter of what the area pastors hope will become a more regular occurrence. He said ushering in more importance on the National Day of Prayer and providing other opportunities for prayer and worship from a community standpoint is something that this group of pastors is excited about exploring.
"There is a real excitement and hunger to put more of these types of events together from our pastoral group," Hasemeyer said. "It was literally effortless to put this event together, because every one of these pastors was eager to share. With all of the hardships brought on by COVID, one of the really neat things is the way it has brought our area pastors together, because we are all in the same place. That has been a glorious ride."