Holmes Custom Molding workers create Berlin Flyer Christmas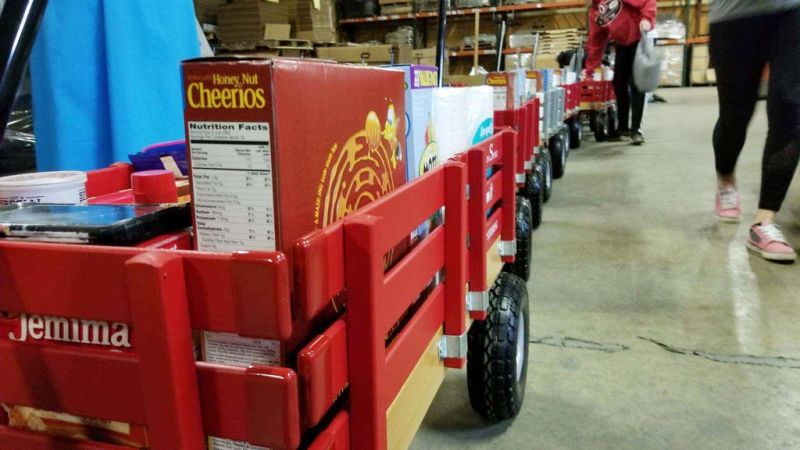 Throughout Holmes County, companies and organizations have worked over the years at making sure area families who might need a little bit of a boost at Christmas have had plenty of food to eat for the holidays.
One local company did so with a twist this Christmas, providing something more kid-friendly than boxes, cartons and plastic bags in which to place the goods and food they raised.
The employees of Holmes Custom Molding took up the mantle of giving, encouraged by their leadership team, and before Christmas the employees raised funds, purchased food and household items, and loaded them up in Berlin Flyer wagons to distribute to 20 area families.
Owner Wayne Hershberger had the idea to create the opportunity for his employees to get involved with community giving. The company provided the wagons to transport the food and other gifts, and the employees donated their time to make it all happen.
"We wanted to do something positive in the community during the holiday season to help out area families," said Keith Miller, HCM CFO. "The neat thing is that this is all funded by our employees and not the company. They are the ones investing themselves into this."
The Berlin Flyer has long been a staple of Holmes Custom Molding, which ships the children's wagons all over the United States and abroad.
However, sometimes the wagons don't reach their destination in the same manner they were shipped in. Once in a while the wagons get damaged en route, so they are returned and new ones are shipped out. When that happens, the company can't resell the damaged wagons, but they can fix the broken part and make each one as good as new.
Those wagons are often donated to auctions and for causes, but this year the company used 20 of their wagons to serve as the vehicles in which they would deliver their donated food and goods.
"For a lot of these wagons that are returned, it is a simple fix, like replacing a side rail," Miller said. "Other than that, they are perfectly fine. We had all of these wagons here and figured why not put them to good use and give them to families with children who will use them."
Because the leadership team wanted to make this an employee-driven time of giving, they offered their staff a time in which they could sign up to donate funds or their time toward the project. It didn't take long to realize the employees were going to get on board.
"We talked about this with our employees, and afterward we put up a sign-up sheet, and people flocked to sign up," Miller said. "We have 45 employees, and we had 40 signatures in a hurry."
Employees could donate in several ways. They were invited to serve on the teams that would reconstruct the damaged wagons, they could work on the teams that volunteered to go shopping for the goods, they could offer funds or they could donate their time working for one day.
That allowed everyone an opportunity to participate in some way.
Four teams of three shoppers made a road trip to Wal-Mart to purchase food and goods to fill the wagons. Each team had $100 to spend on each family and used their money wisely in purchasing useful things to place in the wagons.
"We really had a lot of fun, and it was a neat experience," Heidi Swartzentruber said after returning with her team. "We tried to get practical items and then buy some things that would be fun for the kids that they might not normally get."
Marie Beth Yoder was one of the shoppers, and she said the meaning behind the fun made it even more worthwhile.
"It was a great opportunity for us employees to get together and go out and do this, and we are grateful that our business gave us the chance to impact people's lives like this," Yoder said. "That meant a lot to all of us."
When the shopping was done, the wagons were rebuilt and loaded, and teams of several employees went throughout Holmes County and delivered these wagons of goodies to area families.
The families themselves were not chosen at random. HCM went to two different sources to get the names of area families with children who could put the food and the wagons to good use.
HCM worked through Broken Grounds Café and Love INC, which each provided 10 families to whom they could deliver the wagons of goods.
Miller said they felt it was important the employees delivered the wagons personally, believing it would make an even greater impact on the service end of the project.
"We felt that them just being able to meet the families and connect with them brings the service project that much closer to home for all of us," Miller said. "We believe our purpose at HCM is to help people thrive and not just survive. That was one way we could all help others this Christmas season."
It's not unusual to see Berlin Flyers puttering along country roads and in people's yards in Amish Country, but thanks to this Christmas service project, there were 20 more flyers flitting around the county, much to the excitement of dozens of children.