Holmes Republican Party extends welcome to area teens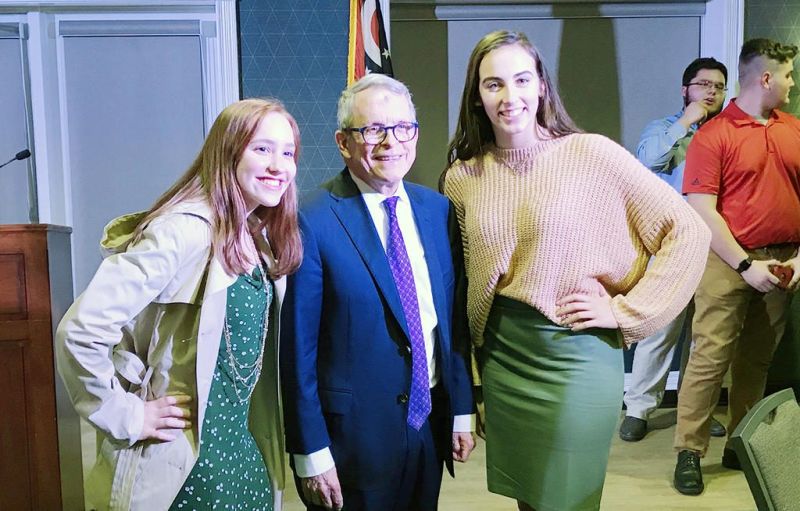 A record crowd packed into the downstairs dining area for the annual Holmes County Republican Party Lincoln Day Dinner on Feb. 26 to hear, among many speakers, Ohio Gov. Mike DeWine. While many of those in attendance were perpetual attendees for the event, it was far from the usual faces as the party made a concerted effort to entice area teens from East and West Holmes school districts to attend.
Holmes County Republican Party treasurer Matt Johnson had the idea of inviting youth to the event, and rather than have the students pay for their meals to attend, the party turned to the community to support the youth by paying their way into the event.
The idea worked with more than two-dozen youth from the two school districts taking advantage of the offer.
Holmes County Republican Central Committee party chair Rob Hovis said the idea of introducing youth to the inner workings of the political realm is something they all felt was important, and they intend to continue this tradition moving forward.
"We know that the youth are the future of our party in the same manner that they are the future of our society," Hovis said. "We felt it was important for young people to understand what the Republican Party believes in, what our principles are, what we are working for, and why we think the way we do and support the candidates we support."
Hovis said whether the youth agree with everything they hear during the evening or not, the important thing is getting them involved and steering them in the direction of becoming active and standing up for what they believe in. He said in past events they would see five or six young people in attendance, but this program helped entice many more to partake in the evening's offerings.
To help spread the word, Hovis printed out invitations to the event and presented them to government teachers in East and West Holmes school districts. The teachers were asked to talk about the event with the students and encourage them to sign up for the event online, free of charge.
It was free because a number of area individuals and businesses provided payments for the students, something that excited Hovis and the party.
"We invited everyone we sent an invitation to with a chance to host a student, and we got a delightful response," Hovis said. "We had more than enough to cover the cost of our students tonight. This is definitely something we will continue to do moving forward because we felt it was very successful."
Hiland High School freshman Gus Johnson, one of Matt Johnson's sons, was elated to pay a visit to the evening's offerings.
"I enjoy politics, and while I can't vote yet, I've taken an interest in politics and the political atmosphere," Johnson said.
Johnson said he admires those people who take time to invest in the political world. He was impressed by the turnout and said he is impressed by the zeal people exhibit for their party.
"It's nice to live in a community where people are so centered on their beliefs," Johnson said. "What is really impressive is that they were able to get the governor in here to speak. We can really get a good idea as to what goes into this kind of event and how we can organize one when the time comes."
Taryn Grassbaugh is a junior at West Holmes High School. She took advantage of the opportunity for a different reason. Grassbaugh is heavily involved with Holmes Center for the Arts, and she said that organization has received a great deal of funding from both local and state legislators.
"We have received numerous grants from senators and legislators in Ohio, and I was very interested in meeting them," Grassbaugh said. "I thought the night was really cool, especially getting to meet the governor, which is not an opportunity a lot of people get in Holmes County."
Phin Johnson is a seventh-grader at Hiland Middle School and is the brother of Gus Johnson. The younger sibling said no matter how old someone is, it is never too early to invest in learning more about how the government and politics work.
"I am very appreciative of the opportunity to attend and wish even more youth had come," Phin Johnson said. "The more youth we can bring to events like this, the better we can educate about the people who are at the head of our county and state. I am fascinated by politics, and it should be everyone's desire to learn as much as possible about what is going on so they are better informed. It's good for the community when more people get involved."
With a chance to glean from political figures from the governor to state judges, senators, house members and local figures, the hope of this new idea was to ignite passion and interest in politics in the county's youth. With a strong showing, it seemed to have accomplished just that.