Holmes SWCD cover crop program keeping it green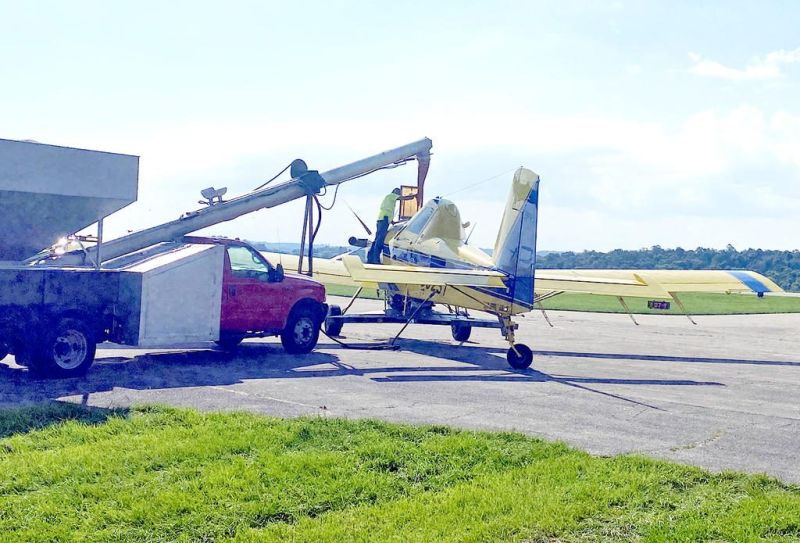 One of the nice things about Amish Country is when things turn green and dozens of different hues of green cascade all over the countryside, it is a sight to behold.
While the Holmes Soil & Water Conservation District aerial seedling program is designed to help area farmers create and maintain the character of their soil, as well as prevent soil erosion, another benefit is the crops help maintain that healthy green look before and after winter sets in.
"When state officials and other SWCD people come into our office in February and March, they always remark about the crops and the amount of green they see throughout the county," said John Lorson, Holmes SWCD district technician. "Holmes County is green, and this cover crop program has a lot to do with that while serving a vital role in soil conservation. People love seeing that green."
The green is beautiful, but the soil conservation is critical.
In the aerial seeding process, the yellow airplanes of Fisher Ag Service, the company that has worked with the SWCD since the program's inception in 2009, circled the county on Tuesday, Sept. 7, dropping seed on farms all over Holmes County and even up into Wayne County and Stark County. The goal of the program is to control erosion by having oats, barley, rye or a mixture of those three grains dropped onto farmland, where it will hopefully take root and grow over the winter months to keep soil in place, a process that also reduces nutrients from getting into waterways.
"Barley and oats have kind of shaken out at the top and become the seed of choice," said Michelle Wood, Holmes SWCD program coordinator. "When we started this program, we were almost 100% rye, but over the years the barley and oats mix has proven to be a much better mix that has created great results."
"The barley is much more manageable for farmers in the spring and doesn't create the time crunch rye does," Lorson said.
In making their flyovers and dropping seed, Fisher Ag Service pilots use no herbicides or pesticides as part of the program.
For farmers, the nice part of this program is twofold, in that there is no preparation for them because the seed is dropped in on top of their existing crops, which are mostly soybeans, and the SWCD has created a matching fund.
"We take the management out of the equation for farmers," Wood said. "I think we've gained ground every year, and farmers are becoming more aware of the benefits each year. We encourage them to just give it a chance and try it to see if they like it."
She said they watch the soybeans to make sure they are turning yellow before presenting the program, and that means crops will soon be harvested, allowing the cover seed crops to germinate and begin to grow before winter sets in.
In addition, Holmes SWCD has entered into a cooperative work agreement with the Muskingum Watershed Conservancy District and the Ohio Department of Agriculture, creating a cost-share for the program that is available in the 18-county MWCD area.
"It helps farmers save money and gives them incentive to try it and stick with it," Wood said. "We are bringing in more than $75,000 into the county this year for farmers, and it is one of the best practices we have. It's visible, and it's not a long-term commitment that makes a huge difference."
According to Karen Gotter, watershed coordinator for the Killbuck Creek, the SWCD spread 223,000 pounds of the barley-oats mix, putting it on at about 64 pounds per acre, with barley outweighing oats at a 2-to-1 ratio in the mix. She said they had more than 40 producers utilizing the program, adding there has been a great relationship in working closely with Coshocton.
Since its inception in 2009, Wood said things have changed in the way they communicate with Fisher Ag Service during the event. She said they used to have paper maps that showed them the fly zones.
"We could use the maps to see a sequence to see where they were going," Wood said. "Now everything is programmed from their website, and we are really only supplying the seed for them and fill their planes, and they do all of the rest."
While the flyover is the part of the program that most people recognize, Wood said there is a second part to the program, that being the drilling program in which farmers will harvest their current crop and then go in and drill the cover seed manually, which Wood said is a more effective way of seeding fields.
"The flyover is the most visible part of this program, but we expect to seed around 6,000 acres by drilling, which is more effective," Wood said. "You'll get a better stand if you drill it."
Depending on the weather, farmers sometimes have a hard time getting a cover crop sown before the growing season shuts down. Aerial seeding takes the management out of the equation and guarantees a crop will be seeded.