HopeQuest Ministries ready to walk for Kenyan pastors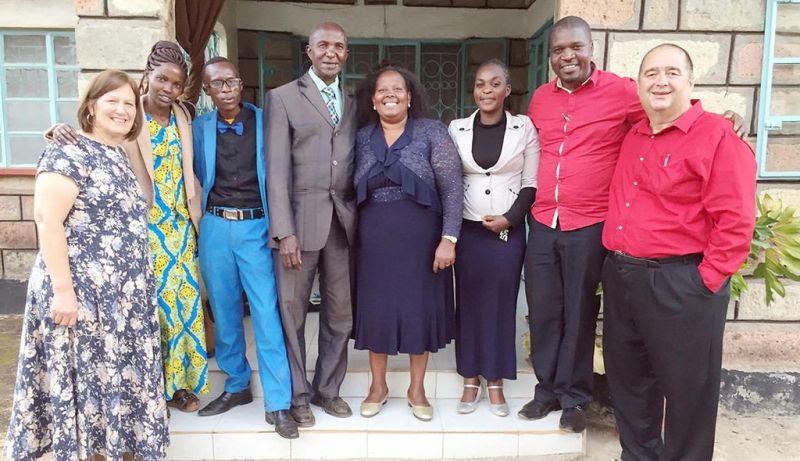 It wasn't all that long ago that Paul Mullet was fighting for his life.
Now he has poured himself into fighting for others.
Paul and Cindy Mullet are the founders of HopeQuest Ministries, where they walk with couples from engaged, to newlyweds, to those who have been wed for decades, sharing through marriage mentoring and coaching.
On May 30 the Mullets will embark on Jeff Polen's 5k Every Day in the Month of May's special 5k Mayhem event. In agreeing to the challenge, the couple will walk a 5k at the bottom of the hour from 6:30 a.m. to 6:30 p.m., a trek of 37 miles.
What makes this particular walk so special is that the Mullets are dedicated to raising money for their pastoral friends in Kenya. The Mullets spent this past January in Kenya, connecting with 14 pastors. While in Kenya they provided a listening ear, moral support and prayer and helped a group of pastoral couples facing many challenges including major burnout to reconnect with God and reaffirm their passion.
In doing so, they realized how challenging it is to serve as a pastor in Kenya. Thus they felt led to invest themselves into creating a fundraiser that will hopefully go a long way in helping to ease some of the burden these pastors and their families are facing.
African Christian Missions International started to plant churches in Kenya in the late 1980s and began with one. Now that seed has blossomed into more than 500 churches with hopes of doubling that number in five years.
However, Mullet said resources are very limited there, and needs are great.
"We found that these pastors out in these remote areas are a very neglected group of people who have totally sold out for their faith and their ministry," Paul Mullet said. "They work, work, work for the church, and the people there are extremely poor, so they struggle to give. These pastors work so hard; they are getting burnt out."
Mullet said he asked each pastor one simple question: When was the last time someone asked you how you are doing?
The answer was heartbreaking.
"Most got this bewildered look on their face, and others just broke down, weeping," Mullet said. "They said nobody has ever asked us that. They are pouring themselves into caring for so many others, and nobody is caring for them. They are forfeiting everything to the work of the church and to further the Kingdom of God."
Thus the idea to create a fundraiser for Kenya came to the forefront.
Mullet said this idea has been brewing ever since they walked along with Polen as he began his music ministry. He said they saw the passion with which Polen poured himself into his ministry, and they want to have that same type of passion in reaching out to help the pastoral members in Kenya.
While pastoring in the United States brings with it many challenges, the Mullets have seen firsthand the incredible toll serving Christ can have on pastors in Kenya, where many of them serve to meet the needs of others before they think of themselves and their families.
While last year proved to be a very difficult one for the Mullets with Paul contracting meningitis and having a stroke, they never lost focus on the Kenyan pastors, one in particular who was struggling. Through plenty of prayers, especially from the Kenyan pastors, Mullet has made a remarkable recovery.
Then COVID-19 struck and changed things dramatically. The desire to help the initial pastor, who was on the verge of being executed for his faith right up until the final seconds when miraculously he was spared, grew as the Mullets saw how COVID-19 was affecting the people of Kenya.
"Their children are going to bed hungry; they cry because they are going to bed with no food," Mullet said of the Kenyan pastors and their families. "One woman with three children was homeless and at the same time was caring for a niece and a nephew with no food and no house."
The Mullets identified those with the greatest needs and sent their stimulus check to Kenya, where a few dollars has a far more lasting impact than in the U.S.
That was when the 5k Mayhem became a clear vision as a way to help as many of the struggling pastors as possible.
Partnering with Polen, the Mullets will walk those 5ks, knowing the struggle is nothing compared to what their brethren in Kenya face on a daily basis, where they walk farther than that to go to school, church, work and just to gather water.
The Mullets will now have two ways to raise funds. First, anyone wishing to support the ministry by donating to the Mullets' efforts may do so by donating a flat per-mile fee. Second, anyone wishing to walk and raise funds for the cause is invited to do so in the same manner.
Mullet said they will probably try to create a group opportunity so people can walk together on May 30.
"Our American dollars can go so much farther over there than they do here, which means that every single dollar makes a huge difference," Mullet said.
Mullet said the $200 they sent to the homeless woman with three children was enough to provide rent for a home for two months and two month's worth of groceries.
"We have an opportunity to help a lot of these pastors' families during what is a very difficult time for them," Mullet said. "There is such great need for support there. They are begging us to come back over, and our long-term goal is to create a week-long retreat for the pastors rather than just a day or two, where we can minister, encourage and pray for them."
Mullet said another goal will be to find area churches that are willing to adopt one of these pastors and help fund their efforts. He said as little as $100 a month would go a long way in easing the burden these pastors are facing.
However, they are now focused on May 30 when the Mullets will walk on the Dalton Trail and hope they can create other pockets of walkers raising funds all over the area.
To help support the fundraiser or for more information, visit the website at www.hopequestmin.org or visit them on Facebook. People also can call or text 330-464-6674. Anyone sending a check donation may send it to HopeQuest Ministries, 10528 Winesburg Road, Dundee, OH 44624.