Hosfelds share holiday villages with public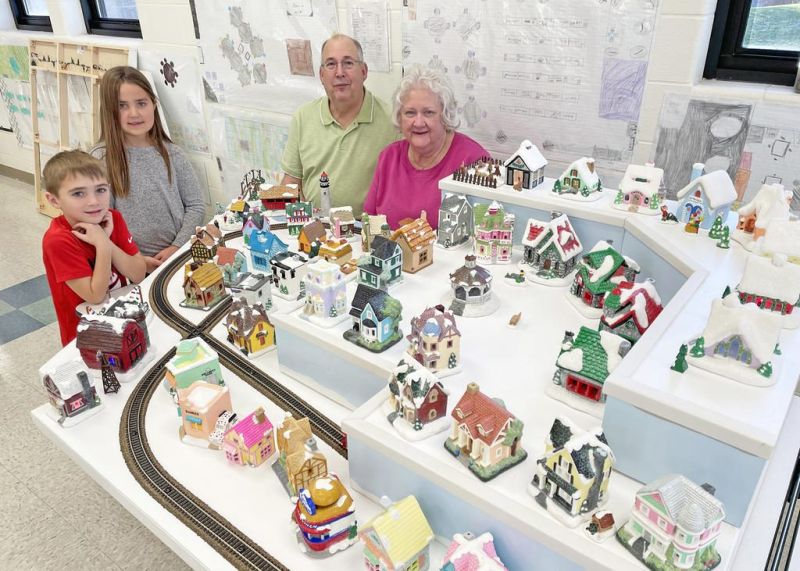 When Marcia Hosfeld retired as a school librarian, she never stopped thinking about ways to capture the imagination of children.
She hopes her latest project, on display just down the street from Shreve Elementary School, where she worked for 32 years, will bring a sense of wonder to children and adults this holiday season.
A longtime ceramic hobbyist, Hosfeld, with the help of her husband Fred, a retired engineer, created three different-sized Christmas villages to decorate Shreve Hardware's storefront windows. She bought and painted more than 300 pieces of the collectible sets while her husband constructed their bases and installed the electrical wiring. He also contributed his collection of model trains.
"We just want to share some of the magic of Christmas," Marcia Hosfeld said, "like the days of the old-fashioned store windows."
The Wooster couple will have their display in place for Shreve's Dec. 4 Christmas celebration, which will include a Christmas parade, visit from Santa, tree lighting, caroling, drawings, and games and crafts for children. Festivities will begin at 2 p.m. and run through 9 p.m.
Before decorating the store windows, the Hosfelds took their villages on tour to Shreve and Wooster Township elementary schools so students could get a sneak peek at the towns with shops of every kind — doughnut, ice cream, hamburger, motorcycle and music. Every town has a library and a post office, Marcia Hosfeld said, along with grocery stores, schools and churches. One town has three churches, each a separate denomination.
There's even an airport, amusement park, cemetery, lighthouses and skating ponds.
"Oh my, there's so much. It's a blur," said Marcia Hosfeld, who has spent a year detailing the pieces. She painted a 1-inch-tall nativity set for the display and miniature animals for the farms that dot its landscape.
She searched the internet for the village pieces produced by California Collections, a company that is no longer in business. She was attracted to them because of their detail, she said.
When her children were young, she made a Christmas village to decorate the family's home and has always wanted to do a similar project. She said getting the chance to take her finished product to the schools is a dream come true. "I miss the students so much," she said.
Her husband also got his wish.
"All my life I've wanted to do a train layout," Fred Hosfeld said, "and I never did until this project came along."
"It was exciting that he could incorporate his hobby with my hobby," Marcia Hosfeld said. "We're in this up to our ears."
Originally, the Hosfelds wanted to take their village idea to the school as a STEAM program. "We wanted the students to build or decorate a village as part of their engineering studies," Marcia Hosfeld said. But COVID postponed the project.
Shreve Hardware owner Rich Edington said he thinks it's a wonderful idea for the store's windows and knows the Hosfelds love doing this kind of thing. "It means a lot to me," he said, "that they included me in their plans to display the villages."
Edington, who has worked in the store since he was 8 years old and his father owned the business, said the staff usually puts some Christmas decorations in their windows, but nothing like what the Hosfelds have done. "This is high end," he said.
His wife Cindy Edington could sense the Hosfelds' excitement. "I can see their love of kids and the community," she said.