In accident, Wooster woman saved by the belt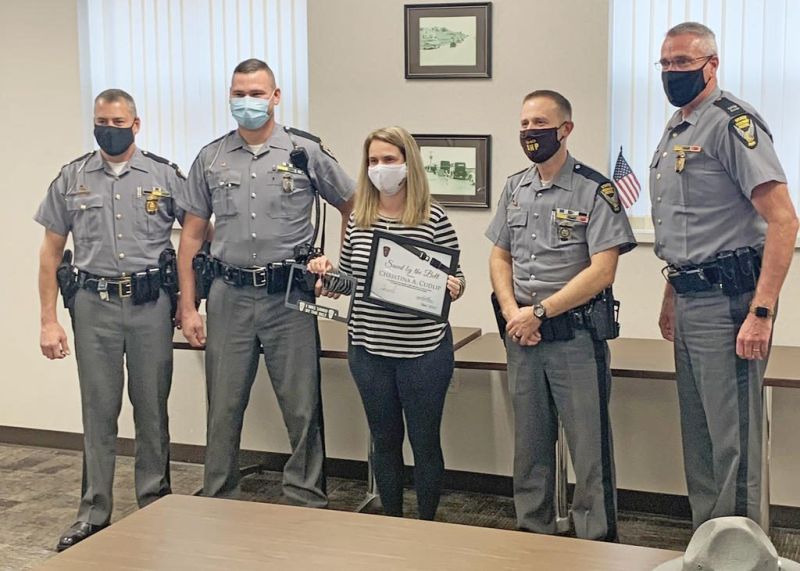 When Christy Cudlip felt her car jarred while driving home from her job as a registered nurse at Canton's Aultman Hospital on Route 30 last month, she at first thought maybe she'd hit a deer.
"I remember being aware of flipping over then, consciously thinking 'I can't believe this is happening,'" she said. "The feeling of not having any control was terrifying."
Her 2020 Ford Escape came to rest upside down in a ravine off the road. She said when she saw smoke— which, as it turns out, was actually the powder from the airbags — she was afraid the truck was going to catch fire, so she crawled out the shattered rear window, suffering cuts from the broken glass.
'I just felt like I've gotta get out of here, no one will know where I am," she said.
Cudlip had the presence of mind to call 911, surprisingly being aware enough to disconnect her phone from the bluetooth in her car so she could make the call.
She then called her husband, Matthew, in Wooster to tell him "I'm okay, but I've been in a pretty bad wreck."
The North Lawrence Fire Department and the Canton State Highway Patrol responded to the accident near the Alabama Road exit off Route 30 near the Stark-Wayne County line.
"The patrolman took one look at my car and said if I hadn't been wearing my seat belt there's no way I would have survived," she said. "He was amazed I survived anyways. He said he expected to find me in much worse shape when he arrived upon the vehicle."
It was estimated the pickup truck that had hit her and fled was going around 100 miles per hour. The impact had been so powerful it knocked out the diamond from her wedding ring.
A Magnolia fire fighter had witnessed the collision and chased the truck at high speed for several miles but couldn't catch it or identify the license plate.
"I'll never understand how someone could run after something like that," Cudlip said. "How could you live with yourself? He must have been drunk or on drugs or something."
In spite of the violence of the collision, she suffered just some whiplash, cuts, and bumps and bruises, she said.
"I am so fortunate that my car had all the latest safety measures," she said. "I'm sure that besides the seat belt, the airbags are what saved me."
Cudlip has upgraded her new vehicle to a bigger Ford Edge.
"It's a good thing we had uninsured motorists on our insurance, or we'd have been out of luck," she said.
Cudlip said she's faced emotional strain from the accident.
"I'm seeing a counselor for the PTSD symptoms," she said. "I will wake up in the middle of the night just terrified. They're giving me coping strategies to deal with this."
She said she's now very frightened even just to ride in a vehicle, let alone drive herself.
"Life goes on, though. I've got to get back to work at some point," she said.
The accident has caused her to do some reevaluation in her life, Cudlip said.
"I am a Christian, but I haven't been as devout as I could be. Now I can say you've gotta make sure you're right with God," she said. "He kept me around for some reason."
The Ohio State Highway Patrol in Jackson Township awarded her the "Saved by the Belt Award" after the accident. Cudlip said she is thinking of speaking to high school students or clubs and organizations about her story and the importance of wearing a seat belt.
Cudlip had been working overtime the night of the accident. Had she left at her normally scheduled time, maybe the accident might not have happened, she mused.
"We realized that working those few extra hours of overtime just to buy more stuff doesn't make a lot of sense, now."