In final speech to Chamber, Mast grateful to serve, lead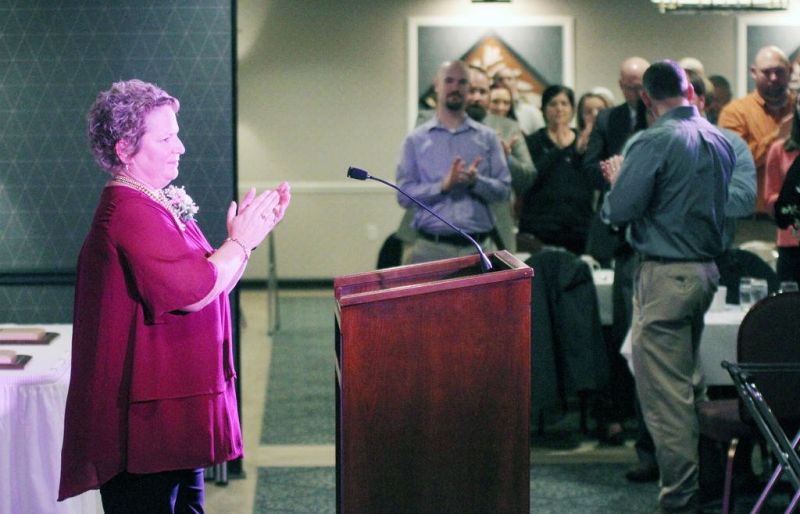 Shasta Mast, longtime Holmes County Chamber of Commerce and Tourism Bureau executive director, shared a secret with those in attendance at the annual Holmes County Chamber of Commerce annual meeting and awards banquet on Thursday, Nov. 7.
Mast said when she first delved into the world of chamber work, she never set out to be a leader. Nearly two decades later, she is looked upon as one of the key leaders in the growth of Holmes County's tourism and business world, having instigated some key components like dealing with streamline sales tax, helping to nurture the Ohio Furniture Guild and more.
As she served as the executive director at the banquet for the final time, handing the reins over to new executive director Tiffany Gerber, Mast shared her gratitude and her own personal story of how she grew into someone she never expected to become through her career with the chamber.
"I've never been ambitious or developed a personal mission statement or established lofty goals," Mast said during her farewell speech.
An English literature major in college, Mast said she hoped to find a job to support her reading habit. What she found in the chamber role was a job that challenged her to be far more than she realized she could become.
"I wanted to be happy and do something meaningful," Mast said. "That's it. I really stumbled into this whole leadership thing. There are many more experienced leaders in this room, some of whom make a great living studying and teaching leadership. I encourage you to learn from them every chance you get."
On her evening of reflection, Mast focused on two main qualities of leadership she felt she learned and said many in the county exhibit on a daily basis.
The first she detailed was trustworthiness. She said people have to be willing to believe in you and trust in you as a leader to do the right thing for the right reasons and to be sincere in doing so.
"As leaders we have to be trusted to set our own best interests aside," Mast said. "You have to be trusted to be a servant to the team, to the organization and to the community, and your trustworthiness must always be without question."
Her second ingredient to being a good leader is the ability to be a problem-solver. Mast said that takes vision, developing a caring connection with people and the ability to make sound judgement.
"It doesn't mean you have all the right answers," Mast said. "It means you have curiosity to continuously learn new things and that you care enough about people to develop solid relationships with a wide, diverse group of people so you can tap into their expertise. It means you're willing to look into situations with creativity and collaboration without caring who gets the credit."
Mast said Gerber has both of those qualities in abundance and is excited to see where the new director will take the chamber.
Mast said Gerber's trustworthiness has been established over three decades of service to the tourism industry in Tuscarawas County. She said Gerber has demonstrated her problem-solving skills time and again throughout her career and already during her short time with the Holmes County Chamber. Mast then added that Gerber has something she herself never had.
"For her entire adult life, Tiffany has wanted to be a convention and visitor's bureau director," Mast said. "When I started, I didn't even know what a CVB was."
Mast challenged those in attendance to be the sounding board for Gerber as she moves forward to make a positive impact.
Mast concluded by noting while she has often been described to others around the state as "the chamber" in Holmes County, nothing could be further from the truth.
She had chamber employees and board members, tourism council members, Ohio Hardwood Furniture Guild members, Wayne-Holmes Safety Council members, the Holmes County Lodging Council members, Holmes County Cookie Tour members, those who have taken Leadership Holmes County classes, and all area business owners stand in recognition.
With the entire population of those in attendance standing, Mast said, "You are the power of the Holmes County Chamber of Commerce and Tourism Bureau. You are making a difference in our community every day. You have chosen to be a part of something greater than yourselves."
Mast then thanked her staff at the chamber office who have poured themselves into their roles in serving the county.
It turned out that for the past 17 years, Mast did do something to continue her reading habit. In the process she also grew into a leader and servant in doing something she said brought great meaning to her life.