Income tax assistance offered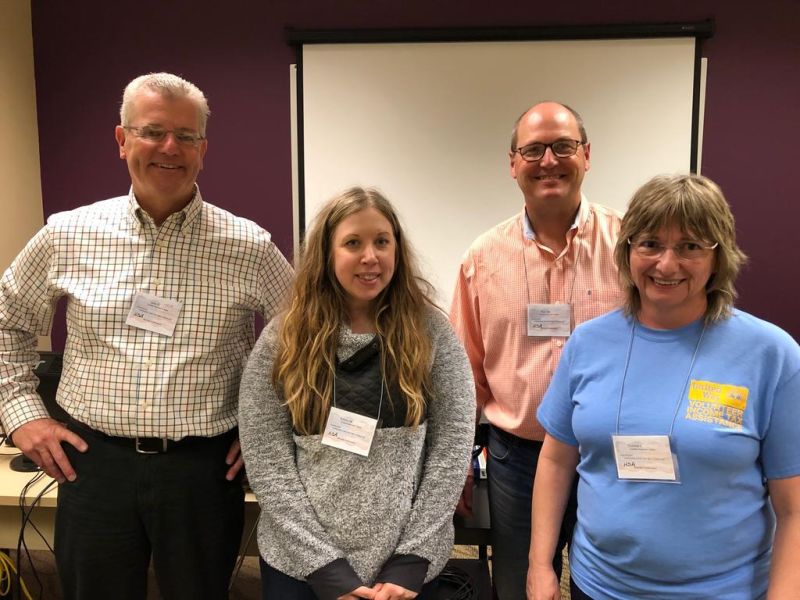 The United Way of Tuscarawas County is once again offering the Volunteer Income Tax Assistance program in partnership with the DoverPhila Federal Credit Union and the United Way of Greater Stark County.
The program began in 2019 and is for Tuscarawas County residents who make $60,000 or less or for couples earning $90,000 or less. There is no age eligibility; it is solely based on income.
VITA prepares state and federal taxes but not local taxes.
"The first year we only did it five to six days; we started out real small," said Jack Dooling, the volunteer leader for the Volunteer Income Tax Assistance program.
Last year, in its second year, the program processed almost 1,000 returns. "This year our goal is to do 1,500 or 1,600 returns," Dooling said.
Dooling has much experience in doing taxes. "When I start working in high school at 16 years old, my dad taught me how to do my own tax return," he said, adding his father was an accountant. "I've been doing taxes on my own probably for 30 years."
Dooling also holds an accounting degree from Kent State University and completed another well-known tax-preparation program.
The program has about 25 volunteers this year, and they will serve in one of three capacities. The first serves as a greeter and intake person; they will make the initial contact with the clients.
"The greeters will make sure that the forms are all filled out. We have a questionnaire that's pretty lengthy actually, but it's an IRS questionnaire that we ask everybody to fill out. It gives us a lot of information about what to expect on their return, and then we can put that return with an appropriate preparer," Dooling said.
The greeter also will assure the clients have proper identification.
"We want to be very careful that we don't have people trying to steal IDs," Dooling said.
The second volunteer role is that of tax preparer at either basic or advanced levels. A return that is a little more complicated will be placed with an advanced preparer who has more experience.
Usually, clients make an hour-long appointment and are in the room with the tax preparers while their return is completed. Due to COVID-19, things will be different.
"This year we are only going to use advanced preparers. The purpose of that is because we're going to be doing drop-offs only this year. We won't be doing any tax returns face to face," Dooling said. "We don't really know what's coming, so it's harder to staff basic preparers and then get all kinds of advanced returns. We're asking all preparers to pass all the way through the advanced section so that we don't have to worry about the type of returns that we've got."
Other volunteers will serve to check the work of the preparers.
"Every tax return that is done is actually rechecked again by an advanced checker to make sure we haven't transposed a number or put down the wrong social. It's just to cut down on errors; our error rate is very low because of that," Dooling said.
Each year the volunteers including those who serve in greeter and intake positions take training through an IRS-based website. Everyone must pass an ethics test and understand the documentation needed. Preparers take additional tests to earn certification in the basic or advanced levels.
"In the past we did do a lot of face-to-face training, but because of COVID we are going to do a lot of Zoom training this year. We can usually get that training done in a six- to eight-hour period," Dooling said. "Most of the people we get have had some exposure to taxes, even if it's just simply doing their own, and they've used a tax program on their own, so they've got some idea of tax preparation."
Many business professionals who work in the accounting field also serve as volunteers.
Dooling is appreciative of the DoverPhila Federal Credit Union, located at 119 Fillmore Ave. in Dover. The bank is providing all the space, equipment and supplies the volunteers will need for the Volunteer Income Tax Assistance program.
Last year the program operated out of the bank and the Ohio Means Jobs location at the Monroe Center. Due to COVID-19, the Ohio Means Jobs location is not available this year.
"The credit union has been extremely gracious to us," Dooling said. "We are going to do all three days a week at the credit union, and they've got individual offices for all our tax preparers. We'll all be separated and will be safe."
No clients will enter the building. The greeter and intake volunteer will work from the lobby and meets clients at their vehicle.
Dooling deemed the bank's contribution extremely valuable. "If we didn't have that this year with Ohio Means Jobs not being open, I'm not really sure where we would go to do this because we need the equipment as well as the space," he said.
The program submits taxes electronically for its clients.
"It's a lot easier and quicker to get the returns and the refunds back to the clients," Dooling said.
Occasionally, they will mail a return, but it is rare (99% are filed electronically).
"If tax returns are mailed, it slows down the process," Dooling said. "We saw what happened last year with COVID to people that mailed returns. Some didn't get refunds until September or October, where the electronic ones were still getting done."
The VITA program uses a tax program called TaxSlayer. "This is an IRS-approved tax program, and it's a little bit more robust and what you would buy off the shelf. It's a very good program," Dooling said.
The VITA program will operate three days per week on Tuesday, Thursday and Saturday, beginning Tuesday, Feb. 9. The volunteers are a dedicated group.
"We usually work in four-hour shifts. Some people will do two shifts a week," Dooling said, adding there are some who will put in 12 hours each week. "We'll need maybe seven at a time, so we don't need to use all 25 volunteers every day."
Some volunteers are only able to volunteer one day a week because of their work schedule. Dooling likes to work with the VITA program clients and volunteers every day. "I love doing taxes. I think it's so much fun," he said.
The lack of opportunity this year to meet in person with clients will take some of the enjoyment out of the program. "I like to meet in person with clients. I'm really going to miss meeting people because I really get a kick out of meeting them and helping them. The most satisfying thing about this job is when you get done, they are just absolutely ecstatic about getting that service done for them. I'll miss the faces," Dooling said.
Those interested in having their taxes done through the VITA program must call ahead to make an appointment to drop off their returns.
"We'll try to have five drop-offs every half-hour, so we'll do roughly about 40 returns a day," Dooling said.
Though time is getting short, more experienced tax preparers are welcome. Contact Robin Wentz at the Tuscarawas County United Way if interested.
Dooling encourages clients to reserve an appointment early as he anticipates they are going to fill up fast.
"We've got very qualified preparers, and with the electronic filing, you can get your returns back fast. There's absolutely no cost at all, providing they meet those income qualifications," Dooling said.
Wentz, CEO of the United Way in Tuscarawas County, is pleased with the outcome of the program. "It's a great program. They've made a big impact in the community," she said.
Appointments can be made starting Jan. 11 by calling 330-994-8482 or online at www.tuscunitedway.org.