It was a big weekend for the village of Gnadenhutten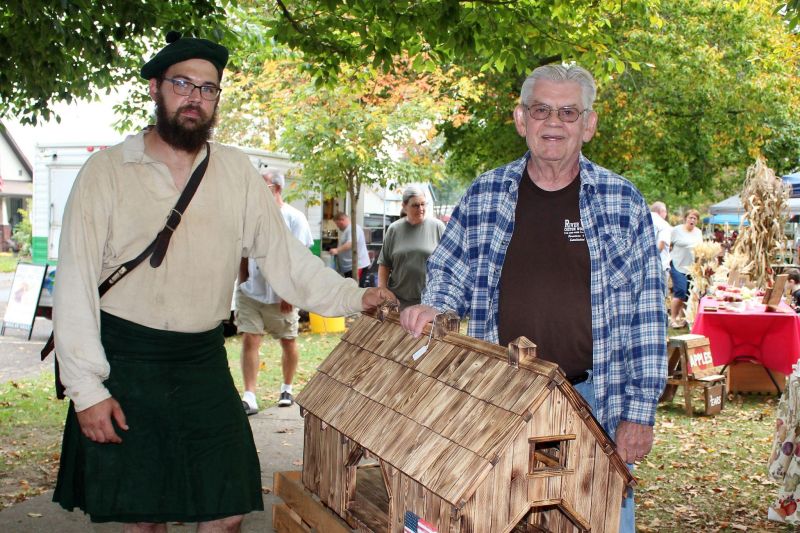 It's a family weekend away for the Levi and Anna Zook family of Bristolville in Trumbull County. The family has made and donated homemade apple butter for a fundraiser for the Gnadenhutten Historical Museum for the past four years. The Zooks have a large family including eight sons, four daughters and seven grandchildren. All gather at Gnadenhutten to help make the apple butter.
"It's a nice family gathering and fun for our kids and grandchildren," said Levi Zook, adding he enjoys the time away from his day-to-day work.
It takes many hands to make apple butter, and the entire Zook family donates their time to the project. A copper pot is used, and it must be stirred constantly so it doesn't burn.
The family became interested in helping at the Gnadenhutten Historical Park when Anna Zook learned her family history included some Native American heritage. Anna Zook's brother, Sam Shrock of Millersburg, has been researching an ancestor known as Indian Salli, who was born in the late 1700s and reportedly was given to an Amish family in exchange for the tragic killings of an innocent family by another group of Native Americans.
Shrock plans to publish a book about Indian Salli, but every time he feels ready, he uncovers some new information he needs to verify. Shrock gave a talk on Indian Salli at Apple Butter Days. Next year he plans to hold a reunion for Indian Salli descendants during Apple Butter Days, and the reunion will be open to the public.
Making apple butter is time-consuming. The family made the applesauce needed to make apple butter ahead of time. Next year, though, they plan to bring and cut the 5 bushels of apples needed the night before.
"We used to cut the apples here," Levi Zook said. "We're going to start doing that again, and then it takes a full day if we don't have the applesauce made."
The family will bring applesauce for one batch and then cut one batch of apples in the evening so visitors can see the full process.
"They're welcome to come the evening before to help cut the apples, and the next morning they can see how we make the applesauce," Levi Zook said.
Even with bringing applesauce this year, the apple butter making process started early.
"We started this morning before daylight," Levi Zook said. "We cook it from 6 in the morning until about 3 in the afternoon before it is done."
Some apples won't soften up, so when the family buys their apples, they always ask at the orchard for ones that make good applesauce.
Added in during the cooking is 10 gallons of apple cider, sugar and spices to make 120 pints of apple butter.
The spices are what makes apple butter so good.
"It's cinnamon and nutmeg and just a little bit of ginger," Anna Zook said.
Adding the spices can sometimes be tricky, although as much as a cup of cinnamon is used. "It's hard to tell with a big batch like this, so we usually just take a little bit out, and then we cool it off. We keep tasting it until we think it's just right," Anna Zook said.
Levi Zook enjoys the tasting process on a little piece of homemade bread with homemade butter to see how it is.
The Zooks start with a full pot of applesauce that cooks down to little more than half the pot when finished.
"By the time we get it all in cans for them and put away, it will be 5 p.m. before the mess is cleaned up tonight," Levi Zook said. "So it's close to a 12-hour process."
Gnadenhutten Museum curator John Heil was pleased with the turn-out for Apple Butter Days, which is held on the museum grounds. He said there were 14 camps of re-enactors that stayed over the weekend.
Another event, the Gnadenhutten Homecoming, was held downtown. Officials blocked off the square for dancing and entertainment and brought in food trucks for the event. Also open was Crystal's Freedom Bee Subs & More, a food truck with an outdoor eating area in the downtown, owned by Crystal Fouts. The business plans to serve its customers as long as the weather cooperates. The hours and specials can be found on its Facebook page.
Other events at the homecoming were inflatables for the children to play on, crafts, face painting, a scavenger hunt, an obstacle course, a silent auction and other vendors. The Moonlighters performed in the evening.
The homecoming was the first event held to celebrate the 250th anniversary next year of the founding of Gnadenhutten, which is the oldest settlement in Ohio. More similar events including a cornhole tournament will be held throughout next year, according to Kim Stull, fiscal officer for the village of Gnadenhutten.
Stull said the Food Truck Friday events held each week throughout summer have been great for the village.
"You see so many people. We're having music on a Friday night, and people really enjoy it," Stull said.
The residents of the village are grateful and looking forward to 2022.
"I'm a country girl, but I like it here. It's so quiet and peaceful," Mandy Lute of Gnadenhutten said. "I love this town."