Jeff Polen invites others to join in on 5k Every Day in May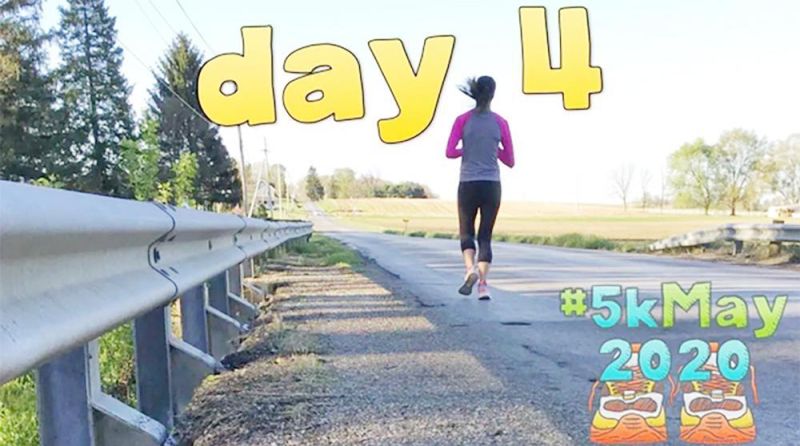 See Jeff sing.
See Jeff run.
See Jeff do both while helping himself, his family and now many others find a unique way to draw closer to God.
A self-described "musicianary" — a term that combines both musician and missionary — Jeff Polen has used his God-given gift of music to touch the lives of many people.
As the founder of Jeff Polen Music, Polen performs nationally and gives budding music artists the means to affordably find their voice in the music industry through his recording ministry. His message of faith and hope combined with his passion for music have created an opportunity for him to share the gospel.
Polen also is an avid runner, and the thought of combining his two passions for a greater purpose was something that became very enticing to him as he brainstormed about the possibilities.
What evolved from those think-tank sessions was 5k Every Day in the Month of May, a unique event that has gained popularity since its inception.
5k Every Day in the Month of May began in 2016 when Polen decided to run a 5k every day in May. He did so because he felt it would be helpful to him mentally, physically and spiritually.
"It was a place that I could meet with God on a daily basis," Polen said.
When 2017 came around, he decided to do it again. He decided to invite a few friends to join him in the process, and 18 people tackled the challenge, which created a bonding time for all involved.
While the 5k-a-day format was worthwhile, Polen felt there was an aspect of his faith walk that was suffering during the challenge: scripture reading. In order to make sure he didn't gloss over that important part of his life, he added to the challenge in 2018 with the reading of three chapters of scripture each day.
Polen began blogging about the event, and soon 75 people had signed up to take the May 5k challenge. He said the buzz around this challenge began to grow as those participants began telling other people about the challenge and providing updates to friends and family.
In 2019 Polen's challenge continued to grow, generating more than 200 people. However, there was one part of the 5k challenge that was lagging, that being the scripture reading.
Polen thought about how he could encourage people to follow through on the reading of the daily scripture and came up with an idea: Why not do a podcast in which he reads the scripture, allowing participants to log on and even listen to him reading the scripture versus while they walked or at any time?
"People weren't engaging in the reading part of it, and because I have my foot in both worlds, I wanted both to become an important part of the challenge," Polen said. "I have a foot in the church world, but my fishing spot is the running world. That's where I go to share the gospel and get closer to Jesus, and both of these things were important in coming together in the challenge."
The podcasts last about 35-40 minutes, which is ideal to someone doing a 5k," Polen said.
Fast-forward to 2020. As the month of May chugs along, so too do more than 700 people who have opted into the challenge.
The registration went out April 22 and closed on May 1, and in that short span, Polen was amazed to see the numbers grow so quickly.
"I don't know what happened, but that was unbelievable," Polen said. "People are excited. There is a Facebook page. We have an app that people are a part of, and a lot of people are tuning into the podcasts."
As if the 5k-a-day and scripture reading weren't enough, Polen added another bonus challenge to this year's event called 5k Mayhem, which will take place May 30. It involves participants going all out that day, either running or walking a 5k at the bottom of each hour between 6:30 a.m. and 6:30 p.m. If that challenge is met, they will have logged at least 37 miles on that day alone.
Better Life Coffee came on board and will give anyone who completes that challenge a free bag of coffee.
"It's been fun watching this thing grow," Polen said. "I am seeing families do it across the country. People are coming together, and with people stuck indoors and isolated during the pandemic, it's a great release. I think it is a piece of hope that people have clung to."
Polen has different guests on his podcasts, and he has gone to great lengths to make it as fun as possible for participants. He said even if people don't complete the entire 5k Mayhem, he is inspired by their desire to do so. He also said even though the 5k Every Day in May sign-up is over and the event is currently mid-way through May, anyone wishing to jump on board at any point to pick up the process is welcome to do so.
"It's about challenging yourself to go beyond what you think you might be capable of and to find a way to draw closer to God and your faith in the process," Polen said. "We have seen people take this premise and really make something beautiful out of it. I like the idea of people joining this challenge and then taking what they are truly passionate about and implementing that into their lives. I love the synergy that paints a beautiful picture of the body of Christ coming together."
To follow along or learn more about Polen's ministry, log on to his website at www.jeffpolenmusic.com.