Laborers, legends and lingo on the rails of Wayne County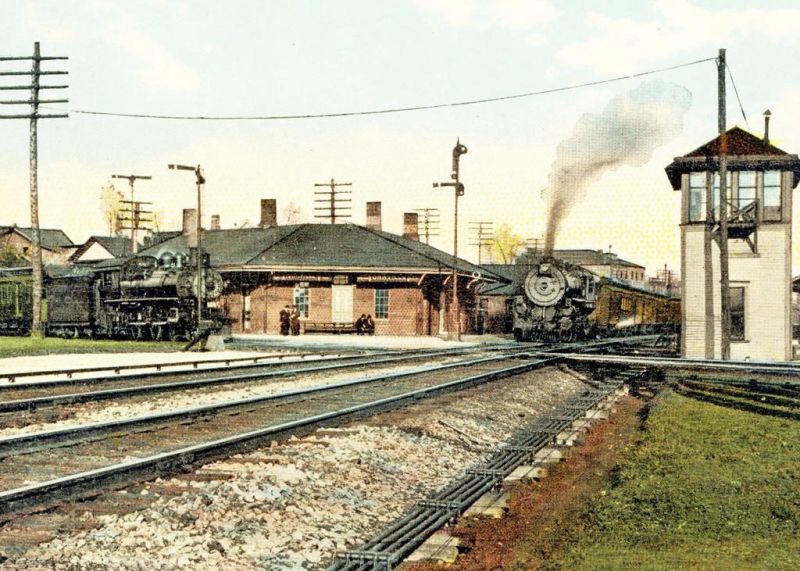 Editor's note: This is part four of a four-part series on the history of railroads in Wayne County. This week's installment is on laborers, legends and lingo.
"I've been workin' on the railroad ... "
There are approximately 167,000 U.S. freight railroad employees including the trainmaster, who works with yardmasters, dispatchers, conductors and engineers to ensure the safe, timely departure and arrival of trains. The yardmaster switches trains from track to track and breaks them down into individual cars. The dispatcher coordinates train movement. The road foreman of engines supervises engineers.
In the 20th century, freight train crews consisted of the engineer, a conductor, two trainmen/brakemen and a fireman. Today, most include only a conductor and an engineer.
The engineer drives the locomotive or runs the engine. This person factors in grades, curves and speed, requiring fine judgment. This person also observes time tables and signals, watches the track and the train, and blows the whistle at crossings.
Chris Colucy has been an engineer with CSX Transportation for 27 years. A resident of Brewster, he said engineers are educated at the railroad companies' schools and must first serve as brakemen. The engineer's work days and hours vary, he said, with shifts no longer than 12 hours.
"We're scheduled when it's our turn, from a pool of engineers, when a train is loaded and ready to go," Colucy said. "We run day or night. At the end of the run, we hand off the train to another railroad or put it into a yard. If it's intermodal, the cars go on from there."
On longer runs, once the destination is reached, the engineer sleeps at a hotel during the one- or two-day layover, then runs another train back.
Colucy has seen inevitable changes in the industry. "One of the biggest changes is Positive Train Control," he said, "a computerized system that calculates the trip and runs the engine in order to optimize fuel efficiency and prevent collisions and derailments."
A highlight of life on the rails for Colucy is seeing the wildlife, as well as the people who gather to photograph and film passing trains. There are clubs and websites dedicated to these train enthusiasts, known as rail fans.
"We'll see them in the same spots, smiling and waving," Colucy said.
The conductor coordinates the crew, equipment and cargo in accordance with rules, time tables, signal indications and speed restrictions. This person assures cars are in good operating condition, loads are secure and air brakes are operating.
Trains that deliver and collect railcars might also include one or two trainmen/brakemen, who throw switches and couple and uncouple cars and engines.
The railroad culture, unsurprisingly, has its distinctive lingo. A hog is a locomotive, and railroad ties are called toothpicks. An oil can is a tank car. A train on the ground has derailed. Hot rails are those occupied by another train, and a hotshot is a train given priority.
There have always been legends involving trains. Headed for Chicago one night in 1899 with 79 passengers, a train suffered a fiery derailment between Rittman and Sterling. Afterward, coroner William Faber pronounced the engineer dead. One night six months later, Dr. Faber was traveling in the area when he observed a train rushing down the tracks, headlights glowing, brakes screeching. Soon smoke and flames engulfed it. Shrieks of terror wafted from inside. Faber bolted to the railroad, where he found … nothing. Similar phantom train accidents in that spot have since been reported.
Hobos also are the stuff of legend, the Great Depression and the Dust Bowl having forced much of the workforce into migrant labor. These train hoppers crisscrossed the country looking for work while hiding from the bulls, the men hired to kick them off. One explanation for the moniker "hobo" is it was short for those who hop boxcars.
Nina Miller grew up near the Shreve depot and recalls hobos coming to their back door hopeful for a bit of food. "My mother always fed them," she said. "They were just trying to make a living. They always had a sack slung over their shoulder."
It was not unusual for a hobo to stop by on a later trip to offer recompense for a household's generosity. The hobo ranks reached an estimated 4 million during World War II. Many were injured or died through this dangerous form of transportation. Aside from today's random fool, train hopping went the way of the caboose.
Where did the caboose go? We all remember, as kids, the anticipation of waving at the guy in the red caboose of a passing train. That guy, the senior trainman, watched for shifting loads and overheating axles. Early cabooses were fitted with a desk and a wood-burning stove but later were upgraded with beds, kitchenettes and electric heat. Cabooses were replaced in the early 1980s by end-of-train devices, which report information via radio waves. Nobody is sure why most cabooses were red. One belief is the bright color optimized safety for the man riding in the last car of the train, a car that has since chugged off into the sunset.
But there's at least one caboose still running, and you can hop on it at the Orrville Railroad Heritage Society for a jaunt on the former Pennsylvania Railroad's Cleveland, Akron & Columbus line. For those wanting to know more about local railroads, Wayne County's various historical societies are a great resource. It is suggested patrons check on current hours and services.
"And I'd let that lonesome whistle blow my blues away."