LaVigne retires after 32 years as a Holmes bookmobile staple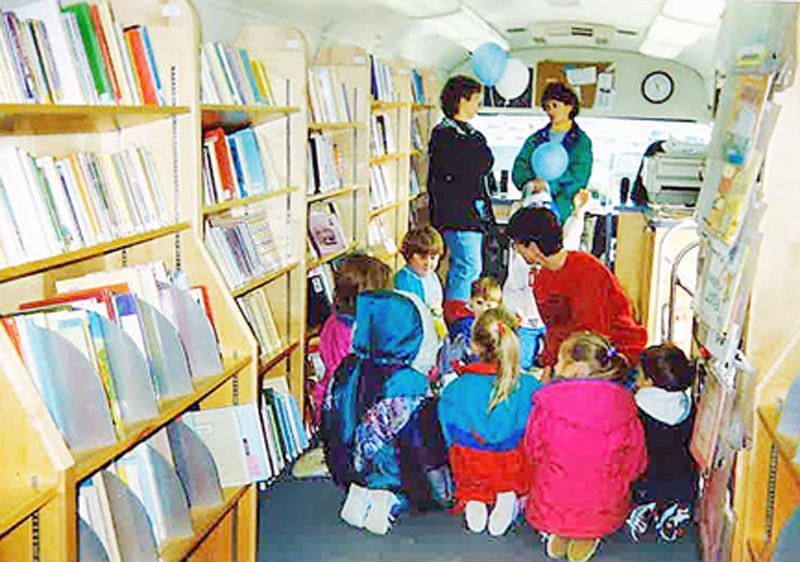 For more than three decades, the smiling face of Marty LaVigne has welcomed young and old alike into the warmth of the Holmes County District Public Library Bookmobile.
The library on wheels has been an integral part of Holmes County for many decades, and LaVigne has been there for 32 of those years.
On Aug. 31 LaVigne officially retired, spending her final day celebrating the many relationships she has built through her experience and fondly recalling many of the memories she made and the people who are now ingrained in her mind.
LaVigne began part-time as a story time reader at Killbuck. She remembered being extremely nervous during those first days, but it soon grew into a normal routine. In the early 1990s, she stepped into her role in the bookmobile.
LaVigne said throughout her stint as part of the bookmobile crew, she doesn't remember names as much as faces, but the one thing she does remember is the kindness of the families who visited and utilized the bookmobiles services and the commitment this community has for building reading skills in its children.
"I've seen some voracious readers in many of the young children in this county," LaVigne said. "Even with all of the electronics and games and activities kids have today, there are still a lot of readers in this community."
LaVigne said going to work each day was a true joy. She said knowing they were serving others and making other people happy played a key role in that feeling of accomplishment and joy.
"Everyone was always happy to see us and appreciative that we took the time to come to their neck of the woods," LaVigne said. "It's a miracle we aren't all Two Ton Tony because people constantly brought us food, especially around the holidays. I just think they were so grateful to the services we were providing for them they wanted to show their gratitude."
LaVigne said it was never a struggle to reach retirement. "I feel very fortunate. You hear so many people complaining about work and trying to hang on for those final years before they can finally retire. I never had to go through that because I absolutely enjoyed the whole experience."
LaVigne began her career with the bookmobile in 1987 on a part-time basis. That eventually led her to a full-time gig on the bookmobile. While she served many roles, her favorite may have been the children's storytelling time she did, along with her trusty puppet, Mr. Monkey. For 15 years LaVigne did all of the story times in the county including preschool and Head Start.
"I think one of my favorite memories is the way kids would recognize me at places like the grocery store and come flying up to me and hug me shouting, 'Miss Marty, Miss Marty, where is Mr. Monkey?'" LaVigne said. "Like I carried him with me wherever I went. I missed that a lot after I went to part time three years ago."
Since the late 1980s, LaVigne has seen the library industry change and flow with the times. She has seen technology take the library and the bookmobile into a new age, with information now at people's fingertips.
LaVigne said going to computer was a game-changer. In the earlier days, she said everything was on the card system, and when things got hectic, there would be stacks of library book cards on the bookmobile desk. The moments in which the bookmobile would head off to its next destination, only to have the cards fly all over the floor on a big turn or a quick stop, were many.
"We would end up with cards everywhere, having to re-alphabetize them, so the introduction of computers was a big deal for us," LaVigne said.
As for the bookmobile itself, it remains a library on wheels, bringing reading material and more to communities throughout the county. She also saw the bookmobile dubbed Bluebird come into existence with the library, only to be retired a couple years ago.
"The one constant is that we were always on the go and it was different every day," LaVigne said of life on the bookmobile. "It was always fresh and fun, and it was a real blessing to be a part of it with the people I got to work with."
At the end of her career, LaVigne said she was welcoming children of parents that she served years earlier when they were children. Catching up with them and building relationships was the part of the experience LaVigne said she will always cherish and will definitely miss.
LaVigne said when she initially began her service with the bookmobile, it was considered more of a school service. It also was an integral part of bringing the library to the many small Amish communities throughout the county.
LaVigne also said many people consider the bookmobile a children's service, which she said is true but paints only a part of the picture because the bookmobile serves so many Amish communities, bringing books right into those communities for adults and children alike.
LaVigne stepped away from the bookmobile manager role five years ago and then went to part-time three years ago in order to spend time with her mother. As she segues into retirement, she is looking forward to golfing and doing some traveling with her husband, Pat, who retired from teaching three years ago.
"I turned 65, and my husband retired, and we felt it was time to dedicate some time to doing the things we wanted to enjoy," LaVigne said.
No matter where she goes or what she does from here, LaVigne will always be part of the bookmobile family, and they will always be a part of her.