Leadership symposium will focus on generosity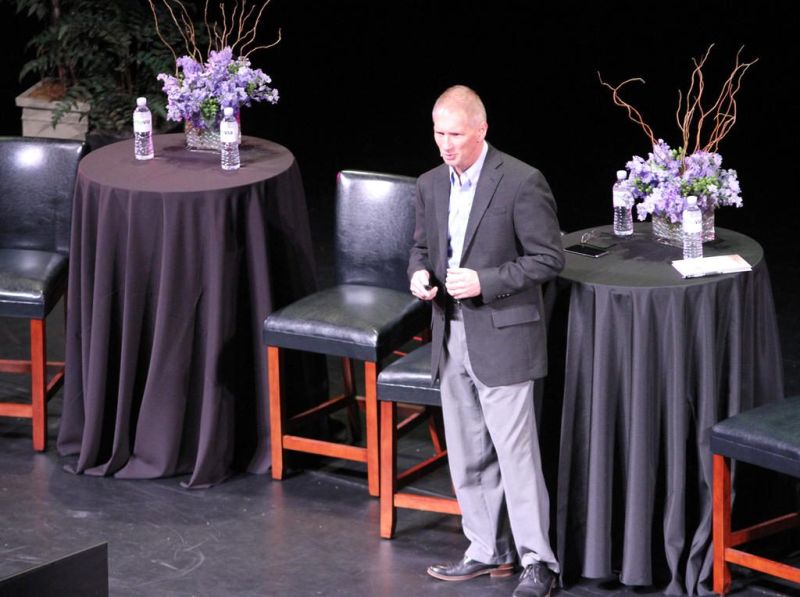 The upcoming leadership symposium titled "2019 Leadership Symposium: Creating a Culture of Generosity" will take place Tuesday, Feb. 12 from 7:30 a.m. to 3 p.m. at the Performing Arts Center at Kent State Tuscarawas.
The symposium of community leaders is being presented by ProVia in partnership with Keim Lumber and Berlin Gardens. Through the messages delivered by four speakers, the event is designed to unite, encourage and inform leaders from all over Northeast Ohio to foster faith-based conversation and learning.
"Generosity is an aspect of servant leadership. It is one of the many characteristics that creates a servant leader," said Jennifer Burris, ProVia's chairperson.
Burris and committee members Lavern Yoder, Joel Herman and Ed Breehl have helped to create the line-up of speakers for the event.
Generosity as a leader can help provide purpose in a mission, make for stronger and more resilient relationships, build loyalty, and encourage each member of a team or company to invest in the process of becoming the best it can be, according to the organizers.
"One thing we don't want people to think is that this is about being generous by giving financially," Burris said. "There are a lot of ways that a leader can be generous that have nothing to do with finances."
Developing that sense of generosity in leaders is the goal of this year's symposium.
The keynote speaker for the event will be Erwin Raphael McManus, who is an artist, entrepreneur, cultural thought leader, author and founder of the Los Angeles-based church, Mosaic.
There also will be a trio of featured speakers including New York Times best-selling author and workshop leader Steve McClatchy; faith-based and pro-life speaker Pam Tebow, mother of Tim Tebow; and servant leader and motivational speaker Dan Owolabi, executive director of Branches Worldwide. The event will be emceed by ProVia President and CEO Brian Miller.
Burris said of McManus, "I am so impressed with his story, with where he has come from in his life, from having nothing to where he is today with his mission work and his church. He will focus on his new book, 'The Last Arrow,' in which he writes about how people need to use all of the arrows in their quiver to live their life with passion and not leave anything behind."
McClatchy specializes in time management and how to prioritize in life so people have time to invest in what is truly important.
"He has an eloquent message that is very applicable, and people can really relate to it," Burris said.
Burris said Tebow is an exciting motivational speaker who will be riveting, and as for Owolabi, the only local speaker, he energized the crowd during last year's event and returns by popular demand.
"They are all experts in their own respective fields, and they are all coming at servant leadership and generosity from different angles," Burris said. "We like giving people a chance to hear about generosity in leadership from a lot of different perspectives. While generosity is the theme, they will not be limited to just that. They will be speaking it from the heart on what they are most passionate about."
Burris went on to note that while ProVia is at the helm of this event, the co-sponsors, dozens of other smaller sponsors and the community itself are the driving force behind the success of the event.
"Had it not been for the response of the community and their willingness to be a major part of this and to invest in it, we wouldn't be where we are today," Burris said.
In addition to the symposium speaker, the event will include a lunch and gifts for all in attendance.
The leadership symposium began as an in-house engagement in which ProVia invited several members of the local community to attend. Since then the magnitude of the symposium has blossomed. The symposium now fills the Kent State Tuscarawas Performing Arts Center.
"We do a lot of research," Burris said. "We start out by thinking about the theme. This whole thing began when we focused on promoting servant leadership because a lot of people don't realize what that really means. This year we felt we wanted to find a theme to tie into servant leadership that remained connected to it, and we focused on speakers who are going to speak to that topic who are a combination of faith-based and motivational speakers."
Kent State Tuscarawas is located at 330 University Drive in New Philadelphia. Cost for the symposium is $100 for upper-level seating and $150 for main-area seating. Tickets may be purchased through the KSU ticketing system at www.provia.com/tickets.
For general information, group sales or partnership inquiries, call Yoder at 330-852-1566 or email lavern.yoder@provia.com or call Breehl at 330-852-1680 or email ed.breehl@provia.com.