Legion honors Shaffer through HCECF endowment fund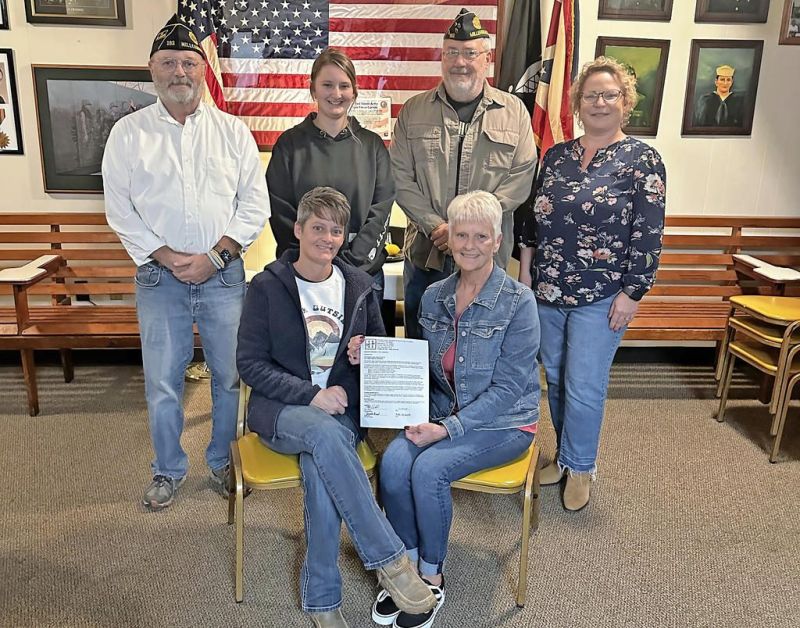 For decades Larry Shaffer was a staple of everything the Millersburg American Legion stands for. Shaffer's presence was synonymous with Post 192 and its community binds.
When Shaffer passed away Jan. 25, 2022, it left a huge hole in the hearts of all who knew him, but his good work also inspired the legion to create a proper way to remember and honor their colleague and friend.
So it is with great satisfaction and love that Shaffer's wife Karen, her family and The American Legion Holmes Post 192 have created an endowment called The American Legion Holmes Post 192 Larry Shaffer Memorial Scholarship.
The Shaffer family, Post 192 and a generous donation from an anonymous legion member created an endowment fund of $26,000, from which Shasta Mast, executive director of the Holmes County Education and Community Foundation, will choose a scholarship winner each year in remembrance of Shaffer.
Craig Lawhead, Post 192 commander, said the legion had been giving a scholarship in Shaffer's honor, but he said they felt it would be better served to partner with the HCECF and let that organization sift through all of the applicants to choose the most qualified recipient.
"We felt it would be better to have the HCECF administer the scholarship, and since it is an endowment, it will always be there for future scholarship winners," Lawhead said. "We want Shasta and her people to pick a recipient from their scores based on our criteria."
Mast said an endowment of $26,000 should provide an annual scholarship of around $500, but as the endowment fund grows, so too will the scholarship offering.
Lawhead said the legion members thought it would take two or three years to build up an endowment fund of $25,000. They began by donating $10,000 in honor of Shaffer, who was such an integral part of Legion 192 for many years.
When contacted about what the legion was doing in her husband's honor, Karen Shaffer added to the pot with a healthy donation. When another anonymous veteran donor pitched in, Post 192 decided to cover the rest to quickly reach the $25,000 level.
It has since grown to $26,000.
"This would have meant the world to Larry, but he wouldn't want all of the attention," Karen Shaffer said. "This is a great thing for the youth of our community, and I am so appreciative for our legion and its members who made this possible. The legion is all family, and it was a huge part of Larry's life."
Larry Shaffer was commander at the Millersburg American Legion for many years and could be seen raising the flag at West Holmes Knights football games every Friday night during football season. Lawhead has taken over that duty and the commander position, which he said was an honor.
The qualifications for the annual scholarship are fairly straightforward. First and foremost, any student seeking the scholarship must have a direct connection to a Post 192 member, be it a member, a child or grandchild of a regular member of the Millersburg American Legion, member of the Sons of the Millersburg American Legion or the Millersburg American Legion Auxiliary. The student may be from Holmes County and any adjoining county, as long as they have a family member who is a Millersburg American Legion member.
Also under consideration will be the applicant's civic involvement, extracurricular activities, work experience, a high school graduate with at least a 2.5 GPA and financial need. The scholarship is renewable for any recipient who maintains a 2.5 GPA. The scholarship may be used for tuition, enrollment fees or material required for courses.
"The beauty of the endowment is that it will give forever because we never spend the principal. We award scholarships based on its growth," Mast said. "If it would continue to grow, we could at some point split it and give two scholarships."
This type of giving is commonplace for the Millersburg American Legion, which gives to many area organizations like the Darb Snyder Holmes County Senior Center, West Holmes Athletic Booster Club and other organizations in need.
Lawhead said it wasn't only the Millersburg Legion that was giving, but also members of Sons of the Millersburg American Legion and the Millersburg American Legion Auxiliary.
"They do so much," Lawhead said.
Lawhead went on to say while the initial $26,000 gives the endowment fund a starting point, the legion will continue to give to the Shaffer scholarship through fundraisers and through funds raised through its annual gaming profits.
Mast said this type of gift is essential in providing scholarship funds to graduates heading off to higher education.
"This is the most important thing for our organization, to be able to build these types of endowments that last forever and help kids continue their education, and many of them come back to our county and become the next generation to contribute, so it self-perpetuates and builds capacity in our community and builds leadership and strength," Mast said.
She said she gets many letters and emails from scholarship recipients who express their gratitude to the community for the support. As the legion and Karen Shaffer and her family create this scholarship in honor of Larry, it only adds to the growing list of support for area teens.
Anyone who would like to give to the American Legion Holmes Post 192 Larry Shaffer Memorial Scholarship may do so by calling the HCECF at 330-674-7303.