Local author a finalist in Hemingway competition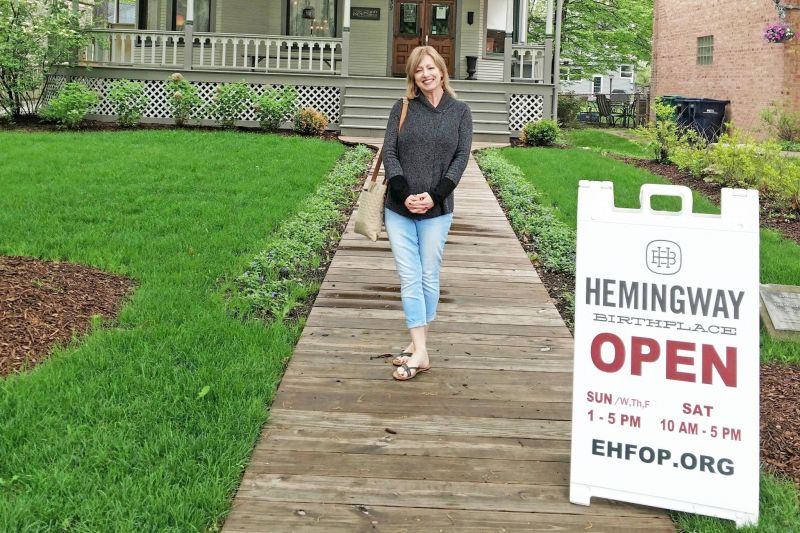 "Writing is something that you can never do as well as it can be done," Ernest Hemingway said about the process of writing.
Local author Dottie Sines has written well and is a finalist in this year's Hemingway Shorts literary competition with her short story, "In the Twilight of Memory." She also was a finalist in 2018 with her story, "Analisa's Letter."
The Hemingway Shorts literary journal features a collection of short stories by new writers in the best tradition of classic American novelist and short story writer Ernest Hemingway — lean, athletic prose.
"In the Twilight of Memory" is a story about a librarian who receives mysterious book inquiries from a patron dated 100 years prior to the current date. After initial incredulousness, the librarian's dogged search leads eventually to an entirely unexpected resolution, one that skillfully weaves a commentary on the history of women's place in literature within the framework of the supernatural.
"It's hard as a writer to know when a story is finished," Sines said. "You pay attention to every word. But I had gotten to the point where I was satisfied with my effort and entered it into the competition. It was very gratifying to be chosen again. It's very humbling to have my name associated with Ernest Hemingway in any way."
Sines, a semi-retired interlibrary loan associate at The College of Wooster, has written extensively for local publications including The Bargain Hunter, The Daily Record and the 44691 magazine.
Sines' foray into short-story writing started just a few years ago when visiting the Hemingway Foundation museum at the author's home in Oak Park, Illinois. Sines is a Hemingway lover and has visited the homes of the celebrated literary figure in Illinois and Key West several times.
"My goal is to someday travel to Cuba," Sines said.
Hemingway lived and worked for much of the last two decades of his life at the Finca Vigia ("Lookout Farm") in San Francisco de Paula.
"When I was in Illinois, I came across this short-story competition and thought I could give it a try," Sines said. "After all, I have been writing since my childhood. And now that I've been having some success, I wish I'd have started in earnest years earlier; I might have a book published by now."
Indeed Sines had begun writing a novel years earlier but said the project had been put on the back burner for 15 years while she raised her two sons. The author has since completed the novel and is in the process of trying to get it published, as well as beginning a second novel.
She has writing short stories since she was a little girl, winning several regional awards for fiction and non-fiction. Those awards drove her to try for the international competition.
Sines said she has developed a rhythm for her writing. "I have a corner in my house that's dedicated to my writing. Sometimes I take my laptop out on my patio. But it helps me to have dedicated areas for my writing," she said. "I try to have a fairly disciplined approach. I try to devote some time every day. My goal is to write every day."
The time it took for Sines to write her short story was just a couple weeks. "My approach is first to just spill everything out, then go back and develop it, edit it and tweak it," she said.
Sines finds support from a local group, the Killbuck Valley Writers' Guild.
"We're all working on different projects, whether poetry, prose, fiction or nonfiction," Sines said. "We bounce our work off each other. It helps me not so much for writing style or the technical aspects of it, but to have someone point out inconsistencies or maybe something I just plain missed."
Publishing her novel is an ultimate goal for Sines. "I'm still in the process of finding an agent and eventually a publisher," she said.
Sines said self-publication on Amazon is an option she might consider if the traditional route doesn't pan out. "It used to not be as respected as now, but there are probably more novels self-published now than by the big five publishers combined," she said.
Whichever route she takes, Sines is clear about her intentions. "My ultimate goal is to have my own book in my hands," she said.
To read Sines' story and other winning entries, the Hemingway Shorts journal can be purchased at https://www.amazon.com/dp/B088LGX544. Proceeds go to the Ernest Hemingway Foundation of Oak Park.