Local doctors build hospital, provide care in Ghana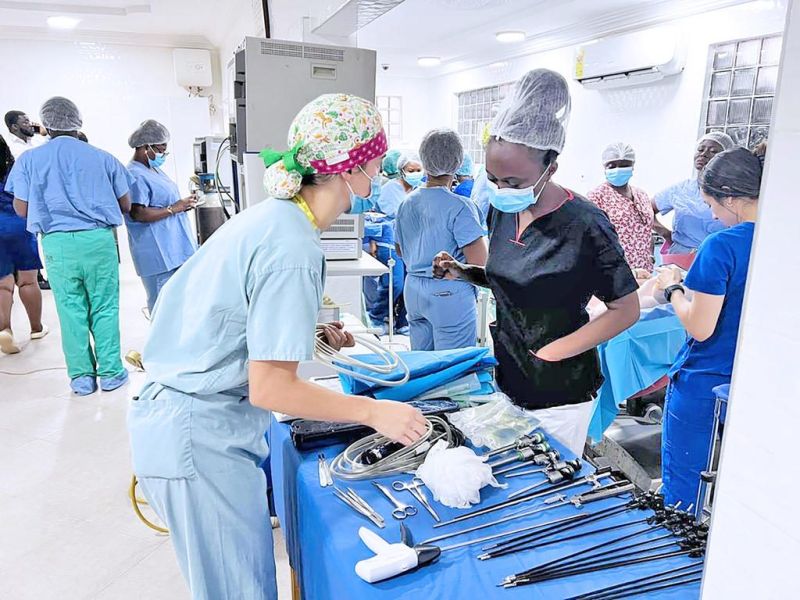 Twelve years ago, Drs. Amelia Laing and Cyril Ofori began a journey that evolved into the creation of a nonprofit organization and hospital located in Ghana.
"We started with the idea that we could set up a hospital with good quality women's health care delivered with dignity — something which is not a given in places like Ghana," said Laing.
Back in August, they celebrated a decade of supplying exactly the care they once dreamed of providing. At the event, surrounded by friends, donors, past patients and medical personnel who have assisted along the way, Laing outlined the progress, expressed her deep gratitude to supporters and shared her dreams for the future.
"We wanted to thank our Wayne County community for supporting us to get this far," Laing said.
When the project began, Laing and Ofori dove in headfirst, bought a building and started collecting equipment. On the 21st of April, 2013, the first baby was delivered at Obaatan Pa Hospital in Accra, Ghana.
In the beginning, Laing spent half the year in Ghana. She traveled every two months. "I worked on building up the place, finding staff and doctors, while maintaining a practice here," she said.
The idea to create a new hospital came from the desire to give back to the country where both Laing and Ofori began their careers. "We both completed medical school in Ghana," Laing explained.
After their specialist studies and while working, they traveled back to Ghana to visit family and teach. This is when they heard "horror stories" — cases where needed care was not available and preventable deaths occurred. "We thought maybe we could do something to help give back."
The first year, the hospital handled 13 deliveries. The past three years they have averaged 120 deliveries per year. Additionally, they provide various gynecologic surgeries.
After having outreach services disrupted by the pandemic, they are now back providing much needed medical outreach for women in Ghana. Six times each year, a team travels to underserved surrounding communities and provides free screenings for basic health conditions that often go undiagnosed and untreated in the area.
"We come across people with severe hypertension, diabetes, and sometimes serious pathology or cervical disease," said Laing. "Every time we do outreach, we make diagnoses that women were unaware of."
The most exciting development at the hospital this year was the introduction of minimally invasive laparoscopic surgeries. Laing said this addition was possible due to generous Wayne County donors.
"What having this new surgery technique does," said Laing, "is it allows for the investigation and treatment of many gynecologic conditions without a big scar. There are fewer complications and quicker healing."
Last year's fundraising goal enabled the hospital to purchase an operating bed with the flexibility needed for laparoscopic surgery. They also purchased a new anesthesia machine.
An additional way the hospital is supporting the surrounding community was something that Laing and Ofori did not foresee. "We're providing employment for about 30 people," Laing said.
With three specialists and five medical officers working together they can now provide 24-hour care with a physician always on site. In addition to treating women, they have two pediatricians who run two clinics each week.
Laing applauded the dedicated staff who kept the hospital up and running during the pandemic.
"It was quite a sacrifice," she said. "They took shifts and stayed for three continuous days at a time." This meant if they had a busy night during a shift, there was no relief the next day–they simply kept working.
Obataan Pa Hospital has built three new wards to offer more space to patients, something that was crucial during the pandemic. They added a laboratory and pharmacy, which are available to the community as well as to hospital patients. They have two labor and delivery suites and the operating room. Last year, they added a new ultrasound machine, which allows them to also offer good quality scanning to the public.
Although the original concept was to provide basic, good quality ob/gyn care with dignity, the hospital offers a lot of high-risk care as well.
"Women who have lost babies near term will come to us and fortunately they get to go home with a baby this time," said Laing. "It's a positive story for so many people."
Though successful, there are always challenges and the ongoing need for support. Because of spiraling costs in all areas of life in Ghana, many more people cannot afford health care that the non-profit provides regardless of ability to pay.
In addition, electricity costs to run the hospital have tripled from January to May of this year.
Laing's current fundraising goal is to purchase a new truck. The current vehicle is showing its age. "The truck is used for purchasing supplies, taking us on outreach and for official trips."
In addition, she explained, "We always need money for supplies that are not available in Ghana. For example, the monitoring paper we use for women in labor to make sure the baby is okay — we always need that." Everything purchased has to be shipped, so shipping costs are another need.
Several times in the past, a specific health care professional has traveled to Ghana to share skills with hospital staff. They donate their time and the nonprofit appreciates donations to cover travel costs.
Beyond the new truck and ongoing needs, Laing's dream for the future of the Obaatan Pa hospital is "to find a consultant ob/gyn physician who has excellent laparoscopic experience in addition to general obstetrics and gynecologic skills," she said. "Someone who would be on site year-round to oversee and maintain the world-class quality level of care we have been able to provide."
For anyone who knows them or has experienced care at Obaatan Pa, it's apparent that Drs. Laing and Ofori have a way of making their dreams for improving medical care in Ghana come true.
Find the nonprofit Serving Women in Ghana online at www.servingwomeninghana.org. Donate online or send a check to Serving Women in Ghana, P.O. Box 127, Wooster, OH 44691.