Local Roots earns grant for COVID-19 response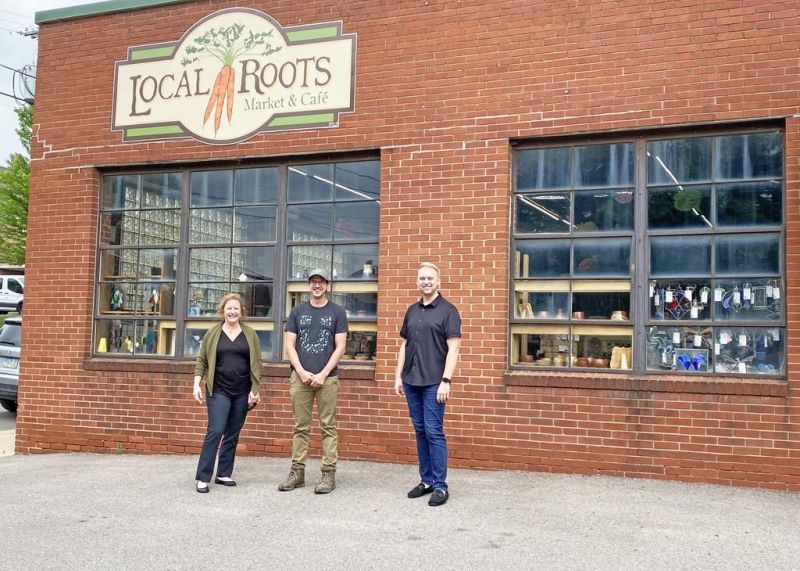 Like many small businesses, Local Roots faced significant challenges throughout COVID-19.
As a local foods market supporting more than 250 small, independent and local businesses, keeping its customers and producers safe while operating during the pandemic was a challenge. All aspects of the operation required some type of modification to stay on top of COVID safety.
The food co-op was awarded a competitive grant from the Hartford Small Business insurance company program, The HartBeat of Main Street, a select grant program sponsored through the national Mainstreet America organization.
Local Roots was the only grant recipient in Ohio.
Adam Schwieterman, Local Roots executive director, said Main Street Wooster Inc. was a great help in calling the program to his attention and then writing a letter of support for the application process.
"Many thanks to Main Street," Schwieterman said. "They were a great backer for us in this process."
Shannon Waller, executive director of Main Street Wooster Inc., said her organization was glad to participate in the process. "This is exactly the kind of thing we are here for," she said. "Remember how scared we all were back then? We were all just feeling our way through."
In part, Main Street's letter said, "Local Roots Market and Café is well respected in the community, serving as an anchor business for our main street area for the past decade. Local Roots brings the community together through events, workshops and by supporting entrepreneurs. For those reasons they fill a crucial niche in our downtown ecosystem."
It was one of many letters Main Street wrote in support of local businesses. Local Roots finished as one of just 65 businesses chosen nationwide.
Schwieterman said as far as COVID-19 went, Local Roots faced challenges from the start. "First, we had to deal with changing to pickup and online ordering," he said. "Fortunately, our customer base was really loyal and patient. We actually saw our business grow. We had so many phone calls. One of the first things we had to do was to add another phone line and increase our internet bandwidth."
Schwieterman said he remembered going to a store and waiting for hours to stock up on additional containers required for the increase in to-go orders. "You just weren't sure about much of anything," he said. "And we're not exactly a cash-rich organization. We had to really make sure a little bit went a long way."
Schwieterman said time became a very relative concept. "Every day felt like a year; every month felt like a decade," he said.
The Local Roots producers held strong. "They kept safe and continued with their great products and support," Schwieterman said.
Schwieterman said they actually had to hire eight additional staff to keep up with the demand.
"Our primary concern was allowing space for our customers to social distance within our small and busy market floor," Schwieterman said. "We started offering curbside ordering to encourage people to stay outside, added an additional point of sale register, installed new shelving and added a multi-line phone system to manage the influx of phone orders. Like many other cafés, we transitioned to mostly to-go foods, which, again, kept people out of the store and in the safety of their homes.
"Our next biggest concern was to keep encouraging proper sanitary procedures. We first ordered more carts and shopping baskets to allow for proper sanitation between each use. We also added new hand sanitizing, hand soap and paper towel dispensers around the store."
In their acceptance letter for the grant, Schwieterman said, "We are proud to say that we had zero sickness within our staff or any known COVID-19 (cases) traced back to our store. During that time we processed nearly 70,000 transactions at our registers and returned nearly $1.5 million back to local producers. The positive feedback we received during the last year has been unparalleled to any other time in our company's past, and it is safe to say we could not have done it without the support of HartBeat of Main Street."
Recalling the earliest days of the pandemic, Schwieterman said he would always remember how the community came together.
"There were so many examples, like Minglewood Distillery providing hand sanitizer and people sewing beautiful masks," he said. "And the health department couldn't have been more helpful. When we started coming out of this, I felt much more a part of the community than ever before."
Rhonda Edgerton can be emailed at wooedge@gmail.com.