Local Roots Market supporting farmers, community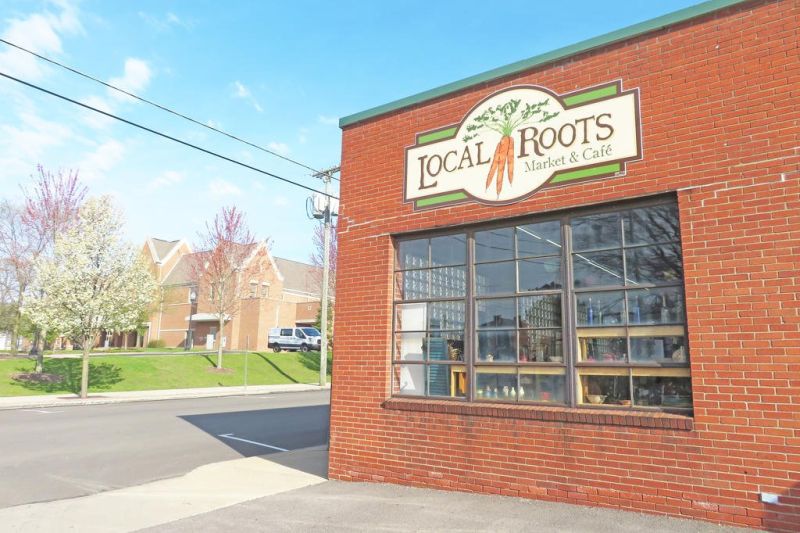 At Local Roots Market and Café in Wooster, revenues are up in April 2020 as compared to April 2019. More community members are shopping at Local Roots for fresh local produce, meats, dairy, lunches and other items. This success builds on its 10-year-long history of supporting farmers and the community.
If you visit Local Roots, you may think it's just a small market and café. How are they able to impact so many families? You need to understand the business model to understand the answer to this question.
First, Local Roots is a cooperative, which means it is owned by its members. "In order to sell at Local Roots, you need to be a member, and then everyone who sells here is an owner and has a right to vote on issues and how the business is run," said Adam Schwieterman, executive director of Local Roots.
OK, so being a cooperative gives farmers a voice in the management of the business, but how does it help farmers economically? After all, many have heard about the various challenges impacting farm profitability.
Farmers are constantly managing for multiple risks, which include drought, floods, pests, low market prices, not to mention the impacts of a global pandemic. Given these risks, it's no surprise 57 percent of farm households in Wayne County have another primary income in addition to farming (USDA Census of Agriculture, 2017).
Local Roots takes a lower commission; therefore farmers typically get a higher price than they would at the produce auction. Local Roots supports more than 150 small-scale farmers, from Wayne and the surrounding counties.
"For farmers who want to grow produce for a living but aren't big enough to sell to Walmart or Aldi's, Local Roots gives these people an outlet to earn a living. Farm stores are time consuming and expensive. They need to be staffed. Now with Local Roots, they sell via our market and can focus on growing the best vegetables possible," Schwieterman said.
A second aspect of Local Roots' business model is it serves as a business incubator. Let's imagine an entrepreneur wants to start selling a new value-added food product — it could be bread, salsa, sauerkraut or something else. Most entrepreneurs are not going to want to invest in a commercial kitchen, packaging and marketing expenses without testing a new product to see if it will sell.
That's where Local Roots can help. They have a commercial kitchen that can be used by entrepreneurs who can then test out new products in small batches. These small business owners can stay nimble, making changes to the recipe or packaging without having to invest hundreds of thousands of dollars.
Business incubators can be a critical component of any economic-development strategic plan. Often people mistakenly believe a majority of the new jobs in their area come from the opening of new manufacturers or other large companies. However, this is not true. Between 70-90 percent of net job growth comes from existing businesses expanding. Thus providing opportunities for small businesses to test out new products is a great way to set the stage so these businesses can grow and eventually hire more employees.
Local Roots has several examples of success stories — locals who have taken advantage of the business incubator and expanded. Wootown Bagels started in Local Roots' commercial kitchen. They make fresh bagels and sell out every day. They now have expanded to include a food truck. Pierogi People is another business that started at Local Roots and currently sells out every day.
Joshua Sheets and Jamie Smetzer started their product, Ol' Dirty Sheets Hot Sauce, in the commercial kitchen at Local Roots. They are another great success, as they now have multiple products and have expanded sales into almost two-dozen retail outlets in three states.
The Local Roots' business model allows them to provide more benefits to the community. "We've always been the connection between the producer and the community. However, we were very producer focused. COVID-19 has provided an opportunity to re-envision the business a little bit," said Joie Schmitz, the marketing chair at Local Roots.
Schmitz explained how they have been able to help during the stay-at-home order. "We've shifted our role slightly. Now, by supporting the producers, we can ensure they have the freshest product possible for the community. The stay-at-home order has affected everyone deeply. We feel fortunate that we are in a position to provide healthy food to the community at this time. It's been a good story."
To provide a positive impact on farmers and on the community during the pandemic, Local Roots has had to make some changes. They now provide personal shoppers and curbside pickup for lunch.
"This hasn't been without challenges. But everyone rallied from the beginning. We have worked to make sure that it was a safe place for our producers and staff," Schmitz said.
It's encouraging to see Local Roots is able to continue to support many families in Wayne County during this unprecedented time.