Lodging Council presents Cookie Tour checks to nonprofits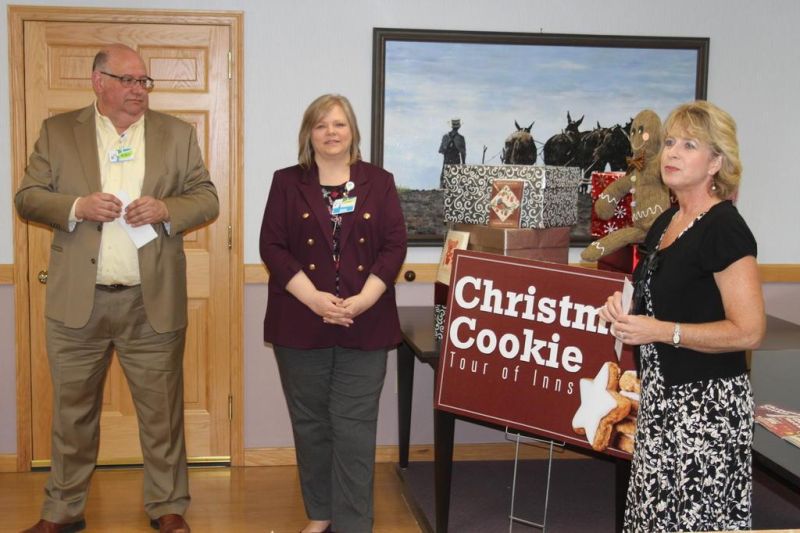 The annual Amish Country Lodging Council's Cookie Christmas Tour may seem like it took place ages ago, but for two area nonprofit organizations, the joy those treats brought back in December is fresh in their minds.
Having raised $15,460 through the 11th annual Christmas Cookie Tour Dec. 8-9, the Lodging Council recently presented checks to Lifecare Hospice and the Holmes County Education Foundation to help them continue their mission of helping others.
Both organizations were honored on Tuesday, April 2 to join members of the Amish Country Lodging Council to receive checks. Kurt Holmes, executive director of Lifecare Hospice, accepted a check totaling $9,276.15 while Darla Stitzlein, executive director of the Holmes County Education Foundation, accepted a check in the amount of $6,184.10.
The money raised for hospice will go toward providing assistance for area families in need of hospice and palliative care for loved ones. The funds for the HCEF will be put into the Christmas Cookie Tour Endowment Fund, which provides scholarships to regional students pursuing a degree in business or hospitality.
Chairperson and co-founder of the event, Loretta Coblentz, was on hand to present the checks and talked about the importance of making a commitment to help local nonprofit organizations.
"We couldn't function well without charities; we need charities to give to. It is always a joy to give, and the Christmas Cookie Tour is just that. It's the joy of giving that makes this so wonderful," Coblentz said. "The giving begins with the participation of all of the supporting properties who participated in the 2018 tour."
Coblentz gave thanks to the 11 participating hosts on the December tour that included Amish Country Inn, Hotel Millersburg, Berlin Encore Hotel, Comfort Suites in Wooster, Comfort Inn of Millersburg, Holiday Inn Express & Suites, Grapevine House, Hotel Millersburg, Woodside Inn, Wooster Inn and Farmhouse Frocks.
With this year's proceeds, the Cookie Tour has raised more than $160,256 for local charities. Considering it began in its inaugural year by selling 140 tickets and raising $530, its growth has resulted in a boon for area nonprofits. The two-day event saw 1,151 tickets sold last year.
"We say thank you on behalf of our students," Stitzlein said. "Last year was the first year we were able to award it, and it is Courtney Starr, a current freshman at Ashland University in hospitality management."
Stitzlein said they are going through applications for the second Cookie Tour Endowment Fund award, a one-year scholarship renewed for the awarded students through general scholarship funds.
"We are very grateful and happy to be a partner and to help make this tangible for the students' lives," Stitzlein said.
Now in its fourth year of receiving from the Cookie Tour, Stitzlein said the endowment fund is nearing $50,000 between the Lodging Council's donations and growth in the investment.
This is the second year in a row Lifecare Hospice has had the donation bestowed upon it.
"In an age when health issues are becoming so huge, we are so thankful to be a local hospice in a local community where we can feel that kind of support," Holmes said. "When you see the number of folks from the Cookie Tour giving back to local service, what we do wouldn't be possible without this kind of support. We couldn't operate the way we do in a rural community without that community stepping up and being supportive, so these are the kinds of things that make this possible."
With the Lodging Council operating under the auspices of the Holmes County Chamber of Commerce & Tourism Bureau, the two entities have been able to connect tourism with fundraising, and that proposition has worked out well.
"Holmes County is a wonderful community, and everyone supports each other," said Tiffany Gerber, Holmes County Chamber of Commerce & Tourism Bureau group tour coordinator. "It's like friends taking care of friends. It's nice to be able to serve our community in that way."
Coblentz said the Lodging Council is already looking forward to a bigger and better Cookie Tour this year, and preparations are already taking place to create new opportunities for patrons.
Additional sponsors to last year's event included Victorian House, Walnut Creek Cheese, Miller's Dry Goods, Heini's Cheese, Wendell August Forge, Amish Country Theater, Amish Country Soap Co., AloNovus Corp., Berlin Village Gift Barn, Bunker Hill Cheese, Creative Warehouse Marketing, The Jenny Wren, Starlight Antiques and the Daily Record.