Looking forward to a better year in 2023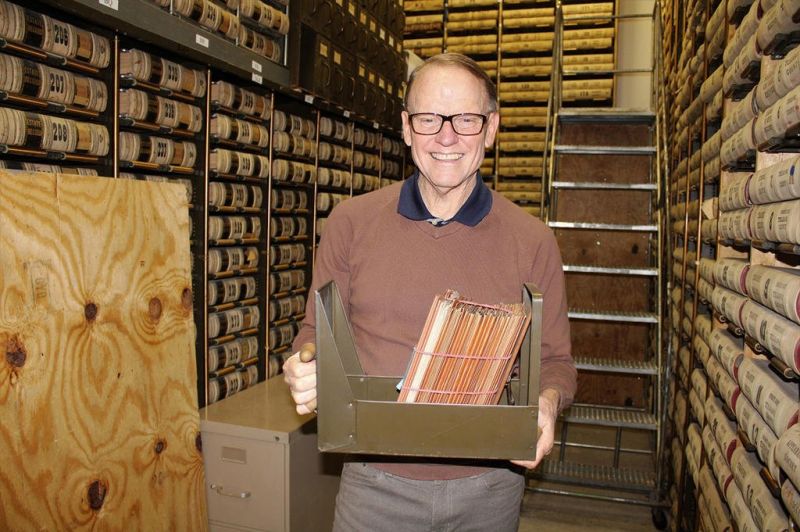 After more than $10,000 in unexpected expenses in 2022, the Tuscarawas County Genealogical Society is looking forward to a better year in 2023, but it's not started out as well as they have hoped. A furnace problem already required a service call in early January.
While many other historical groups are affiliated with other organizations, universities or public libraries, the TCGS owns its buildings and is responsible for all costs including upkeep, equipment and materials used in the library.
The society was formed in 1968 and operates a library at 307 Center St. in Dennison. It has been at its present location since 1999.
After 3 ½ inches of rain fell in Dennison on Nov. 11, the society discovered more than 3 feet of water had come up through a drain in the basement of the facility, and their collection of historic newspapers bound into large books was destroyed.
The rain occurred on a Friday, and on the following Tuesday when volunteers arrived to open the library, they discovered a nightmare.
The society had to hire a restoration company to do cleanup. The newspaper books, which included copies of the former Evening Chronicler and many other area publications, had already started to develop mold.
"They worked two days to fill three dumpsters, and then they sanitized it for 72 hours," TCGS member Gary Sliffe of Beach City said.
The society appealed to the public for donations to help cover the cleanup costs. They feel fortunate to have received slightly more than $3,000, but more help for the nonprofit, all-volunteer organization is needed. They did not have insurance that covered the water damage.
In addition to the loss of the materials in November, the society also spent $1,500 last summer to repair a sinkhole problem in the parking lot.
The TCGS library provides a wealth of information. It has the most comprehensive collection of genealogy resources in Tuscarawas County, three computer terminals, Wi-Fi, microfilm readers and coin-operated photo copiers.
Some of its holdings include indexed four and five generation charts, over 1,200 family histories, photograph files, U.S. census records, local church records including a large Moravian collection, local funeral home records, Ohio Civil War rosters, Ohio WWI rosters, newspaper collections on microfilm and more.
With genealogy being the top hobby throughout the world, many visitors travel a long distance to come to the library.
"If they're coming from out of state, they're going to stay in a motel. They're going to eat at a restaurant," said Emma McMannamy, president of the TCGS, on the impact the library can have on tourism.
She said area businesses are appreciative and have supported the TCGS in the past with donations.
Volunteers can help point visitors in the right direction, but they are required to do their own research. There is a small fee for nonmembers to use the library. Members may research free of charge and receive a quarterly newsletter. Memberships are available at $15 for individuals for one year, $20 for couples for one year, $150 for a lifetime individual membership and $250 for a lifetime couple membership.
"We have members in quite a few different states. We have a guy from Texas that comes in almost every year," McMannamy said.
Though more records are going online, it's still valuable to do research using the library's many original materials.
"I know a lot of people are doing research online, and they may not realize that you do have to be careful with certain sites," McMannamy said. "I can't forget the fact that on my grandmother's site on Find a Grave there are five errors."
The TCGS also offers about 100 book titles for sale including history; birth records; cemetery, death and burial records; church records; census records; marriage records; a common pleas and probate index; and collections of five generation charts submitted by TCGS members. It also offers an ever-changing collection of books for sale that have been donated to them but are not needed for the library. The society also offers how-to classes on genealogy.
One project currently at the TCGS is the digitization of the records from the Tuscarawas County Courthouse up to the year 1900 for Family Search.
David Shipley, who is currently based in Zanesville, has been working for Family Search 40 hours each week on photographing the records since October 2021. He insists he's a camera operator only, not a photographer.
"I'm an independent contractor, and I supply the digitized documents to the Family Search database," Shipley said. "Family Search is the largest online reservoir of genealogical documents in the world and has been for some time. It's associated with the Church of Jesus Christ of Latter Day Saints."
Shipley is thankful for the volunteers at the TCGS.
"They have allowed me to work here, and I can basically come and go as I need to," Shipley said.
That day Shipley was working on sheets from books that had been stored flat.
"Most of the documents are in file cabinets, and they are loose documents. Individual pages that are folded up into a case packet, many times I can't film those," Shipley said, adding about 1,300 hours of community service was given to prepare the documents for filming.
The documents are unfolded and straightened out, and a person was even hired to iron them so they can be photographed.
As soon as people find out what Shipley is doing, they want to help.
"I find that to be a common thing, that there's a special spirit about this work. Genealogy is by far the largest hobby in the world and has been for some time," Shipley said.
In today's society the interest may come from extended families that no longer gather and take the time to know each other.
"It doesn't take too much to figure out that on this front end, families are being destroyed. The family is not doing well. But there's this back end, a strong desire to put the families back together, and that's where genealogy comes in," Shipley said.
Shipley said adoption records are now being made public up to 1948, and they will be able to be filmed to add to the database.
Also being made public up to 1948 will be records from insane asylums and state hospitals that admitted people with mental or developmental challenges.
"We'll have the privilege of being able to. I like to think of bringing those people back to life because they were too often shoved in there and then forgotten about, even experimented upon. It was not a pleasant historical fact in our society," Shipley said.
Shipley has found a lot of things while working in the library including records of those caught making moonshine in the county in 1929, but mostly, he is working as quickly as he can to make the records more accessible for all.
The library is closed for the winter and will reopen to the public in March. Its hours and more information can be found at www.tuscogene.com, and donations may be sent to Tuscarawas County Genealogical Society, P.O. Box 83, Dennison, OH 44621-0083.