Looney hitting all the right notes in promoting music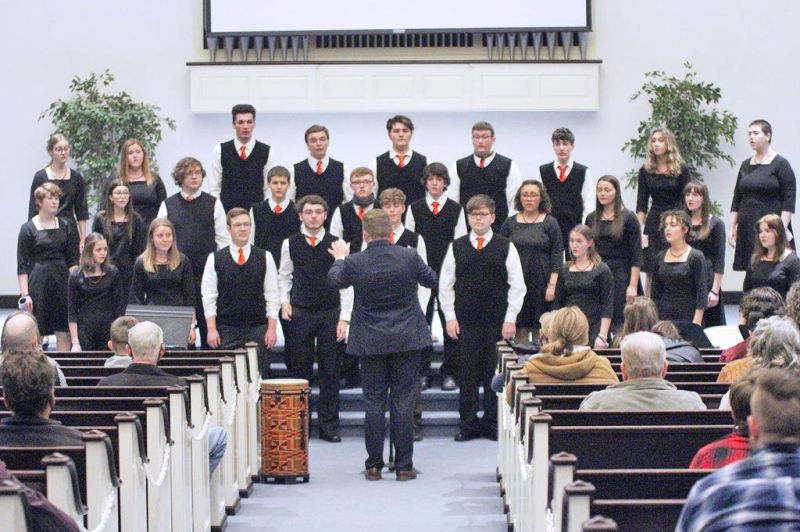 One need only to listen to the passion in Alexander Looney's voice to understand how important he believes celebrating music and the arts are in the lives of children today.
Looney, the choral director at Hiland High School, is in the midst of celebrating March as Music in Our Schools Month, which is sponsored by the Ohio Music Education Association, which has emphasized making a commitment to the arts in students' lives. The theme for 2021 is "Music, The Sound of My Heart," and if Looney's passion proved anything, it is music and sharing its power and joy are at the center of his heart.
"I think I could talk about this topic for hours on end," Looney said of the importance of music in the lives of today's children.
Looney said every year there is a national theme sponsored by the OMEA, and then it is up to each state to create its own specific state music association that creates its own theme. Looney said he integrates that theme into the district's music classes.
"At the elementary level, I will have the kids fill out a worksheet on why music is so important and what they appreciate and value about it," Looney said. "At the middle and high school levels, I will take that theme and pair it with our spring concert, and I will have the students write about what they enjoy about being part of a choir and what they have learned from practicing and performing with others as one united group."
This winter Looney had his high school choir members create a short video about what their experience in music has meant to them. He combined all of the videos and showed them during the spring concert on March 16.
Looney also assigned choir and band individuals to read a quote or fact about music education or share a personal thought about the importance of music during announcements each morning in March.
Sharing music and art with students is something that has become a priority for Looney in his life, and he sees value in every aspect of young people, who are widening their horizons and growing in so many ways during formative years.
"Music and the arts are one of the most important content areas a student can develop when they are young," Looney said. "A lot of times you hear music programs being cut or condensed because so often those areas are seen as extracurricular activities in schools. We always hear about the importance of the core study areas like math, science, English and other areas. I think the arts get overlooked as to their importance. I think as a society, we need to shift our mind-set and shift how the arts are being considered because it should be a core content area."
Why does Looney see music education in particular as such a valuable asset? He said it is one of the only subjects that is a full-brain activity. He said students who perform in musical classes are engaged in all areas of the brain, whether listening, site reading, or actually singing or performing musically.
"Students are being engaged with all zones of the brain, which is why it is so beneficial," Looney said.
Looney said when students begin engaging in music and the arts at a young age, there is a nerve fiber bridge in the brain called the corpus callosum that connects the brain's hemispheres and increases and enlarges when youngsters are engaged musically, so people are reshaping and improving the brain through music study.
Looney said that is why students who are involved in music tend to excel in the classroom setting in many other academic areas.
"That is fascinating to me, and that alone is a reason to have our kids focus on quality music education from a young age," Looney said.
Looney said another benefit from music is it is an activity that unites people, whether it is in band, a musical or choir.
Looney said the bonds created and the way collaboration must take place to succeed are second to none because everyone is doing something similar at the exact same time and working toward a common goal.
"It is something that is beautiful, unique and a special experience when students get to express themselves as they make something on paper spring to life," Looney said. "Those wonderful music experiences stay with us, and that is the power of the arts. It is emotion. It's history, science, math and music."
Looney's final thought was music is in everything people experience today, from their phones, to television and movies, to automobiles and in the home. He said music shapes the way people think and feel, sometimes without them even being aware of it.
"Music brings meaning to our lives in such vast ways," Looney said. "In a way music is the way we see the world."
Looney said as an educator his hope is he and every other music and art teacher are focused on creating future adults who will become lifelong supporters of the arts. He said the arts can be stimulating, engaging and a beneficial experience in so many ways.
"I want to pass this passion along to the students," Looney said. "I love seeing students get excited about the arts because I know it is making a great impact on them in such a meaningful way."