Lots of programs indoors and out at WCPL this summer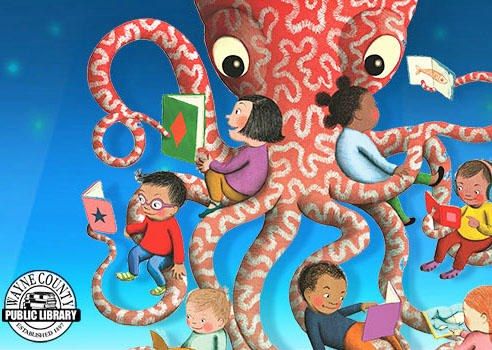 Wayne County Public Library is gearing up for a full summer schedule including in-person programs for all ages with many indoor and outdoor family programs. Programs will feature crafts, science, emerging technology, scavenger hunts, literacy and more.
The events will begin May 31 with the 2022 Summer Reading Club, "Oceans of Possibilities." Children and teens earn a new book of their choice for their reading time with a free book for every five hours they read up to 20 hours. Children who read 25 hours or more will be entered into a drawing to win a private party on WCPL's Bookmobile.
Teens who read are entered into biweekly drawings for gift cards, with a grand-prize drawing of a $100 gift card for teens who read at least 100 hours. Kids and teens can join any time between May 31 and July 30. Visit your local branch library to enroll, download the Beanstack app or participate online at wcpl.beanstack.org.
Super Summer Specials
These programs will be held at the outdoor Streeter Auditorium at the Secrest Arboretum, 2122 Williams Road, Wooster. Everyone is welcome, and no registration is required.
The Splash Circus, a water-themed comedy and juggling show, will be June 28 at 10 a.m. In the evening attendees can join for Outback Ray's Amazing Animal Show at 6:30 p.m.
Wolves: Facts V. Myth will take place July 27 at 11 a.m. Later that evening attendees can meet some scaly friends at the Realm of the Reptile Show at 6:30 p.m.
Summer Reading Club Kick-Off Tie-Dye Event will be Tuesday, May 31 from 11 a.m. to 6 p.m.
On June 21 at 6 p.m., Book Bricks: Painting Pavers will take place.
On Aug. 4 at 3 p.m., kids age 7-12 can brush up on their snack-making skills at Kids in the Kitchen.
The Whiz Bang Science Show will take place June 7 at 10:30 a.m. at Village Green Park in Dalton.
Also at the Village Green Park, visit with some aquatic animals at the Akron Zoo Show on Tuesday, July 19 at 10:30 a.m.
Pick up a summer bucket list and see how many activities you can complete in June and July at the Doylestown Branch Library. Teens can create a repurposed no-sew T-shirt tote bag on Tuesday, June 21 at 6 p.m. and celebrate Shark Week the entire week of July 10 with crafts and activities.
Kids age 5 and up can create an ocean scene on Tuesday, June 7 at 4 p.m. at the Rittman Branch Library while tweens and teens can get crafty and create sea glass jars on Tuesday, July 12 at 4 p.m.
If you are a fan of dinosaurs, you will want to attend the Tea Rex Tea Party PICNIC on Friday, June 10 at 1 p.m. at the Shreve Branch Library, and teens can create sea glass wind chimes on Tuesday, June 14 at 1 p.m. Join the Ohio Bird Sanctuary to learn all about birds of prey on Saturday, July 16 at 12:30 p.m.
Patrons can join the West Salem Branch Library at the Firefighter Festival on June 25 from 3-5 p.m. to do tie dye. On Saturdays, June 11, July 9 and Aug. 13, pick up a take it, make it kit.
There will be farm animals at the Wooster Library on Thursday, June 9 at 10 a.m. Kids age 5 and up can check out the inside of a whale on Wednesday, June 15 from 10 a.m. to noon with the Whalemobile. Families can join the library for Wooster-lympics on Thursday, June 16 from 3:30-5 p.m.
Adults and teens can attend Bigfoot in Ohio and Beyond on June 7 at 6:30 p.m.
Blackbeard's Treasure Escape Room will take place July 5 at 5:30 p.m., 6:15 p.m. or 7 p.m. or July 6 at 2 p.m., 3 p.m. or 4 p.m.
Story of the Buckeye Book Fair will take place July 25 at 6:30 p.m., July 26 at 2 p.m., July 27 at 2 p.m. or July 28 at 10 a.m.
Most programs require preregistration and have limited space. Check with your local WCPL branch or check the library website at www.wcpl.info for more information.