Love Center has a big impact in Holmes County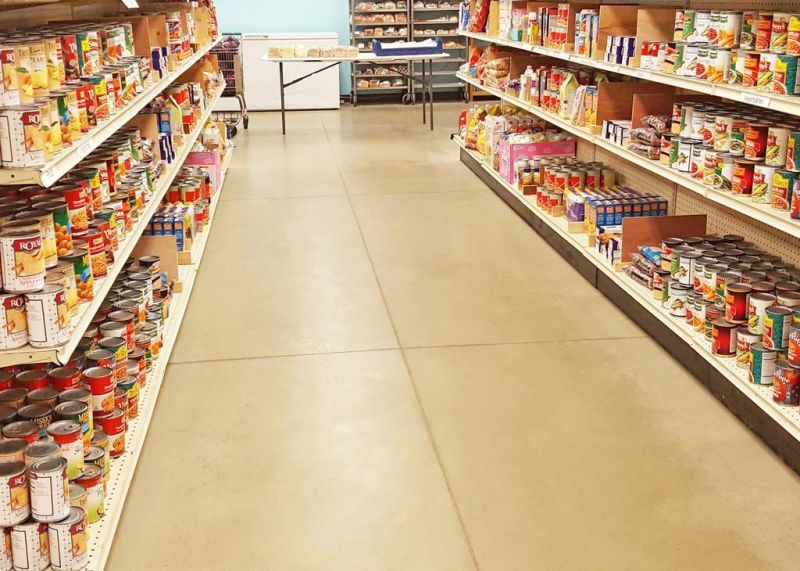 The Love Center Food Pantry has been helping people in Holmes County since 1986.
Located in Millersburg, the pantry started from humble beginnings.
"One of the ladies (who attended Lighthouse Christian Fellowship), Joy Yoder, came to pastor Larry (Hasemeyer) and said, 'I think we need to start a pantry. I think we need to do something and help some families,'" said Edgar Raber, co-director of the pantry, along with his wife Polly. "The way they started out is I think the first year they helped like six families. They would go and get grocery bags and basically put a list of what they wanted in the bags, and different people from the church would take a couple of days or a week or so and fill the bag and bring it back in, and they would give it to the families. That's how it started."
Fast forward nearly four decades and the pantry currently serves over 700 Holmes County families each year, providing them with canned foods, produce, frozen meats and numerous other food items. A large portion of the food comes from the Akron-Canton Regional Foodbank.
"We have anything and everything," Raber said of the pantry's food selection. "We get stuff for free (from the foodbank), and we can purchase stuff like meat for eight to 10 cents a pound, so we have a lot of buying power there. The money goes a long way there."
Numerous Holmes County individuals and businesses also provide food to the pantry.
"The whole community has really come behind us," Raber said. "We've been established for so many years, and they know we get the food to the people."
Raber said roughly 40 churches have partnered with Gateway Fellowship, which used to be called Lighthouse Christian Fellowship, to help with the pantry through volunteering or providing monetary assistance.
"We have volunteers from all over the community," he said. "A lot of retired people come and help. Some will only help a couple of hours one day a week. Others will do a couple of days for three hours here or four hours there. My job is to schedule everybody to make sure that everything is covered, but I know on a certain day that these people are going to be here.
"It's a lot of organization, making sure the food is there, making sure the volunteers are there, keeping the whole thing running."
Raber has served as co-director for nearly 10 years and has been affiliated with the pantry for close to 20 years, so he has seen firsthand how the local community has supported the pantry since its inception.
"We live in a blessed community," he said. "This community is very unique. We're very unique in helping out people here. Businesses and everyone are very generous. I can't say enough about how people have blessed us throughout the years."
For those interested in getting food from the pantry, there are a few requirements. You must be a Holmes County resident and be within the federal income guidelines.
People are allowed to come twice per month to get groceries from the pantry. During the months of June, July and August, they can come three times per month.
"Since the pandemic, we operate as a drive-thru now," Raber said. "Before that, we were set up like a little grocery store, and people could come in and pick all the different items and stuff. Now, we do as much of that as we can on the outside with the produce and stuff."
Raber said they have new people or families coming almost every day the pantry is open.
"What they do is follow the (cars in) line (when they arrive)," he said. "We have the driveway marked. There's a place where they stop, and one of the volunteers comes out, and we take all of their information. Each time they come they have to have a photo ID. We need to know their physical address (and) how many are in the family, and we usually get the age birthdays from their family or whoever is living there. Then they will proceed to follow (the drive-thru line), and we'll bring the food out to them.
"We adjust the portion of what we give to the size of the family, but they get a whole cart of food."
The Love Center Food Pantry, located at 1291 Massillon Road Suite A, is open Mondays from 1-5 p.m. and Wednesdays and Fridays from 1-4:30 p.m.
Those who are interested in making monetary donations to the pantry can mail them to the Love Center Food Pantry, P.O. Box 31, Millersburg, OH 44654, or go online to www.lovecenterholmescounty.org/donate. Food items can be dropped off at the back of the pantry building on Mondays, Wednesdays and Fridays from 10 a.m. to 4 p.m.
"Our eventual goal is to eliminate hunger in Holmes County," Raber said.