Love INC's new home in Millersburg suits to a tee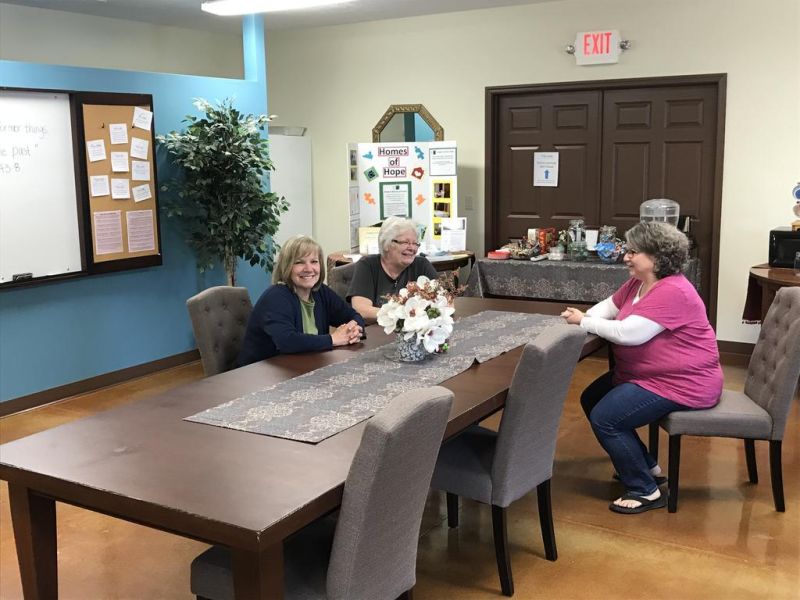 When Love In the Name of Christ first moved to action five years ago, its home in downtown Millersburg at Faith Lutheran Church was more than enough to allow the ministry to dig in its heels, start a number of programs that aided area families and make a name for itself.
However, when the programs began to blossom and Love INC began to grow, it coincided with the church wanting to move into the area where Love INC resided.
That sent executive director Vicki Conn and the board scrambling to find a new home.
After a short search, they found a partner in The Love Center facility at Gateway Community Church, just north of Millersburg, a place designed to promote the very things Love INC was doing. It also created a new home for the Love INC ministry that allowed them to create spaces for meetings they didn't have before.
"When we first created this facility next to the church, Love INC is exactly the kind of mission we had in mind," said Duane Galbraith, pastor at Gateway Community Church. "Our vision was to allow this facility to be a place where people could experience God and the servant attitude of his people. Love INC goes hand in hand with that mission, and we are excited for them to be a part of our growing family here."
A couple of months after moving in and having its open house in April, Love INC feels at home in its new digs. Conn said the whole transition, from seeking a place to the move, was something they felt they had to put their complete faith in God to fulfill.
Because they were not being charged any rent at Faith Lutheran, they knew moving to a new facility would probably mean a rent payment. Conn said everywhere they looked was seeking at least $800 a month, and the board felt that was money they needed to have to put into their programs.
She said they were struggling to find anything that felt right, and the one financially sound option was to set up their organization in a local church that had a couple of rooms available.
Instead, someone from the Center of Hope board contacted them, and their organization invited them to look at the space they occupied, knowing they were leaving.
It was truly a case of one door closing and another door opening for Love INC.
Conn said in a dream world they would have four or five offices with a large conference area and space for growth.
"This was immeasurably more than we had ever dreamed about," Conn said. "The fit here is perfect, and we are in a place where servanthood is everywhere and everyone is community-oriented. Gateway has been amazing to work with, and we can't be happier with the location because it is still near to Millersburg and there is a lot of parking."
The Love Center building also has a community room at the far end, which will allow Love INC to host national training seminars and other group activities.
"We've been in Holmes County now for almost five years, and we now have a pretty firm grasp on what the community needs are and what are the true obstacles," Conn said. "This was truly an answer to prayer to have this place provided for us at just the right time. We feel very blessed. Because when we had to move, it was a little nerve-racking knowing we had to find a new home."
Love INC's growth has allowed it to continue its ministry of mobilizing area churches into the service-related arenas the organization provides. Aiding families through the Faith and Finance program was one of the first programs to be implemented.
Area churches also have been involved by serving as a variety of stations for families to pick up supplies such as clothing, household sundries, shoes and other items. Wheels for Love provides families with trips to and from medical and other types of necessary appointments, and Homes for Hope offers temporary housing and budget assistance for families.
Volunteers also have helped guide families to people who meet their needs.
It has been a hand-out at times, but more importantly it has been a hand-up, where relationships being built are a high priority.
Laurie Knapp has been a volunteer for one year and has done some budget coaching and phone volunteering. She said the new facilities have allowed them to branch out in compassion and offer even more to area families.
"The move, for what I do personally, hasn't changed much, but I can see a huge benefit in having a large area to host families for conferences and discussions," Knapp said. "We didn't have that at the other place. Building relationships is a big part of what we do, and this new facility has opened the doors to allow us to do that to an even greater extent."
Sherry Artman has been a phone volunteer for nearly the full extent of Love INC's existence. Having volunteered for the American Cancer Society while living in West Virginia, Artman moved to Holmes County and was seeking ways to volunteer. She said her neighbor suggested Love INC, and she quickly found it was a great fit for what she wanted to do.
She said after talking with Conn and clearinghouse coordinator Debbi Miller, it was an easy decision to become a volunteer.
"What they do goes above and beyond what is expected, and I have found that we hear that a lot from people," said Artman, who has poured herself into coordinating the Wheels for Love program. "Being here in this new facility is such a blessing for us and for the many people who have put their trust in us."
Conn also said she can never thank the people of Faith Lutheran Church enough for what they provided for Love INC in its infancy.
To learn more, to volunteer or to inquire about one of the programs, call Love INC at 330-473-6017 or visit them at www.loveincofghc.org.