Love of family spurs a new hobby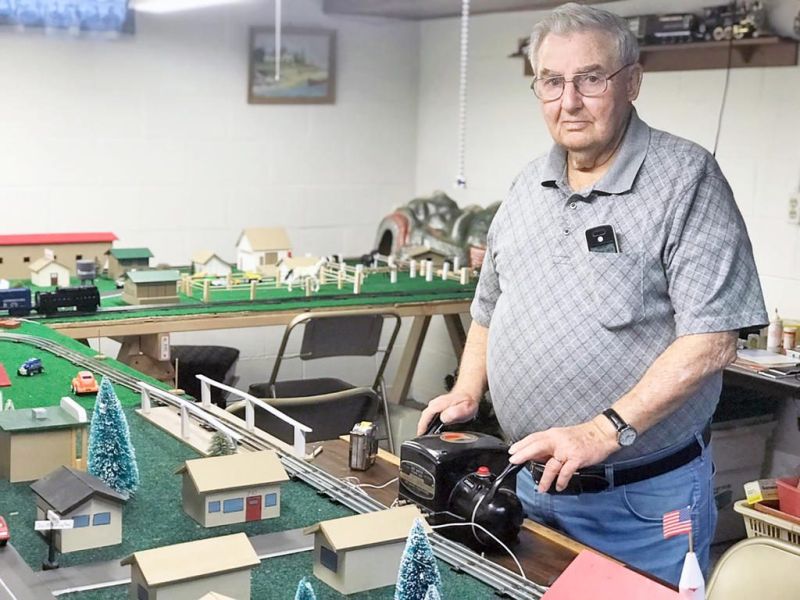 A chance purchase in autumn 2019 became the germination of a new interest that now occupies much of the basement of Tom Dean's home in Dover. Dean, a retired Dover firefighter, has built a small village anchored by some 25 feet of vintage Lionel trains. Dean hand-built all of the village pieces himself in his workshop.
Still quite active at 89 and with a full head of silvery hair, Dean was restless and looking for a big project to pass the time. "I needed something to do," he said of the beginning of the project. "There was a Lionel train set up for auction last year, but I couldn't be there to get it that day."
Dean was, however, able to see the set beforehand and arranged for a relative to attend, who picked up the locomotive, cars and track for just $37.
Dean now had something to do, and he set about it, building more than 30 tiny houses, public buildings, barns, bridges, a lake and farmland. He labored in his small garage workshop, covering plywood sheets with green turf, laying out roadways and plotting electrical circuits.
Along the way, through the collection of handcrafted buildings, most of which fit in the palm of his hand, Dean ended up chronicling the life he shared and the family he built with his wife Annie, who passed away four years ago after a marriage lasting "almost 66 years," Dean said.
Dean named the small tabletop village "Deanville" and named the structures for family members. The hospital, complete with a rooftop helipad, is named for his daughter-in-law Carol Dean, a retired nurse.
There's Brooke's School, Rich's Gas Station and Mike's Auto Repair. There's also the Deanville Courthouse, just at trackside near the small train station. His own home is represented with signs marking intersecting streets. "Just in case you get lost," Dean said.
Near the center is Annie's Diner, situated across the way from Annie's Garden, both named for his late lifelong companion.
The trains are vintage, dating to the 1940s and '50s, so putting the collection together has created its own challenges. "I wanted to find passenger cars," Dean said. "But I had to buy a full train set to get them."
The passenger train now comprises the most-often-run part of the collection with a freight set at the opposite end. The village is set up in an "L" pattern with two stretches of 14 feet and 11 feet. The Lionel transformer, also about 70 years old, controls both trains.
Dean created a small lake using a mirror and placed it just to the side of a covered bridge he built. "The bridge is based on one in a picture I have of one we drove over quite often," he said. "My wife lived in New Hampshire and Vermont when she was a young girl, and we went there often to visit her grandmother. We drove over that bridge many times."
The picture hangs in the kitchen upstairs.
At the side of the lake sits a tiny Airstream trainer, another marker of their life together. "We had Airstreams and traveled quite a bit," Dean said.
The camper is set up with a blue and white striped awning just to the right of a tiny white bench where a couple sits close together. "That's us on the bench," Dean said.
Nearby is Dean's childhood family farm with farmhouse, bank barn, tractors and a menagerie of animals. "The one thing different is the fence. My dad didn't have fences like this," he said.
Dean finds the small toy cars and other vehicles chiefly at the Hospice Browse & Buy at Heritage Square in Dover, and people also tend to give him things.
Dean, who was no stranger to working with wood as he built the models for the village, had been a builder of houses, kitchens and other structures along with his work fighting fires. He and Annie also owned rental properties in the area. "She was just a wonderful person," Dean said.
The train collection continues to grow, along with plans to add to the village. Dean eyed up a grouping of recliners and knickknacks at the opposite end of the room. "If I can get that stuff cleared out of here," he said, "that'll give me another 18 feet or so to work with."
A half-dozen unused Lionel locomotives sit at the ready, and Dean has been measuring for wall space to build shelves to stash momentarily idle train cars.
With already-placed schools, churches, gas stations, water tanks, grocery stores and numerous houses, Dean said, "I've kind of run out of ideas for buildings, but I'll figure it out."