Main Apple Creek businesses help downtown thrive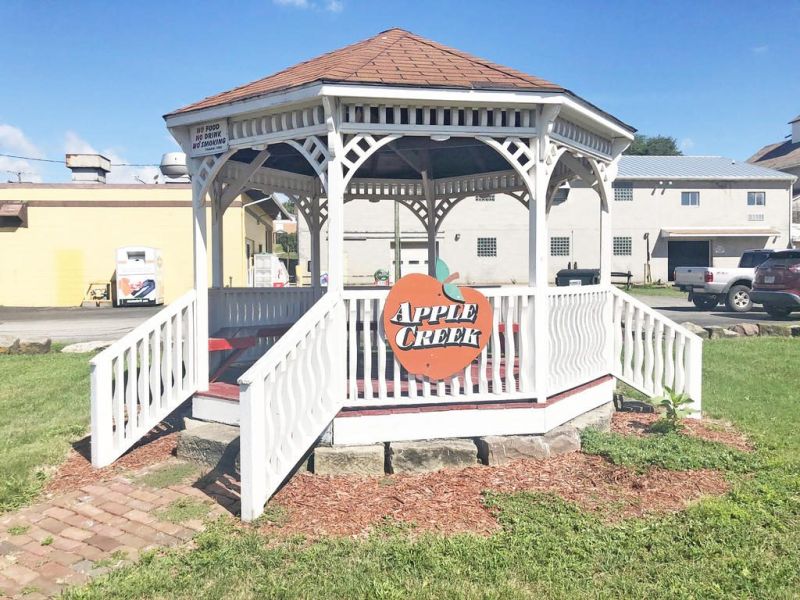 Editor's note: This is the third of a series on Wayne County's villages and smaller towns.
"Apple Creek is a nice, friendly small town. People like the agricultural connection and being able to see the farmland nearby. The scenery is just beautiful. I've lived here since 1938, so I really like it. At its core, it still offers a nice quality of life," said Leota Buss, resident of the village of Apple Creek and the treasurer of its historical society.
Although the village is small with a population of only 1,173, Buss describes the village as having everything one needs. There are a few small restaurants, a bank, barber, post office, ball fields, an elementary school right in town and several churches.
"We wish they would put in a grocery," Buss said. "Years ago we had two grocery stores, a drug store and a sit-down restaurant. It's changed a lot over the years."
Although there has been turnover in many of the retail stores, a few businesses have been pillars of the local economy for years.
Paul Troyer, co-owner of Troyer's Home Pantry and partner in business with his three sons, said the business has been in their family since 1973.
"My parents started this business. Their farm was about a mile and a quarter south of Apple Creek. My mom started producing baked goods in her kitchen, and we sold other products that were raised on the farm. Then the baked goods part of their enterprise started taking off," Troyer said. "Our business is in a good location. Coming from the west as you enter into Apple Creek, our sign is the first thing people see when they come into town."
Troyer is grateful for loyal patrons who have helped his business grow. They now sell in greater metropolitan areas across the state, and the pandemic has not slowed their growth. "This summer has been the busiest summer ever, even with the coronavirus," he said.
The Apple Creek Drive Thru is another long-standing business, located right in the center of Apple Creek's downtown area. They sell pizzas, sandwiches and wings.
"I bought it in 1988, and the business has grown over the years," owner Art Weaver said. "We've been doing really well, even during the pandemic. This kind of business is one of the lucky ones since we have a drive-thru, and people are still coming out."
Another notable pillar is The Apple Creek Banking Company, which started in 1904 with its first location in Apple Creek. They are interesting because although many small villages have a bank, banks are not often considered an anchor store for a main street area. Anchor stores are businesses that draw in a consistent customer base throughout the day, and traditionally, they're more likely to be grocery stores, general stores or even a department store.
For Apple Creek, though, the bank could be considered an anchor. For many, having an option to bank in person is still desirable. "People like the convenience of being able to walk inside and have a knowledgeable person available who can speak to you immediately and guide you," said Christine Malcuit, who has worked for Apple Creek Banking Company for 27 years.
Malcuit explained how the bank works with people. "We build relationships with our customers, and it's important to us to keep that personal connection. If you're behind on your loan — even before the pandemic — you could just pick up the phone and talk to me about your concerns. You won't get stuck in a phone system when you call. People can reach me directly, and we make a plan."
Another important piece to the story of Apple Creek Bank is that it is still a relatively small company with just six branches. This means the bank is heavily invested in the local communities. Malcuit listed off numerous examples of ongoing support for Apple Creek over many years. The bank has supported Johnny Appleseed Days, a big festival in Apple Creek, as well as schools and the ball field and park in the village.
The Apple Creek Banking Company also donated toward the new Apple Creek Historical Society building.
Buss was happy to share more details about the new building. "Our building has basically been funded by major donations and a couple of grants. It has places for small and large meetings, an exhibit room and a library. Plus, we're getting a log cabin constructed in back of the property that was moved from one location to our site for visitors to see. We have a crew of Amish who have offered to rebuild it on our site, near our gardens," Buss said.
As with any small community, there are challenges that Apple Creek faces. For example, getting new visitors to the village's main street is important because it brings in outside spending, which makes a greater impact on local jobs.
That being said, Weaver said, "We're a thriving little town."
Apple Creek has the community loyalty and business activity needed to build on and grow.