Making syrup is a sweet hobby for Steve Sommers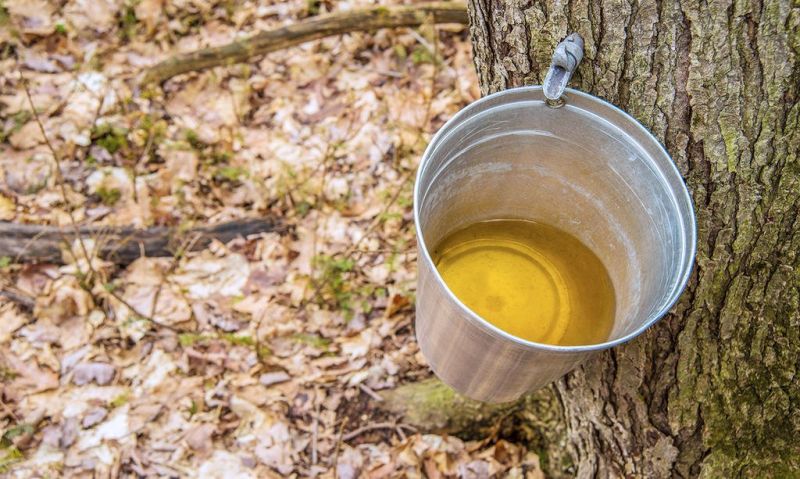 With the sweet aroma of boiling maple syrup wafting off the front porch of the Ashery Country Store during the annual Maple Syrup Cooking Demo Days March 6-7 and March 13-14, visitors from anywhere around the area should just be able to follow their nose to arrive at this demonstration.
Maple Syrup Cooking Demo Days will feature local syrup-maker Steve Sommers, owner of Amber Valley Maple Products LTD, and he will do what he does best, creating maple sugar products. In addition to the allure of a freshly made jug of maple syrup that is warm out of the evaporation cooker, Sommers will make maple goodies like cotton candy, candied nuts, maple creams and molded maple sugar candies.
"We will make that all right there, and we will bring some in to sell inside," Sommers said. "It is a pretty sweet experience, and it is fun for people to watch them being made."
This time of the year is the right time for those who tap maple syrup trees to start putting their thoughts around how to best approach this annual undertaking, and Sommers has plenty of experience at harvesting the maple sap that will later be turned into all kinds of treats.
Sommers began making maple syrup when he was about 7 years old, and his grandmother and grandfather introduced him to it. Back then he was carrying buckets, but he has learned a lot since.
"My great-grandparents really got me interested in it, and they passed it along through my mom, who carried it through and brought it to the farm here, and now my family is into it," Sommers said. "It has become a family tradition."
Sommers said while the general principles behind making maple sugar haven't changed much, the equipment has.
"I've been doing it since I could carry buckets through the woods and slop it all over myself," Sommers said. "We used to hang buckets and dump them into milk pans. We used to bit the brace and drill all the holes by hand back in the day. One of the last years we did that when I was in high school, we did more than 400 holes by hand. Since then we have purchased a gas-powered tapping drill, which we all thought was the cat's meow."
Sommers said his parents built a sugar house on their current farm to continue the tradition. He and his wife Allison also have ushered their 10-year-old daughter Dahlia into the family pastime, and she has picked up on it quickly.
"Dahlia and I are already getting stuff prepared for the cooking demo, and we are excited about that," Sommers said.
Sommers said the mild winter makes it difficult to figure out when to tap maple trees, but he said around Presidents Day in the latter part of February is generally a good time to begin the process.
"We usually keep an eye out on the weather starting in late January," Sommers said. "You need that freezing and thawing to create the positive and negative pressure to get the sap flowing nice. That pressure is when you can pull sap the best, and if you don't get that freezing and thawing, it is more difficult to pull."
Sommers said while the process of tapping maple trees can be hair-pulling at times, getting out into nature and in the woods is a relaxing experience and part of the joy. He said watching the flora begin to come back to life in early spring is always exciting.
Then taking a clear sap, pulling it from a tree, making something sweet and sharing the process with people also make it a joyful experience.
The cooking demo at the Ashery also is something to experience, whether people have seen it done or not. Just watching Sommers do his thing on the front porch at the Ashery is mesmerizing, and the aroma is not hard on the olfactory senses. It also has the ability to help older generations harken back to a simpler time.
"The joy of making maple sugar has been in our family a long time," Sommers said. "One of the neat things about the cooking demo is that I can sit out front and work and chat with people. This seems to bring back a lot of memories for some, and our demonstration fires up a lot of questions. A lot of people talk about how they remember doing this when they were little kids, and back in the days my grandparents were doing this, sugar was often rationed, so people turned to boiling maple syrup as an alternative."
Sommers said joining Ashery owner Curt Yoder and his family of employees has been a wonderful fit and is a great experience for visitors who might have never seen maple sugar being made.
For those interested in learning more about the syrup-making process and everything that it entails, a visit to the Ashery on the weekends of March 6-7 or March 13-14 will present an opportunity to chat with Sommers and watch the syrup being made over an open fire.
It should be a couple of truly sweet days indeed.
The Ashery is located at 8922 state Route 241 in Fredericksburg.