Malone alumni are ready to purchase expensive sub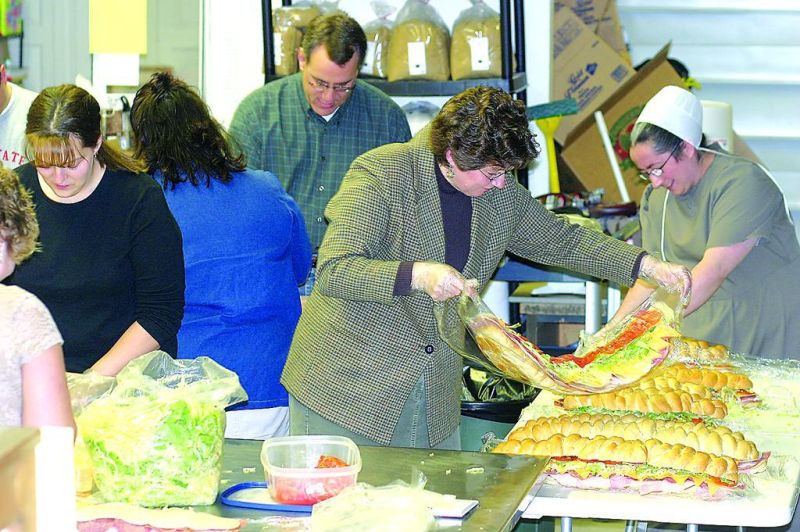 When it comes to supporting the annual Hiland Academic Booster Club Sub Auction, nobody does it better than a group of Malone University alumni. This year's 26th Hiland sub auction will take place Tuesday, Jan. 8, following the Hiland versus Garaway varsity boys basketball game.
While most of the subs range in price from $50-$400, one particular sub has been a centerpiece for the annual event.
"Back in the day there were quite a few kids from here who were going to Malone, and with so many former Hiland alumni who have attended Malone, we decided to go together and see what we could do if we pooled our money," said Craig Hershberger, former Hiland High School and Malone University graduate who served as the Hiland High and Middle School academic advisor for years until retiring last year.
The Malone University sub purchase began in 2009 when the group got together and purchased the auction's first sub for $625. In 2012 the Malone sub hit a milestone when it was purchased for $1,025. In 2015 that number jumped up to $1,500, a number that still stands as the current record for a Hiland sub auction purchase. Last year it was $1,475. And this year who knows how much it will take to purchase that initial offering at the auction?
All told, in 10 years the Malone University alumni sub sandwich has raised $11,170 for the Hiland Academic Booster Club cause.
Hershberger said the first $1,000 raised goes toward a scholarship for a Hiland student who is planning on attending Malone University. Whatever funds are left go into the general fund of the academic boosters for further scholarships.
Hershberger said the idea arose for two reasons, and the concept has grown larger almost every year.
"One, it is a way we can give back to the academic booster club, and two, it is a way for us to help promote Malone University and keep the name out there in the public," Hershberger said. "We enjoy it."
According to Hershberger, Chris Gertz is a driving force behind the Malone fundraiser, doing a great deal of the leg work. Hershberger also contacts alumni, and together they round up 15-20 Malone graduates who give anywhere from $20 to $200.
While most of those involved are Hiland graduates, Hershberger said there are other Malone graduates who didn't graduate from Hiland such as former Superintendent Gary Sterrett and current East Holmes Superintendent Erik Beun who have a distinct Hiland connection.
Together they have formed a nucleus that has made for one high-priced sub sandwich.
"We talk about this, and people say, 'Oh my golly, $1,200 for a sub,'" Hershberger said. "It's not really about the sub. We always donate the sub to someone, usually to someone who has ties to Malone and does something special for the academic booster clubs. We've given it to the team, and it's gone to a variety of different places."
The auction has been a plus for the scholarship foundation, having brought in $17,400 during last year's sub auction, which included sales of 20 two-foot subs, 20 one-foot subs and 10 six-inch subs along with a one-of-a-kind Berlin Flyer Wagon that was donated by Holmes Custom Molding in addition to a generous donation from a community member.
"This is one of our big fundraisers for the year, and we raise the majority of our funds to create scholarships for our graduating seniors," said Ruby Shoup, Hiland Academic Booster Club treasurer.
Every year the booster club doles out between $20,000 and $25,000 in scholarships to qualifying seniors, each receiving a scholarship of $1,000. In addition to the sub auction, they also have area businesses create scholarships.