Marathon aids local fire and EMS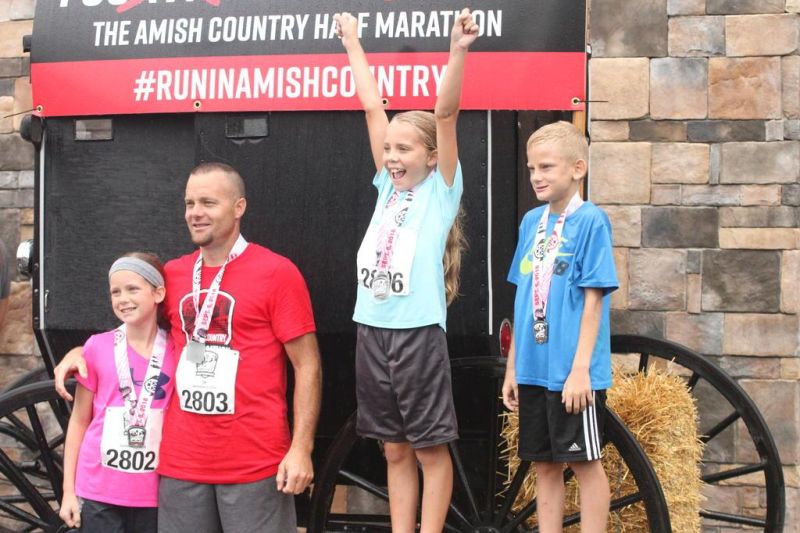 An enormous leap of faith and an ongoing tradition came together at this year's Amish Country Half Marathon in Berlin on Saturday, Sept. 8. While a rainy day greeted runners and stayed with them all day, the race itself was a huge hit.
With former organizer Mark Fowler stepping down and a new group taking over the promotion and organization of the race, it made a move from Hiland High School to Grace Church near Bunker Hill. The course itself was brand new, and it took on a new look while maintaining all of the positives from the old race.
One of the biggest changes was the date of the race, moving from its former spot on the Saturday after Thanksgiving to Saturday, Sept. 8.
"We felt we needed to move the date earlier, but we wanted to maintain a lot of the same things the race has always represented, and a big part of that was showcasing Amish Country's beauty," said Brent Miller, one of the organizers. "Once we got everything in order and posted the race, and runners saw there was a cap on the number of runners we were allowing, we sold out in about three weeks. We had runners from 20 states, and we had a terrific crew of organizers who are very experienced in the world of running. That really helped us design a great race."
With event organizers capping the race at 1,000 runners, each of the half marathon, 10k and 5k races filled up quickly as the event saw a bump up in participation from the former day-after-Thanksgiving date.
"With this being a new venue, we wanted to cut off the number of people because we didn't want to get overwhelmed, and that worked out well," said Derrick Miller, one of the event organizers who boasts the Boston Marathon on his resume.
"Mark Fowler and the former organizers did a great job with getting it started, and the amount of work they put in is admirable," Derrick Miller said. "As he had been doing it for awhile, he was ready to step aside, and Brian Polen came to us about taking over the race to benefit Pure Gift of God, and that makes this a win-win for everyone."
One aspect of the race this new crew did keep was involving the East Holmes Fire and EMS, whose members helped direct runners and traffic and keep the course safe. They also received a portion of the funds from the race.
Derrick Miller said the fire department and EMS would receive about $10,000 while Pure Gift of God would receive around $30,000.
Supporting Pure Gift of God, a local organization that supports families looking to adopt children, was one of the main reasons this group took over the reins of the race.
"One thing this community has is strong families, and if we can take those strong families and the love of Christ those families have and give that to children in need of a family, it's a great win, which is why we love the adoption agency and everything it stands for."
While it was a lot of work, it was very rewarding for the new committee members and volunteers. The race went off with very few glitches, and the runners all felt great about the new venue.
Teresa Bonifant was in her first race, and she said her inaugural experience in the 5k was well worth it.
"Everyone was so joyful, and I didn't really know anyone here, but they were all so friendly, and everyone cheered each other on, and that helped a lot," Bonifant said.
Jared Hochstetler, a local runner who placed fourth overall, has run both the old course and the new track, and he said he enjoyed this version much more because it wasn't quite as demanding.
"It was not quite as hilly and still had the beauty of our area," Hochstetler said. "The cooler temperature and rain actually suits runners pretty well."
Like many runners, Hochstetler said he runs because he finds a certain peace in it, and he loves the camaraderie of runners with the group of runners that has formed.
The new course was designed by several local runners who are both adept at running and knowledgeable about what runners look for in a long-distance route, and Kendrick Mullet and Derrick Miller helped create a course that was both challenging and fun.
Derrick Miller said creating a course that combines the challenge and joy of running with great scenery and safety issues were all at the heart of the course that was designed for the Amish Country Half Marathon.
"You're not going to be able to go anywhere around this area without hitting hills, but that does always add to the scenery," Derrick Miller said. "We felt this was similar to the old course. Both of them are beautiful and hilly. But the one thing we wanted to accomplish was to create an atmosphere where there was a lot of joy, from the prerace to the end when everyone was done. It felt really good to see everything come together."
With finishers medals, a piping hot bowl of noodles at the finish line, plenty of live music from the Polen Band and the joyful spirit that all runners seem to share, the event may have changed date and location, but the spirit of the race continued, and the chance to support important organizations remained at the heart of the race's accomplishments.