Mausts muster up the courage to head to remote Alaska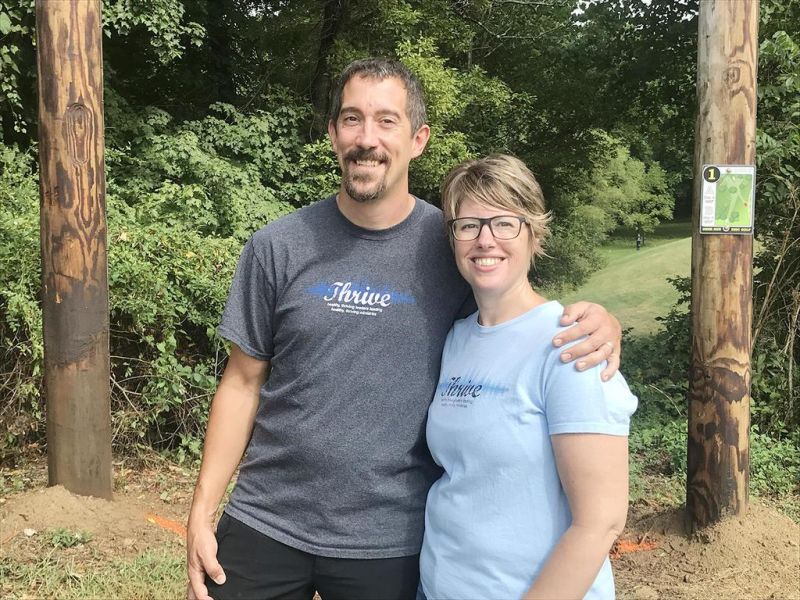 Most people only dream of soaring into the heavens to serve God.
For Jason and Anita Maust, it is no dream.
Maust was working at Keim Lumber in Charm, where he was happy and content. In 2012 he ruptured a disc in his back and had surgery, and it was then he felt God calling him as he worked through his recovery.
He said God laid the work of foreign missions on his heart, and not long after, he attended a mission event at Stoltzfus Airfield near Kidron. A number of different aviation ministries shared at that event, and Maust caught the mission through aviation bug.
"I had no interaction with airplanes before this," Maust said, admitting aviation always fascinated him.
Maust started his initiation into aviation shortly thereafter. In three short years with MMS Aviation in Coshocton, he received enough education to become both an airplane mechanic and a pilot.
That paved the way for the Mausts to begin their ministry. It was there Maust cut his teeth in the aviation world, learning all of the nuances of tearing down and rebuilding small engine planes and the skill of aviation.
Now the year 2020 has brought about the search for a new mission field, which turned out to be Alaska. Jason and Anita Maust and their children will head to the remote parts of Alaska as part of the project, Missionary Pilot with Arctic Barnabas, this September.
Jason Maust felt God calling him into the mission field, which in itself isn't unique. People feel the call to serve all the time, but for Maust, it was the exact method of the calling that was interesting.
Having never been raised in the aviation world, Maust said he felt God was calling him into the world of aviation mission.
The Mausts have worked in mission fields in South America and Kenya, but the thought of traveling to an actual part of the United States never dawned on them until they learned about Project Barnabas.
"Yes, Alaska is part of the U.S., but it's kind of a foreign country in itself," Maust said. "It's a different culture, different people, different languages and a different way of life from what we know. There are remote villages scattered all over the state with literally no way to drive to them."
This September the Mausts will pack up their belongings and drive to Alaska to begin their journey into the mission field there. In order to do so, they purchased an old school bus that they have converted into an all-purpose vehicle that will be both a home and a work shop.
"The back half of the bus will be converted to haul all of our possessions; the front half will be our living quarters while we are driving the 10-day trek to Alaska," Maust said.
They will fly small bush planes into remote areas where there are church plants and pastors. In doing so, they will bring with them supplies, as well as provide something even more important.
Maust said while flying is a big part of the mission, he also feels a sense of satisfaction in being able to minister to others.
"We will be providing support in any way needed," Maust said. "Pastors and leaders in remote villages like that need support, whether it is physical, mental or spiritual. We will be there to support the work they are doing and to provide encouragement, help provide physical labor, helping with ministry projects or whatever those missionary pastors might need. We are there to help healthy, thriving leaders leading healthy, thriving ministries."
Arctic Barnabas is currently reaching out throughout Alaska, but Maust said they are in the process of spreading out into Eastern Russia and Western Canada.
"To be in the center of God's will and serving others brings this excitement," Maust said. "It's not about the work we are doing. It is about the work God is doing through us, and we are excited to be a part of the gospel planting that is taking place throughout Alaska. It's never been a dull moment, but God has always provided and met our own needs so we can serve others."
The family is in the midst of raising funds that will provide both transportation costs and serve as a way to create awareness for the mission project currently taking place in Alaska.
"We will be flying our airplane into remote bush villages there," Maust said. "I think when people think about flying into remote villages to do mission work, they don't think about anywhere in the United States."
Maust said one future undertaking he is looking forward to is working with the next generation of missionary bush pilots because there will always be remote villages where people are difficult to reach.
While the mission is within reach, raising funds to support it is still under way.
It was more than appropriate that a mission known for flying into remote places around the world would end up as the recipient of a disc golf tournament that featured flying discs. The fundraiser took place at Deer Run Disc Golf Course in Millersburg, where the Mausts prepared a meal and spoke to all of the tournament participants.
"It's a joy for us to connect with the disc golfers and talk to them about our vision and our mission or reaching out into remote places to share the gospel," Maust said.
Oddly enough, the Deer Run Disc Golf Course is probably in existence because Maust himself introduced the game of disc golf to the Deer Run course creator Ethan Steiner three years ago.
For those wishing to support the Maust family in its mission, visit www.arcticbarnabas.org/staff-support/ and choose the Mausts under the heading, Staff Family Designation.
More information on the Maust family missions can be found at www.MaustsUnderHisWings.com or on Facebook.