MCC brings relief to families worldwide with Ohio Mennonite Relief Sale playing key role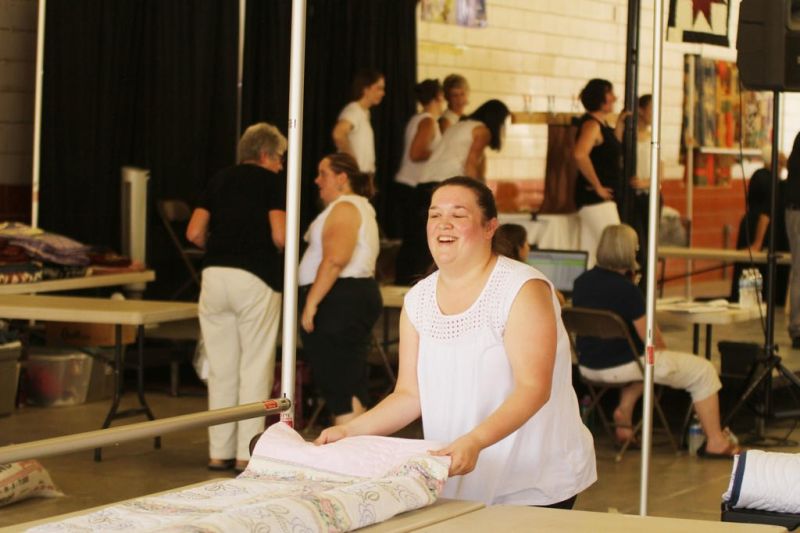 The Ohio Mennonite Relief Sale & Auction took place Aug. 3-4 at the Wayne County Fairgrounds. Now in its 53rd year, the event has been instrumental in a world outreach mission that has made a great impact on millions of people in underdeveloped nations facing many different types of hardships. It is people helping people and has been that way for decades.
According to Sarah Geiser, church relations associate for Ohio MCC Great Lakes, MCC has partnered with organizations in 56 different countries, having invested in sending financial support, clean water, relief kits, comforters and more to support families and nations in need.
In addition they have provided sanitation, trauma healing, and other programs and services that people here may take for granted.
"It's all about improving daily living through compassion for others," Geiser said.
As has always been the case, the Ohio Mennonite Relief Sale gave the MCC a chance to connect with its supporters and raise funds for these causes, but it also provides something for many people who may not be called to be missionaries or to serve in faraway countries.
"An event like this gives people who might not be able to go somewhere to serve an opportunity to make an impact by giving to the MCC through their donations and through their service here at the event," Geiser said. "I was fortunate enough to see some of the quilts that were at our auction being hand-made this year, and to see all of the time, love and energy that goes into making them was incredible, and they are doing that all for someone they will probably never meet. For me to get to witness that kind of compassion was a blessing. This event gives people a chance to use their gifts to give to others."
With more than 1,100 volunteers working globally, MCC worked on 767 programs last year, raising nearly $87 million. Of that money the three main areas where MCC reinvested was pouring more than $15 million toward relief projects, $35 million was invested into developmental projects and $12 million went toward peace projects with the organization reaching 56 different nations through its efforts.
The Ohio Mennonite Relief Sale included a silent auction, crafts, a quilter's corner, a volleyball tournament and a musical performance by John Schmid on Friday, Aug. 3. The grounds were filled with people enjoying an early pancake and sausage breakfast, a 5k run and walk, a wood and tool auction, a quilt auction, and a children's auction on Saturday, Aug. 4.
Several of the bigger ticket items that were among the many donated to the auction included a 15-passenger van, a new garage door by Dutcher Door, a wooden storage shed and an array of handmade quilts that always highlight the auction.
While the Ohio Mennonite Relief Sale is a large MCC event, it is just one in a list of 40 MCC auctions held throughout the United States and Canada that help raise $4.6 million.
According to Les Gustafson-Zook, MCC's point person for the national relief sales, these sales play a key role in providing for international projects.
"One of the things that is key to all of these MCC Relief Sales is the way it gets a collection of churches around each of the areas together to focus on meeting the needs of vulnerable people, to help them get food, to get clean water and education," Gustafson-Zook said. "Seeing them put aside any theological differences and come together to work together and worship together is a wonderful celebration. We are stronger working together than individually."
Gustafson-Zook said the Ohio Relief Sale is not the largest sale, but it is among the bigger sales MCC puts forth in its line-up of 40 sales. He said the Mennonite churches in Holmes and Wayne counties have done a great job of stepping up and providing everything necessary to have a successful sale.
He went on to say people would probably be surprised to learn exactly how far-reaching MCC's impact is on a global front and how deeply the organization has impacted the lives of millions of people.
"What MCC has done a good job of is partnering with organizations that have their feet on the ground and know the cultures of these different countries, and that allows us to use our funds in a more meaningful way," Gustafson-Zook said. "Plus most of our MCC workers overseas are volunteers, which allows us to stretch our dollars even further in aiding countries. That is the model that we have tried to promote."
Geiser said MCC also tries to employ staff that is made up of people from the various countries in which they are working.
"Who would understand the needs of a community better than those who live there, and that is why we want to always provide jobs for people who live where we are working," Geiser said.
While Geiser and Gustafson-Zook were at the informational booth, one table away from the informational table Rod Roth was busy counting coins, and that proved to be a nearly full-time gig in itself.
Each year MCC promotes the My Coins Count spare change program that has people plopping coins into the giant jars and kids placing their coins into a game that spins their coins around and around until they eventually drop down into the bottom of the game.
It is all a fun way to raise additional funding for MCC that will in turn be put to good use as it continues to provide safe drinking water and build wells in underdeveloped countries.
Roth said the change program has balanced between $120,000 and $150,000 annually, so that old adage that a penny saved is a penny earned is being put to good use by MCC.
"This money always goes to the water project, and we've been doing this for more than a decade," Roth said. "It's a neat and fun way to raise money, and it goes to show that all of that spare change can add up to something pretty amazing."
While change does make up a good percentage of that total, churches also donate via checks, which helps build that total quickly.
Over the past several years new water pumps in countries like Syria, Chad, Nigeria and Ethiopia have provided life-saving clean drinking water to families. MCC has teamed up with organizations worldwide to create clean water where it is needed the most, and these partnerships have changed lives forever.
While the development of these underdeveloped countries is crucial, and providing financial support, water, goods and supplies is important, so too is the relational part of what MCC is doing.
"Oftentimes our partner groups are churches, so what they are doing is using MCC resources to enhance their ministries, which allows them to connect with more people because they are right there in the heart of these communities," Gustafson-Zook said. "These congregations are able to be a Christ-centered presence in their community through MCC's support, and that is as important as anything we do."
He added that these church connections also have provided an opportunity for MCC to provide spiritual and physical support for those working in the field. He used the church in war-torn Syria, where countless refugees have sought safety, as one of the many churches MCC has built a relationship with over the years.
For more information on MCC, visit their website at www.mcc.org.