MCC meat-canning days ready for another year of feeding the hungry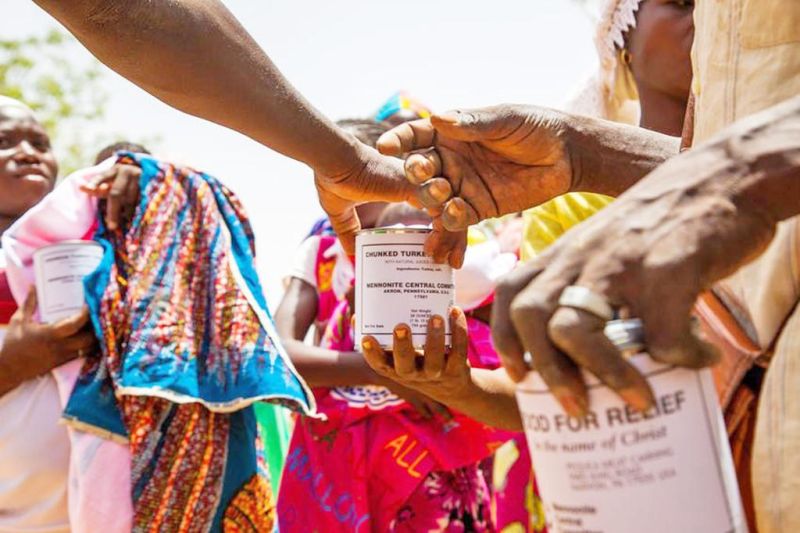 When it comes to talking turkey, few do it better than the volunteers who put together the Mennonite Central Committee meat-canning days.
The effort continues to feed hungry people globally, in the U.S. and even close to home.
MCC will continue its annual effort to can turkey meat in Berlin Jan. 28-31.
In canning 30,000 pounds of turkey, the Holmes-Tuscarawas County MCC meat canning aids a global effort to feed the hungry.
That turkey also ends up serving families right here in the area, where 40 boxes with 24 cans of turkey per box are donated to Holmes County Share-A-Christmas, the Love Center Food Pantry and Barr's Mill Church of God's food pantry.
"Our goal each year is to not only help erase hunger globally, but also right here at home," board member Dwight Shoup said.
Last year MCC struggled to find people to make a two-year commitment to the meat-canning service project, and they had to pare down the schedule of stops the tour made.
Fortunately that elimination process did not include the local stop in Berlin, and things went according to plan as the four-day event was committed to completing the full 30,000 pounds.
"They actually only had two operators committed when the canning season began," Shoup said. "Eventually they got a third, and by the time they got to our stop, they had the full staff of four people committed to the tour. They were struggling to find people to make that commitment, and it is a big commitment, but it is also a very worthwhile and important way people can connect and make an impact through a service project."
The meat-canning tour consists of around three-dozen stops at communities all over the Midwest and Canada and requires the volunteers to make a two-year commitment.
Now in their second year, this current group has committed to a full schedule again in 2020.
Shoup said while there are many ways people can volunteer to help the meat-canning days, the opportunity to make a two-year commitment and serve MCC and people around the world through volunteering to be one of the operators for the 2021-22 campaign is available.
"It's a terrific service mission for anyone with a heart to serve others," Shoup said.
There also are ways to volunteer during the four-day canning process.
While a large portion of the volunteering includes cutting turkey into chunks for canning, Shoup said they realize that isn't everyone's cup of tea, and they try to stress there are many other ways people can volunteer their time toward the completion of the four-day event.
Aside from cutting and trimming the turkey, volunteers can box, label and load the boxes and even help clean.
"We know that a lot of people don't want to handle the turkey, so we do try to create other opportunities for people that don't involve the meat," Shoup said. "The important thing is that people who want to help can do so. We will find something for them to do."
Shoup said over the past decades the way the event is run has changed a lot more than just the meat changing from beef to turkey more than a decade ago.
"We have gotten some incredible help from volunteers that has allowed the board to spend less time committed to the four days," Shoup said. "When I first started on the board years ago, the board members were there from 5 a.m. until closing each night on every night. Now, thanks to the way we have gotten better at making things flow and our many volunteers, we can break our board members' time there into eight-hour shifts, which eases the burden greatly."
The MCC meat-canning process begins in Sterling and Kidron, Ohio in the middle of October and runs through the end of April when the canning team ends its season in Leamington Ontario, Canada.
Last year the meat-canning season produced and shipped nearly 671,000 cans of turkey to Burundi, Canada, Democratic People's Republic of Korea (North Korea), Ethiopia, Haiti, Lebanon, Malawi, Nicaragua, Ukraine, Puerto Rico and the United States.
Countless families utilize the gift of the canned meat to mix it with whatever their country's main dishes are, whether that is soup, sandwiches, porridge or hash.
The MCC meat-canning event is located at 5254 state Route 39 on the west edge of Berlin and uses the same driveway as Kidron Sports and Troy Miller Agency. Meat canning will begin every day at 6 a.m., and Shoup said they usually finish up before 9 p.m. Anyone wishing to volunteer may call Kenny Troyer at 330-600-1519 to schedule a group, and walk-ins are always welcome.
Donations are still being accepted and can be sent to MCC Meat Canning, P.O. Box 66, Berlin, OH 44610. For questions call Shoup at 330-231-0532.